THE 2017 NBA playoffs cast is almost complete, but before the intense postseason action even began on the court, an explosive battle has been waged on the record books and naturally in conversations among basketball fans.
Who should be the MVP of this historic season?
It's been a season for the ages, with new records on single-season triple-doubles, three-pointers made, 50-point scorers among others set all in one marvelous year of NBA basketball.
At the forefront of this historic year is Oklahoma City Thunder star Russell Westbrook, who became just the second player after Oscar Robertson to average a triple-double while setting the new record for most triple-doubles in a single season (42).
With two games to play, he's also 41 points away from scoring the most points in a single season since Kobe Bryant's astounding ball-hoggery, err, offensive outburst in 2005-2006. The last player who came close was Westbrook's former OKC teammate Kevin Durant, who scored 2,593 points in 2014. Westbrook sits at 2,553.
ADVERTISEMENT - CONTINUE READING BELOW ↓
Houston Rockets star James Harden, though, is not one to back down. With his shift to point guard under new coach Mike D'Antoni, Harden has driven the already potent Rockets team into overdrive. From an eight-seed last year, the Rockets have jumped up five spots, won 14 more games and set the new mark for most three-pointers made in one season. The Bearded One also has 21 triple-doubles so far this season.
Then there's the quiet excellence of the San Antonio Spurs top gun Kawhi Leonard, who personifies his team's winning ways without seeking the spotlight.
A case can also be made for other stars like the Golden State Warriors duo of Durant and Steph Curry, and reigning champ Cleveland Cavaliers star LeBron James. But the debate rages mainly for Westbrook, Harden, and maybe Leonard.
Intrigued, we took a poll among the SPIN.ph staff on who their choice is for NBA MVP. We also asked one staffer to justify his choice.
ADVERTISEMENT - CONTINUE READING BELOW ↓
Here's what they said: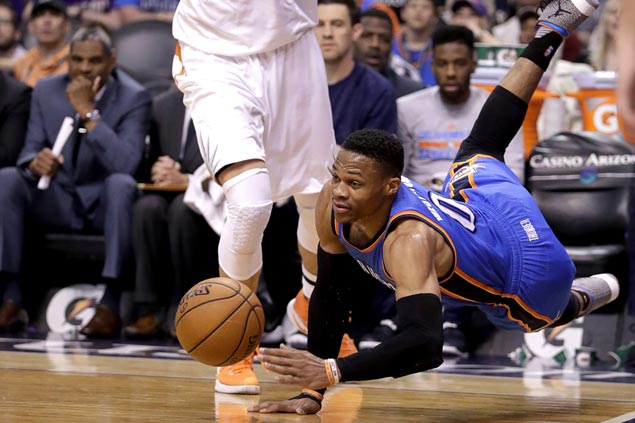 The case for Russell Westbrook
THEY say people are falling for stats - with Russell Westbrook's big games being romanticized and categorized as part of a bigger storyline.
What they tend to forget is he needs to play this way, night in and night out, for the Oklahoma City Thunder to have a chance at reaching the NBA playoffs - and he's done just that.
ADVERTISEMENT - CONTINUE READING BELOW ↓
This isn't about the breakup with Kevin Durant anymore. This is about doing what he has to do for his team.
Were there intentions to pad his stats in some of his games? Maybe. Was he the best player he can be for the Thunder? Absolutely.
More times than not, they win every time Westbrook drops a big game. At the end of the day, that's all that matters.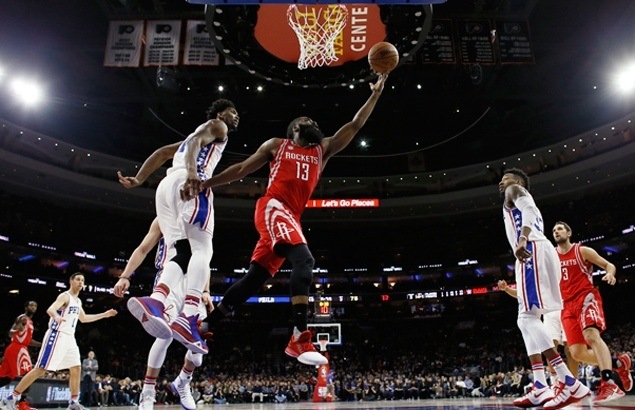 ADVERTISEMENT - CONTINUE READING BELOW ↓
The case for James Harden
The hype surrounding Westbrook's historic season has made some people forget that Harden is similarly, and remarkably, stuffing the stat sheet, falling just two rebounds of averaging a triple-double as well.
Both Westbrook and Harden have extreme usage to put up the monster numbers, but it seems Harden hardly forces the issue when it comes to putting up his stats.
The Rockets also arguably have a deeper lineup and more offensive threats than the Thunder, yet Harden averaging his numbers with such depth is unfathomable.
Overall, Harden is doing a combination, if you will, of his MVP rivals – putting up Westbrook-like stats, while bringing wins to his team like Kawhi Leonard.
In any other season, Harden would win the awards hands down.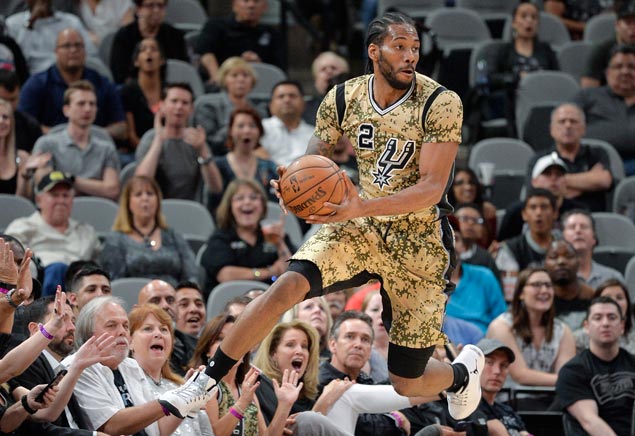 ADVERTISEMENT - CONTINUE READING BELOW ↓
The case for Kawhi Leonard
IF valuable in MVP is defined by wins, according to Harden's own argument, then Kawhi Leonard tops this three-man race for the NBA's top individual honor.
His stats may pale in comparison to Westbrook's and Harden's. But the San Antonio Spurs have maintained their dominance, even almost catching up with the Golden State Warriors for the best record in the league, in a flawless transition during their first season without the great Tim Duncan.
Take him out of the Spurs, and you remove their focal point on offense and defense (team-high 25.8 points, 1.8 steals). But the Spurs way doesn't rest on one man, their depth is the main weapon, with unheralded gems stepping up well when their stars rest or get hurt.
Yet the strongest MVP argument for Leonard traces back to the last time a player averaged a triple-double and made the then-record for most triple-doubles in a season, when Oscar Robertson accomplished both feats in 1961-62. In the same year, Wilt Chamberlain made the single-game record in scoring with 100 points and ended up as the league-leading scorer with 50.4 points a game.
ADVERTISEMENT - CONTINUE READING BELOW ↓
But guess who the MVP was in that one-of-a-kind season? Bill Russell, the offense and defense anchor of the league-leading Boston Celtics.
Sure, the Warriors have the best record but Kevin Durant's injury and Steph Curry's sluggish start took them out of the MVP race. Who owns the second best record this year? The Leonard-led Spurs.
History has been made this season. Who's to say history won't repeat itself?
------
When the votes among SPIN.ph's staff were counted, here's the result: Westbrook got seven votes, with Leonard coming in second with three and Harden last with two.
[The debate will be settled when the NBA announces the MVP as well as the rest of the winners for individual honors in the league's first-ever awards show on June 26 at Basketball City at Pier 36 in Manhattan]