CHICAGO - One year after another in 2015 and 2016, Bobby Ray Parks Jr. and Kiefer Ravena valiantly attempted to enter the NBA, an ambitious quest that detoured with a pit stop at the Dallas Mavericks' farm system.
Their journeys riveted a nation long clamoring for one of its own to finally scale basketball's loftiest mountain. But it just wasn't meant to be. Because in life's cruel twist, the grandest dreams often end up in tears, not cheers.
Parks appeared in a few Summer League games with the Texas Legends before going home to strut his wares in the Asean Basketball League (ABL). Ravena was signed as a developmental player before moving on to the PBA where he was taken by the NLEX Road Warriors in the 2017 draft.
Though humbled by the setback, Parks and Ravena will be better and richer for the experience. Hopefully, they can find strength in the wisdom of Benjamin Elijah's words: "It is not a disgrace not to reach the stars, but it is a disgrace to not have stars to reach for. Not failure, but low aim is sin."
Seeing a Filipino in the NBA remains an unfulfilled dream for now, but it will one day be a reality. So says Dallas Mavericks owner Mark Cuban.
"Absolutely," Cuban told SPIN.ph during a wide-ranging email interview early Thursday. "The Philippines is a basketball hotbed. There will definitely come a time. I think it will be a lot like Canada. Once you get the first NBA player, it will inspire the best athletes to play."
The following is the rest of my interview with the charismatic mogul turned reality TV star.
1) SPIN.ph: Although this season has been challenging for the Mavericks, one of the notable highlights is Dennis Smith Jr., who is averaging 14.5 points. 4.2 assists and 4.0 rebounds a game. Are you surprised that he is this good right off the bat?
Mark Cuban: No. Not at all. He is getting better game after game. The sky is the limit for Dennis.
2) SPIN.ph: The clock is ticking on Dirk Nowitzki, arguably the best player to ever put on a Mavericks jersey. Can you share your thoughts on how valuable he is to you personally, to the team, and the Dallas community?
Mark Cuban: Dirk is the Mavs. The Mavs are Dirk. He is our culture. Our leader. Our Brother. I can't say enough good things about him.
3) SPIN.ph: In a 1-on-1 interview last February 2015, I asked Larry Bird his opinion as to who the best shooter is in NBA. He said Dirk Nowitzki. Your thoughts.
Mark Cuban: His shot is a thing of beauty. It's amazing. Even tonight watching him shoot the ball gave me goosebumps.
4) SPIN.ph: As Puerto Rico continues to rise from the ravages of Hurricane Maria, you generously gave Mavericks guard J.J. Barea unfettered access to the team plane so that emergency relief goods can be delivered swiftly to his beloved island. How gratifying is it to have the resources to help those in need?
Mark Cuban: I'm blessed. I try not to take those blessings for granted and help where I can.
5) SPIN.ph: According to Bleacher Report the NBA has fined you in excess of $1.8 million from 2000 to 2013, a notoriety that once earned you the monicker, the "Cuban Whistle Crisis." Since then though, the fines and outbursts have come few and far between. Has time, marriage and fatherhood mellowed you over the years?
Mark Cuban: No. I can think the NBA officiating group has changed and adapted. I'd like to think I've helped drive that. Plus, since we have struggled some recently there is no point in complaining. But when we make our run. Stay tuned!
6) SPIN.ph: The new NBA is built heavily on the 3-point shot, where the offense is outside-in. As a longtime basketball fan, do you like this better or do you prefer the old school era where big men dominated in offenses that were designed inside-out?
Mark Cuban: Yes definitely. It's faster. More skilled base. I love it.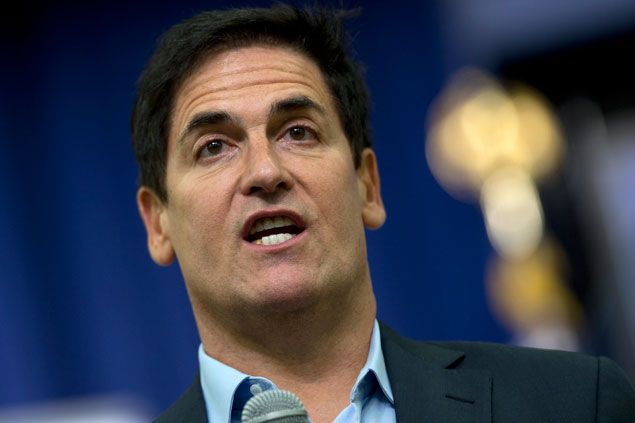 7) SPIN.ph: Thanks to a gigantic nine-year, $24 billion media rights deal that took effect last season, players' salaries have escalated exponentially. Do you see this as a continuing trend and is this good for the financial health of the league long-term?
Mark Cuban: Definitely. I think internet video will create even more business opportunities for the NBA.
8) SPIN.ph: When are you going to visit the Philippines?
Mark Cuban: That's a good question. I don't know.
9) SPIN.ph: Is there a chance that the Dallas Mavericks will play a preseason or regular season game in our country?
Mark Cuban: That's up to the NBA. I'm wide open to it.
10) SPIN.ph: With the enormous success of Shark Tank, are you more recognized now as a TV star or do people still recognize you as the flamboyant Mavs owner?
Mark Cuban: More TV now. It's crazy.
11) SPIN.ph: Finally, let me ask a hypothetical question. If you were just an ordinary guy pitching a product to get financial backing, will your aggressive determination and powers of persuasion be enough to survive a stint in the Shark Tank?
Mark Cuban: Of course. What a dumb question :) (LOL)
Postscript. While it's easy to label Mark Cuban a homer for cheering a player on his team, it really is hard not to fall head over heels for Dennis Smith Jr. This kid is electric, spewing with vastly entertaining voltage above the rim. A ninth overall pick in last June's draft, the 6-foot-3, 195-pound rook is overplaying his potential, so wise beyond his 20 years.
On the last legs of what is sure to be a Hall-of-Fame career, Dirk Nowitzki, now 39 and campaigning in his 20th season in Dallas, remains a joy to watch, swishing 46.2 percent from the field, 43.4 percent from 3-point distance and 89.3 percent form the free throw line through 24 games.
Beyond the staggering stats, the seven-foot German is a selfless star who doesn't always demand the last shot, a consummate team player who had willingly taken pay cuts so that Dallas can have salary cap flexibility to surround him with good players. No wonder Mark has eternal affection for Dirk.
Dating back to my stint as US editor of NBA.com Philippines, this is my fifth interview with Mark Cuban. On each occasion, he is unfailingly nice and welcoming. I am grateful.