AS the 2018-19 NBA season gets underway, we take a look at how the game we love has evolved.
The 2017-18 season was a season of shattered records. With players like Stephen Curry making threes left and right, and LeBron James racking up a staggering number of career-highs in points, the league is continually being pushed to new heights.
But aside from the broken records, observant fans will also notice that the game just feels different. Gone are the days of Larry Bird's Celtics or Michael Jordan's Bulls: reigning champions Golden State Warriors are an entirely different breed of team - and the league as a whole has shifted to a new playing style.
To describe the modern game in a quantitative way, we used data science to dig into over 30 years of team statistics (taken from Basketball Reference) and uncovered three major trends:
The three-point revolution is here, and it's not going anywhere soon.
Every year, teams are attempting more and more 3's, and less and less 2's, while maintaining a ~35% accuracy rate since the mid-90s.
Take a look: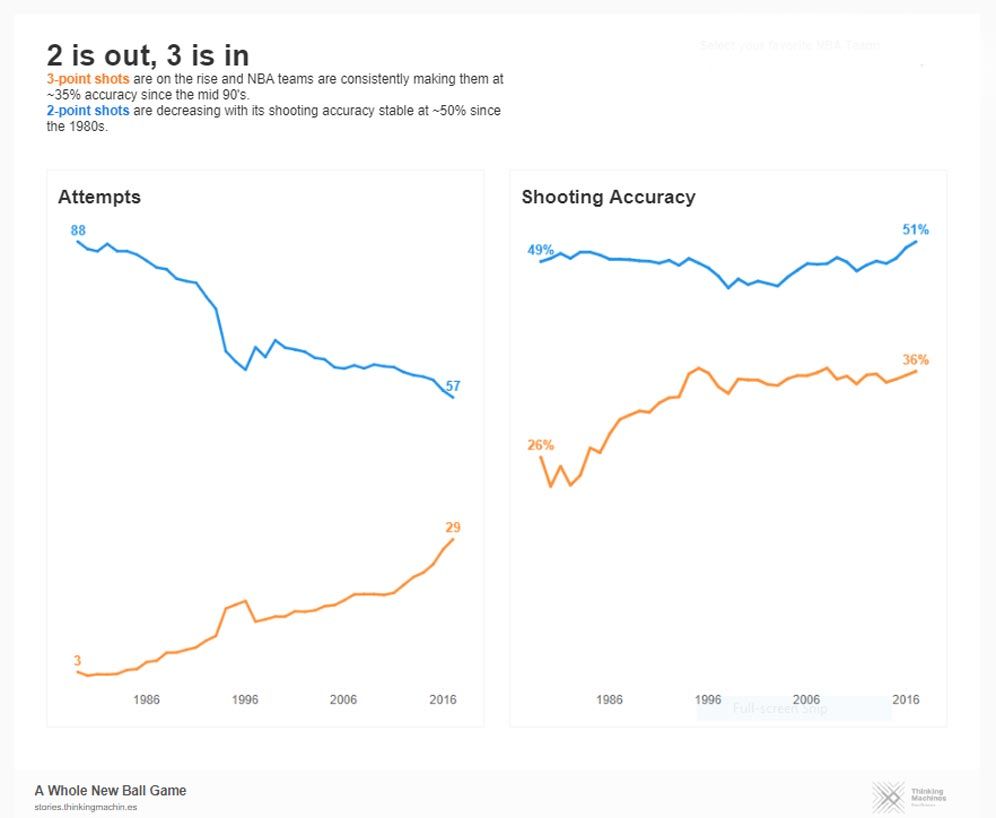 Continue reading below ↓
Recommended Videos
It's now gotten to the point that -- for the first time ever -- a team averaged an equal number of 3's and 2's per game last season.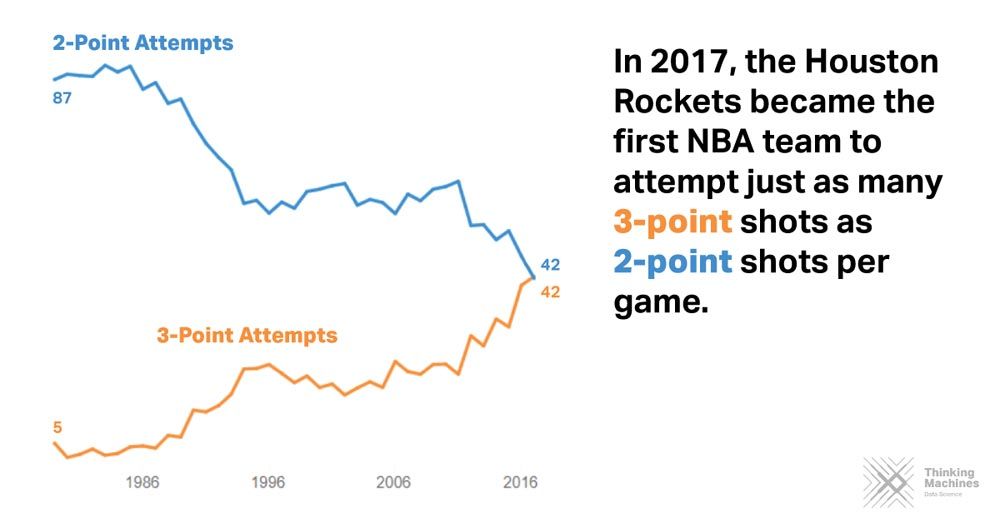 Pace and space offense has led to a run-and-gun league, with fast-paced and high-scoring games.
The 'pace' of the game (measured by the number of possessions per 48 minutes) has increased by about five to 10 per team per game since the 2000's.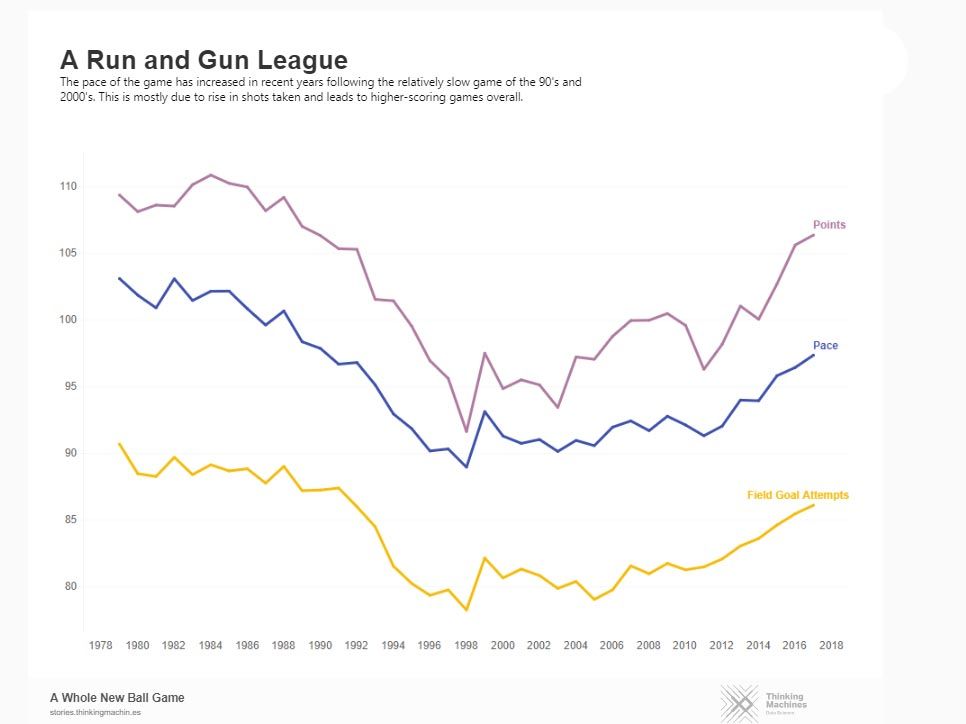 Together with the increase in shots attempted throughout the league (more of which are 3's), and the overall drop in offensive rebounding percentages, it's no wonder the first week of the regular season has seen the highest average points per game in the past 49 years, at 113.4 points per.
It's a changing of the guard: position usage rates have shifted dramatically.
On average, point guards and shooting guards now use up almost 50 percent of a team's possessions. They're no longer expected to just dribble and pass the ball - just look at high-scorers Russell Westbrook and Stephen Curry.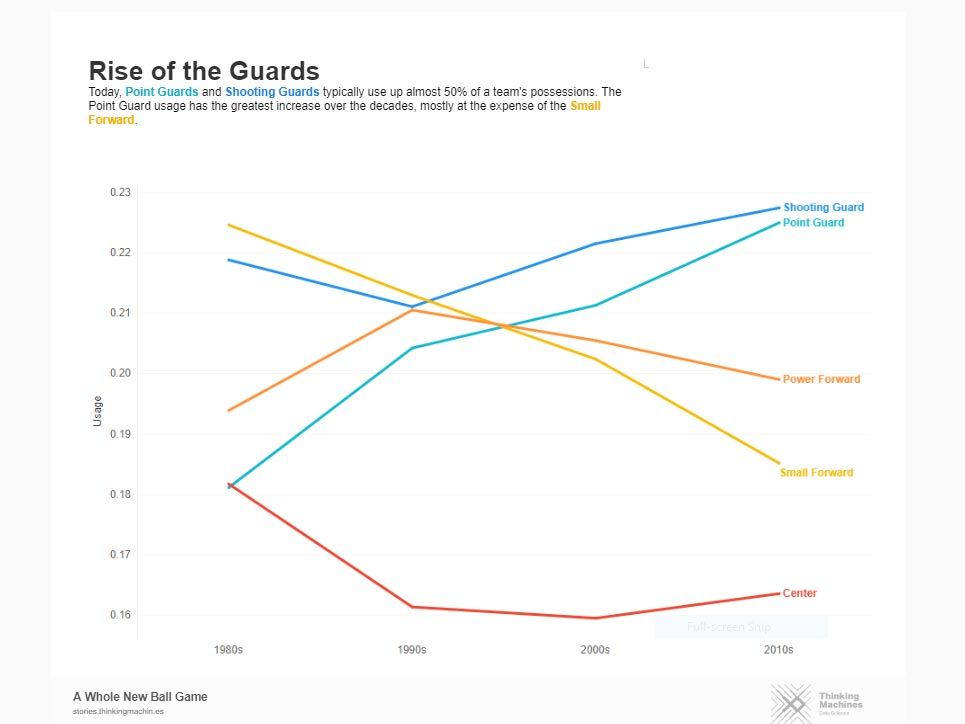 While most teams follow the league wide-trend, there are some notable exceptions: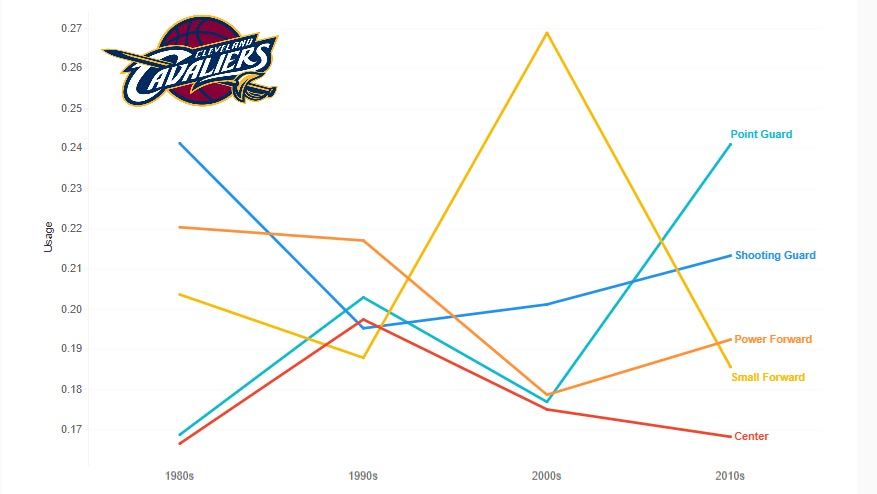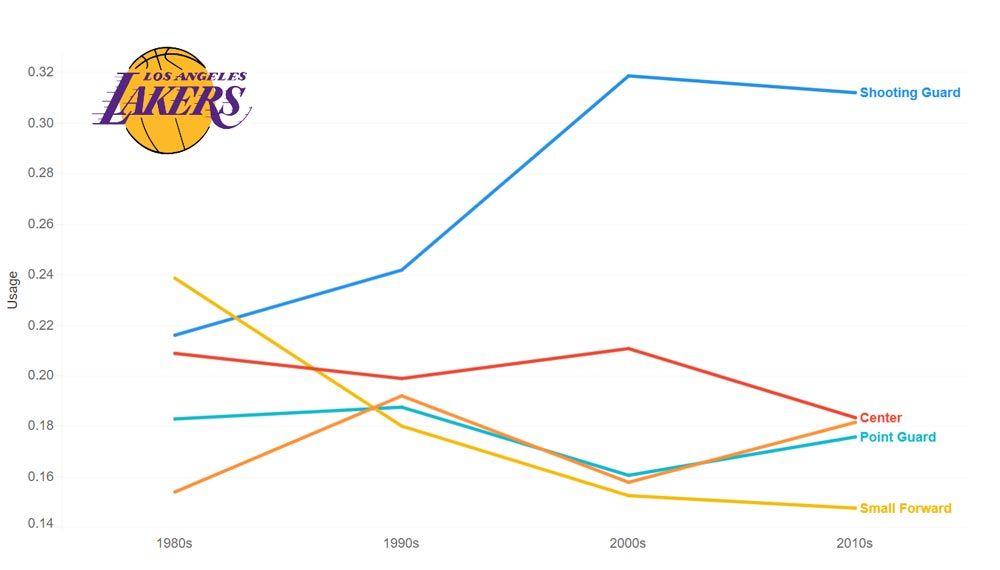 You can probably guess why.
Tracking trends across three or five or 10 stats might be doable, but what if you want to compare dozens of statistics, across all 30 teams, and over 30 seasons? You could try to scroll through pages and pages of numbers, but data science allows us to condense our 60-stat dataset into just two dimensions which represent a team's statistical profile (if you're curious, we used a method called Principal Component Analysis). Each dot on the chart below is one team's profile in a given season; dots which are closer together have a more similar playing style.
For example, let's take a look at the San Antonio Spurs - a highly-successful team which has made it to the playoffs in each of the past 20 years (the longest active streak in the NBA).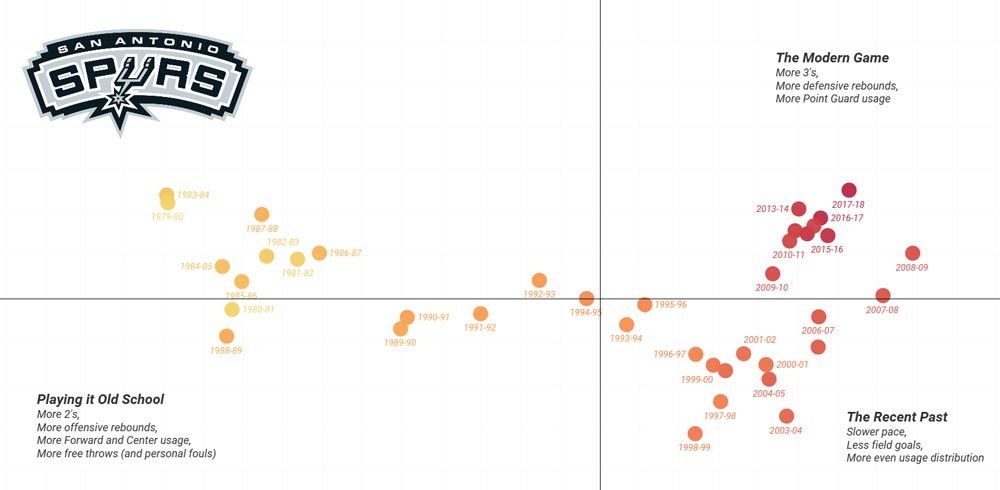 Like most teams in the 80s, it played old school: more 2's, more offensive rebounds, more forward and center usage. About the time Tim Duncan was drafted in 1997, the team shifted to a slower pace, with less field goals and a more balanced position usage distribution. They stuck to a consistent playing style from 2010-2017, and have now adapted to the modern game - with more 3's, more defensive rebounds, and higher point guard usage.
By plotting this for each team across all its seasons from 1979-2018, we can now see how the league has evolved: some teams falling behind, others surging ahead - but with a clear overall shift in playing style. Mike D'Antoni's "seven seconds or less" Suns of 2004-2006 were clear outliers for their time, but their run-and-gun style of offense is now standard across the league.
Check out the full story to explore the interactive chart and uncover more trends in the data. The numbers don't lie: it's a whole new ball game.
[Editor's note Thinking Machines is a Filipino data science consultancy which helps industry leaders and multinational organizations solve business problems using data. Founded in 2015 by Stanford graduates and start-up veterans, we're committed to delivering quality work for our clients and our community. Curious about the methodology of our analysis? Interested in drawing insights from your own data? Send us an email over at hello@thinkingmachin.es]