"OH man this is so unbelievable! Thank you for having me!"
LeBron James visited the Tenement in Bicutan, Taguig on Day Two of his second trip to the country.
The four-time NBA MVP arrived at mid-morning on Friday to a warm and loud reception from several thousand residents who waited for hours to see him.
James said he appreciated "everybody coming together" and that he was grateful to serve "as an inspiration."
[See LeBron James grows fond of 12-year-old baller he gifts her autographed ball, signs her shoe]

Highlights of his visit included the unveiling of a basketball court that was painted by local artists in his image and a short ceremony where the two-time NBA champion made handprints and made an autograph on a cement cast destined for the House of Rise.
"Of course it's humbling to know that you're inspiring people all over the world, all the way to your homeland. I'm also grateful… It's a really cool thing that they would do something like that in their home and allow me to be an inspiration to them. Hopefully I can stay there forever and make my mark here but to be there today and to see those kids, all those families. To have that sense of hope and bringing that hope. They all need each other to be great and they're definitely going there," James said afterwards.
ADVERTISEMENT - CONTINUE READING BELOW ↓
James became the third and highest-profile NBA player to the court, with Indiana Pacer Paul George and Fil-Am Jordan Clarkson of the Los Angeles Lakers preceding him.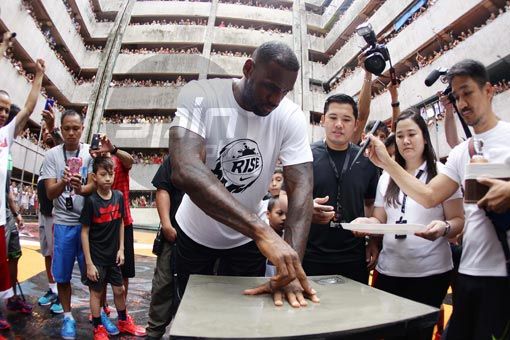 Local rapper Mike Swift, a protege of Dr. Dre, was instrumental in bringing James to a location that evoked the look and feel of the Brooklyn boroughs.
"It's a tribute to what teamwork can do. We were sweeping the flood (on the court) at 5 in the morning but for the people in the Tenement to see LeBron here?! It's gonna change their lives," he told SPIN.ph.
The Cleveland Cavaliers star spent a few minutes watching 20 young ballers perform shooting drills in an event that was almost cancelled earlier due to strong and incessant rain.
[See LeBron James not one to disappoint, wows Pinoy fans in Nike Rise game at MOA]
Also present was former Gilas Pilipinas coach Chot Reyes and the aspiring Nike Rise players, a group of young basketball players chosen around the country for a reality show type competition.
Shortly before he left the premises for the unveiling of a Philippine exclusive basketball shoe at the Bonifacio Global City, a smiling James paused to watch and listen to a band of schoolchildren and majorettes perform.
ADVERTISEMENT - CONTINUE READING BELOW ↓
Security in the area was tight, with policemen deployed and overseen by Taguig Mayor Lani Cayetano herself.
[See LeBron James the Most Valuable Tweeter with sponsored tweets valued at US$140,000]