CHICAGO - The Range Rover I carpooled with had a hard time wedging between two SUVs at Lot E where all credentialed reporters covering the Bulls can park without paying the $28 fee.
This prime parking spot, just steps from the main entrance of the United Center, is always full. But not this early, not when tip-off was a good 40 minutes away.
Tuesday night (Wednesday morning in Manila) was an exception.
LeBron James was in the building.
As pointed out by K.C. Johnson of The Chicago Tribune, it was the King's 39th visit through 16 NBA seasons,
But it was his first in purple-and-gold, and he had never been so vulnerable, the captain of a doomed ship that is sinking fast with injury and a whispered mutiny.
His team colors have changed. The man hasn't.
LeBron exerted the same dominance during his days in Cleveland and Miami. He's the same Bulls killer who dismissed Derrick Rose in the 2011 East finals, the same heartless villain who eliminated Jimmy Butler in the 2015 East semifinals.
A sold-out crowd of 21,359 souls rained boos on LeBron early and often. Chicago fans loathe him. They remember the pain he inflicted them for years. The heartaches he caused. The nightmares he induced.
Continue reading below ↓
Recommended Videos
But when LeBron rallied the Lakers from a 36-16 deficit to a 123-107 victory, the boos were drowned by cheers. It was an appreciation of greatness that allowed the aggrieved to soak in the moment, to let their resentment surrender to the splendor of this man's beautiful game.
He finished with 38 points, 10 rebounds, and several highlight reels, including an off-the-glass reverse jam late in the fourth quarter. It made the arena tremble with excitement.
Despite the huge road win, the Lakers are 31-36. They're 6.5 games off a playoffs berth with 15 to go. LeBron's consecutive postseason streak is likely to end at 13 while his Finals run stops at eight straight. If he's disappointed, he ain't showing it.
LeBron continues to play hard, impervious to what it may do to his tender groin. His knees may be old, burdened by 45,997 minutes of usage, but his leap still has spring. The shoulders are weary, but as shown on this night, it can well carry the Lakers.
After trailing 34-16 at the end of the first quarter and 60-55 at the half, LeBron used his 6-foot-8, 250-pound frame like a battering ram and relentlessly attacked Chicago's interior, providing daylight to a myriad of Lakers shooters who knocked down 13 triples.
When the LeBron-orchestrated, inside-out assault was done, Chicago's resistance crumbled like the Berlin Wall. And the the Bulls, officially eliminated from the playoffs race with their 50th loss in 69 starts, were in awe.
"He can do anything on the floor," said swingman Lauri Markannen, who couldn't make a shot to save his life, going 4-for-17 including 0-for-8 from distance.
"The consistency of him, and that goes to durability, is mind-boggling at this level. He has played until June nine times. I've been a part of teams that do that. He's an amazing guy," head coach Jim Boylen added.
Makes me wanna genuflect and pay homage to the King.
I was wrong. I thought LeBron was a sore loser, who cared only about his legacy, his numbers, his place among basketball's immortals. But even with a lost season, he laid it all out there, toiling with the broken remnants of what once was a contending team.
Now 34, with the window closing fast on his determined chase of Michael Jordan's ghost, LeBron is turning out to be a consummate pro who is handling adversity as well as he had handled prosperity.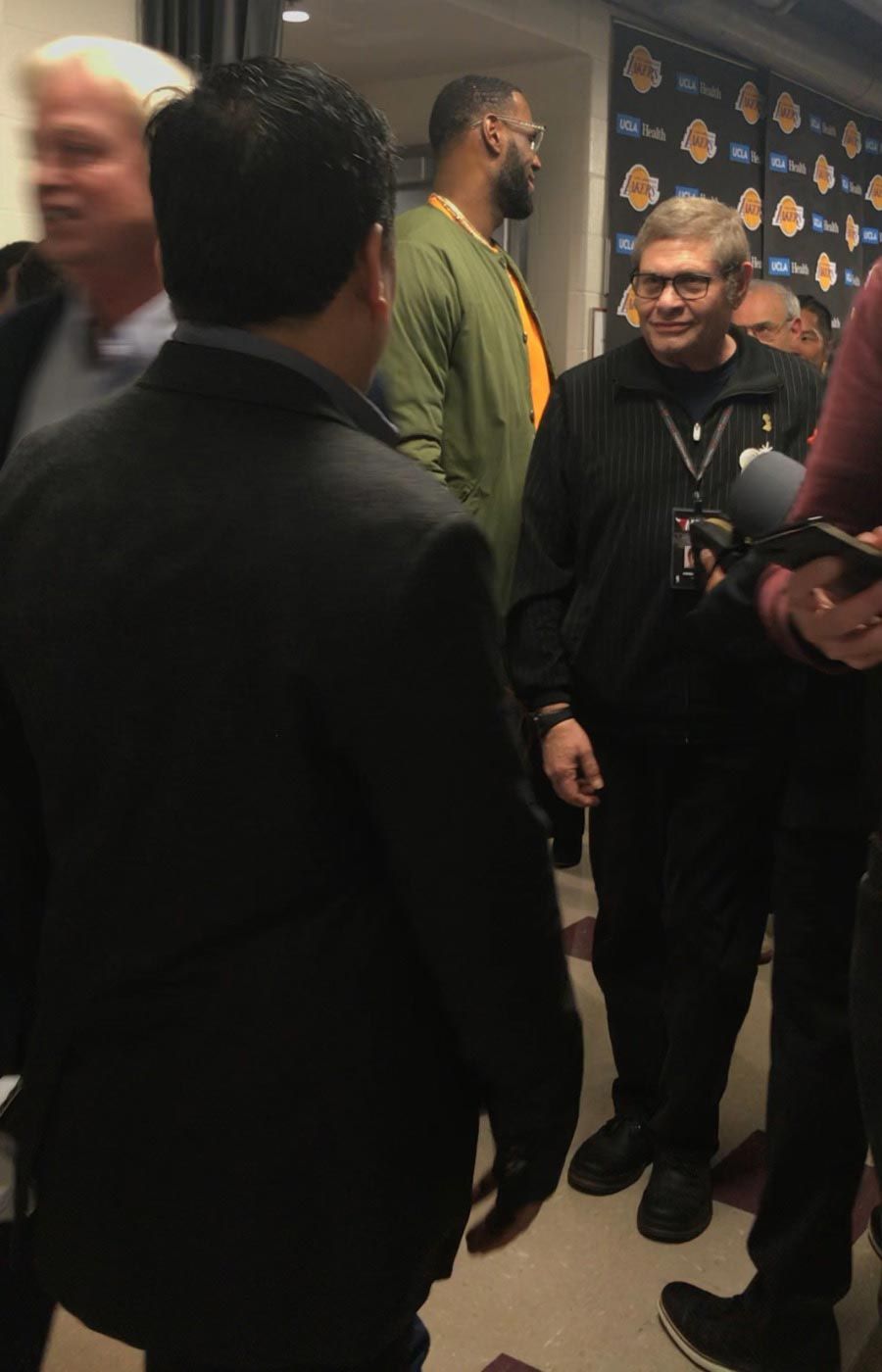 After his packed press conference outside the visitors' locker room, one where I barely squeezed and hated being 5-foot-nothing, I managed to wiggle in front of LeBron and ask about his plans to revisit the Philippines for a clinic.
"I don't know, I'm not sure," he said quickly. I cocked a follow-up question but he was gone before I could fire, whisked away by Rob, his close-in security.
As he slowly disappeared from my sights, I marveled at the good fortune of having seen him serve a masterpiece. It's probably the same euphoria that swept those who have witnessed Van Gogh or Wolfgang Amadeus Mozart do what they do - produce works of art.
Still, I will not yield as a prisoner of the moment. He ain't the GOAT. To me, MJ is, and will always be.
But right now, right this minute. LeBron James is clearly the NBA's one and only King.