CHICAGO - The hysteria of the NBA's impending free-agency season just got so sleazy and salacious you might need to take a shower after reading this piece.
Of the multiple scenarios laid out there, this is what tickles the captive consumer's imagination - LeBron James and Kevin Durant taking their talents together to Los Angeles.
But is it really possible to pull off a heist as big as the pork barrel scam?
Theoretically, yes. Realistically, maybe. And no, this isn't just blowing smoke.
Brian Windhorst of ESPN told The Dan LeBatard Show on Monday that at all LeBron needs to do is pick up the phone and convince KD to join him in Los Angeles.
During the offseason, players are permitted to recruit each other without violating the NBA's tampering rules. This allows LeBron to dial whoever he chooses on his Samsung smart phone. You just hope he has an unlimited plan because in recent years James has morphed into some pitchman peddling his wares from city to city in search of championships.
On Tuesday, Skip Bayless, the co-host of Fox Sports talk show Undisputed, said the LeBron-KD collaboration makes sense.
Both have digs in L.A. James has two properties in upscale Brentwood including a $23 million mansion while Durant has a beachfront home in Malibu, which was procured just two months ago for a cool $12 million, and a house in Hollywood Hills.
Both work out in L.A. during the summer.
Both also have business interests in Tinseltown and can be effortlessly lured by the searing California sun, the laid-back lifestyle, the fine dining, and the unique chance to rub elbows with movie stars and power brokers.
Durant is an unrestricted free agent with a standing four-year $160 million contract extension offer from the Warriors. And though he already committed to re-sign with Golden State, this is the same KD who left the Thunder in July 2016, shunning Oklahoma City, his home for eight seasons.
Remember, KD once famously said: "This is the NBA. Anything can happen."
I know, Durant just won his second straight NBA title, winning back-to-back NBA Finals MVP honors along the way. Why fix when it ain't broke, right?
Agreed, but playing in Los Angeles, America's second largest media market behind New York, opens wide doors that lead to lucrative endorsement deals. Besides, who doesn't want to be a Laker and be associated with an established brand that has netted 16 NBA championships?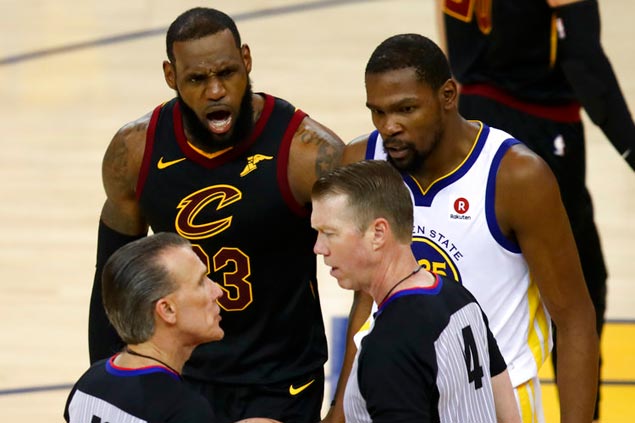 So what would the Warriors do in the unlikely event that Durant will abandon them?
Don't lose sleep. GM Bob Myers will find a way to snag Anthony Davis from the New Orleans Pelicans, make trade schemes that will raise eyebrows.
Beyond L.A., James has plenty of options, too.
LeBron can choose to stay in Cleveland and sign a one-year deal for $36 million, He can also ink a five-year max deal worth over $205 million, $50 million more than any other team can give him, reports Adam Reisinger of The Undefeated.
Philadelphia, which has cap space, is another destination. The Sixers have Joel Embiid and Ben Simmons as major selling points. Can you imagine the catch phrase? With LeBron on board, they are potentially a Finished Process.
Houston is another landing spot. James Harden is a lethal weapon. And CP3 is LeBron's close friend, a willing accomplice in that infamous banana boat ride.
But in order to pay the King's ransom, keep Chris Paul and Clint Capela, the Rockets will need to shed some assets and possibly lose a huge chunk of the wattage that allowed them to push the Warriors to seven games in last month's beautifully contested Western Conference Finals.
The San Antonio Spurs can get creative and acquire James by trading LaMarcus Aldridge and the remainder of his $72.3 million contract. The often ornery and always brilliant coach Gregg Popovich is a tantalizing bait, but Manu Ginobili is 40, Paul Gasol is 37, Tony Parker is 36, and Kawhi Leonard is 26 and unhappy.
Usually, the NBA offseason is a tranquil time when sports talk radio is muted and beat writers struggle to peck their way through noteworthy stories. But this is an unusual time. This is the summer of LeBron.
There will be lots of speculation and plenty of wild tales. It will flow continuously and will end only when the King James finally declares where to rest his bejeweled crown.
Keep your ears to the ground. The party has only just begun.