CHICAGO - The word tank, as defined by Merriam-Webster dictionary, means to "fail completely." 
In sports, it is commonly referred to as the act of "deliberately losing, making no effort to win."
The NBA is no stranger to such term. In fact, the Philadelphia 76ers popularized the lingo through a euphemism they call 'The Process.' 
When Jimmy Butler and Taj Gibson, the last enduring vestiges of the bitter-sweet Derrick Rose era, were traded one after another last season, Chicago appeared headed toward the road less traveled - rebuilding from scratch.
Most Bulls fans want their team to finish dead last in the overall standings. More Ls mean more chances of getting those ping pong lottery balls that could yield gems such as 7-foot DeAndre Ayton, a nimble 19-year old center from Arizona who has breathtaking skills, or 6-foot-10 Luca Doncic, a 19-year old European showman seen as the second coming of Toni Kukoc.
When the Bulls fell to 3-20 after losing their 10th straight game last December 6, it seemed like the process was indeed taking place. But things are not always what they seem.
After that long drought, the Bulls won seven straight and nine of their last 11 to improve to 12-22 and climb to within six games of the eighth and last playoff berth in the Eastern Conference. They outran the Bucks the other day in Milwaukee, 115-106, and rallied to beat the Porzingis out of the New York Knicks on Wednesday (Thursday, Manila time) at the United Center, 92-87.
Instead of the tank, the Bulls are taking it to the bank.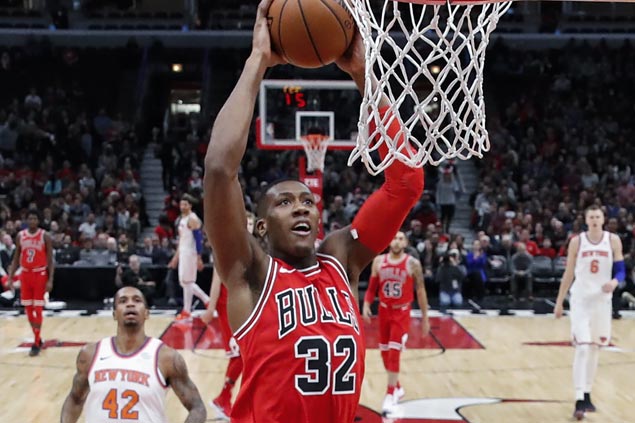 There are several bright spots in the Bulls' ongoing  stampede. Nikola Mirotic, who was sidelined for 23 games following a rude encounter with a Bobby Portis punch, is averaging 17.2 points per and nailing 47.5 percent from long distance. Robin Lopez is solid in the middle with 12.8 points and 5.3 boards an outing while Lauri Markkanen has been quite a revelation averaging 14.2 points and 7.4 rebounds.
But it is Kris Dunn who melds all the pieces together. With the Bulls' leadership role still having a "wanted" sign, the 6-foot-4, 210-pound point guard willingly assumed the position.
With a delightful  mix of court intelligence and measured aggression, the 23-year old has steadied an uneasy season by averaging 13.2 points, 4.6 rebounds and 5.9 assists per game.
Although Dunn has finally arrived as a legitimate NBA starter, his journey has been ornamented with its fair share of tribulation.
FROM "BUST" TO BULL. 
The fifth overall pick in the 2016 NBA draft, Dunn was quickly dismissed by many as a bust after an underwhelming rookie turn in Minnesota where he normed just 3.7 points, 2.4 rebounds and 2.1 assists in 78 games.
He was a good passer, rebounded the ball reasonably well, and shot poorly. In other words, he was Lonzo Ball without the hype and the loquacious helicopter dad.
But the trade to Chicago turned out to be more than just a change of scenery. It was a rebirth.
As a Bull, Dunn is shooting 43.4 percent from the field, up from the 37.7 percent he shot as a Timberwolf. He is making 3s at a 32.9 percent clip, up from 28.8 percent in Minnesota. Even his free throw shooting hiked from 61 to 67 percent.
Dunn, who makes $4 million this season, has dealt with adversity all his life. But the pain and suffering he endured has strengthened him mentally and has given him the resiliency to parry the challenges that darts his way from time to time.
Before reuniting with him later in his adult life, Dunn was separated from his father, John Sheldon, at a young age. His mother Pia had troubles with the law that required periods of incarceration and she died unexpectedly while he was in college at Providence.
"I'm a fighter in life, just a little bit of adversity, hitting a bump and just try to fight it through," he told Bulls.com, unfazed by his team's early struggles.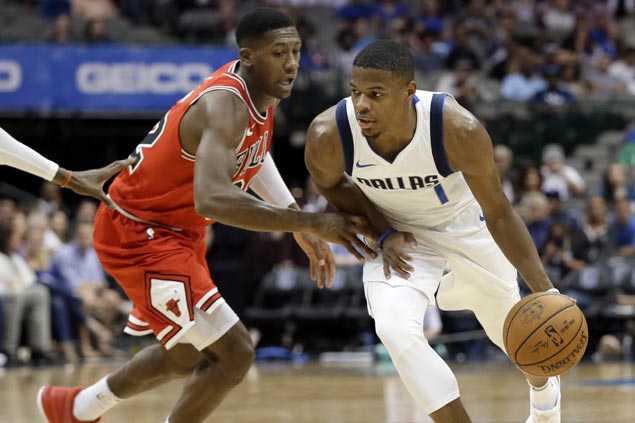 So what about the tanking? 
Nah, ain't gonna happen. Dunn insists his Bulls are going down goring their horns, not just sacrificial lambs for a fan base eager to embrace a season's misery for potential years of prosperity through the draft.
"We're not going out there to lose. We work hard every single day. We're professionals, at the end of the day, people have families. Our job is not to lose on purpose. The last few weeks haven't been an accident. We feel like we can play with anyone," Dunn told the Chicago Sun-Times.
Regardless of the promise that awaits, I'm never a fan of institutionalized losing because it encourages bad habits and creates a negative culture that can permanently scar a locker room.
The honor and integrity of losing the right way are the virtues that bring pride and ecstasy to winning.
To paraphrase lawyer Renato Bonsubre, one of my favorite professors during my three years in college, the NBA, like a university,is a repository of all things beautiful. 
And tanking is definitely not beautiful.