KOBE Bryant and Phil Jackson, two of Shaquille O'Neal's most important teammates from the Los Angeles Lakers congratulated the big man for his Hall of Fame induction on Friday (Saturday, Manila time).
Bryant posted a photo on his Instagram account to congratulate O'Neal for reaching the Hall of Fame. The Black Mamba called Shaq his "big brother" who he described as "the most dominant big man of all time."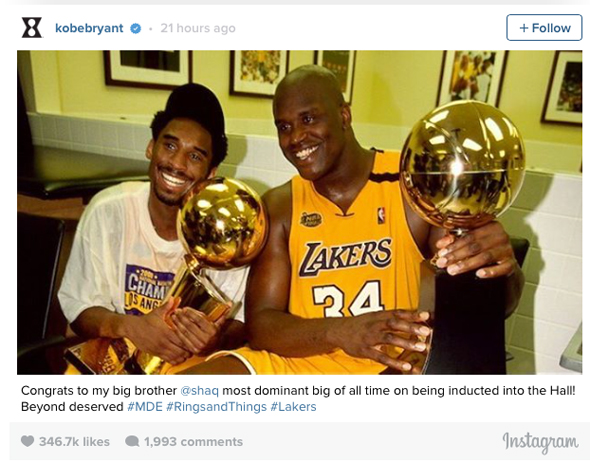 ADVERTISEMENT - CONTINUE READING BELOW ↓
In a touching tribute on The Player's Tribune titled 'The Big Man,' Jackson credited O'Neal "as always a team player" and described his dedication to winning while comparing the four-time NBA champion to other great centers of the past but stood out because O'Neal "did it with a joy that no one had seen before."
"(Shaq) has chosen to go into the Basketball Hall of Fame as a Laker, which is fitting. It was a very interesting and entertaining five years we had together in Los Angeles. For all his bravado and bigness, he was a team player first. He knew how to make his teammates better players. He kept it real — and really fun," said Jackson, the current president of the New York Knicks.
Together, the triumvirate led the Lakers in dominating the NBA, reaching four NBA Finals appearances and winning three consecutive championships as well as earning various personal accolades.
ADVERTISEMENT - CONTINUE READING BELOW ↓
While considered a dominant duo, Kobe and Shaq were engaged in a feud as teammates as both superstars vied for leadership of the Lakers. The partnership that began in 1996 ended in 2004 after a disastrous Finals appearance that led to Jackson not returning as head coach and O'Neal being traded to the Miami Heat--something Shaq joked about in his Hall of Fame speech.