"I FEEL like I'm back in the Staples Center!"
This was Kobe Bryant's reaction to the "Kobe!" and "MVP!" chants from more than 10,000 fans who trooped to the Smart Araneta Coliseum in Cubao, Quezon City last Saturday afternoon for the Manila leg of the Mamba Mentality Tour 2016.
One can easily make the mistake of thinking it was a home game for the popular Los Angeles Lakers as thousands of people came dressed in jerseys and t-shirts sporting the Lakers' traditional purple and gold team colors. Many were also wearing various iterations and colorways of Bryant's popular signature Nike sneakers.
Although the tickets were released by organizers for free via online registry, scalpers made a killing by selling the tickets for as much as P3,000 apiece.
It didn't matter to the fans that the five-time NBA champion is already retired. They cheered themselves hoarse during Bryant's introduction complete with fireworks, a light show and a shadow play by the El Gamma Penumbra performance troupe.
Kobe talked with host Aaron Atayde about his Mamba Mentality philosophy and a tough 4 a.m. clinic Bryant hosted for collegiate players that included Mac Belo, Jeron Teng and Thirdy Ravena with the athletes divided into two teams.
Continue reading below ↓
Recommended Videos
"In 2003, when I was at my physical peak, I did 50 suicides in a row. Just for fun," Kobe quipped during penalties for the less performing side doing penalty drills.
To further demonstrate his philosophy, the UAAP players were pitted in a 10-minute scrimmage against a selection of PBA players led by Jimmy Alapag, Jared Dillinger and Chris Ellis.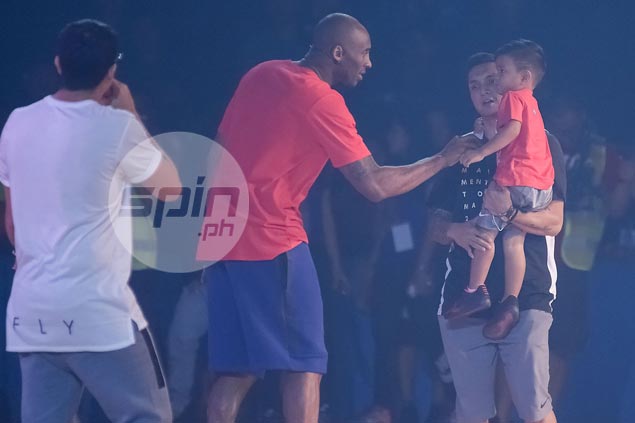 Even though it was just a friendly game where the UAAP team was trying to overcome a hypothetical eight-point deficit, Bryant showed his serious side by stopping play when the pros scored an easy deuce.
Kobe went full 'Mamba' and told the varsity players that they better not waste everyone's time by playing a lax game. When it appeared the pros were not about to lose their lead, the crowd began chanting for Bryant to play.
"No way! I'm retired. Not a chance!" Kobe laughed, telling the audience that he has stopped at "60 points" - a reference to his last memorable game as a Laker.
In a touching series of events, host Atayde directed Bryant to the widescreens on the stage to show artists painting a tribute for the Lakers great on a basketball court which was then followed by a request to the fans in attendance.
"Everyone who's ever cheered for Kobe, take out your phone and turn on your flashlights. If you've ever cheered for the Purple and Gold, if you've gone to a basketball court and tried a fadeaway to emulate one of the best players who has ever touched a basketball, if you've crumpled a piece of paper and threw it in the trash can and screamed, 'Kobe!' put your phones in the air. Because this is how we salute legends. And because we Filipinos believe that Mr. Kobe Bryant, The Black Mamba, legends are forever," Atayde said.
True enough, the stadium was suddenly lit up.
As a tribute to the NBA superstar, Kobe was presented with his own banner that now hangs from the rafters alongside one other: the late Muhammad Ali's "Thrilla in Manila" banner.
A visibly touched Bryant left an equally touching parting message for his fans and a glimpse of the softer side of the man who fiercely adopted the "Black Mamba" persona.
"I just want to say thank you so much for inspiring me in this journey. It's crazy. I started playing basketball when I was two years old and never in my wildest dreams everything that came after," Bryant was saying before being interrupted by a male fan who shouted "I love you Kobe!" for the former Laker. "Hey I love you too!" responded Kobe.
He continued: "If I can leave anything with you guys in my retirement is to understand that dreams do come true. They do come true! I would love for everyone here to follow their dreams. Make sure you work hard every single day. Make today better than yesterday. And your dream will come true as well. Thank you from the bottom of my heart. I retired professionally as a basketball player but I'm not retired coming to Manila and working with you guys to make your dreams come true."
"Thank you! I am deeply honored by that! I'm speechless about it. I love you and I will see you soon! God bless!" the future Hall of Famer ended before leaving the coliseum to chants of his name.