CHICAGO - When the Golden State Warriors rolled into the United Center on Tuesday (Wednesday, Manila time), the Chicago Bulls went on high alert for Steph Curry and Kevin Durant, who entered the contest averaging 33.9 and 30.3 points per game, respectively.
In the seven games prior, Curry nailed 51.7 percent of his 3s while Durant knocked down his field goals at an alpine rate of 55.6 percent. There was grave concern that the All-Star pair would provoke mayhem with their indiscriminate shooting,
Klay Thompson, meanwhile, was going through an epic slump, hitting just 44 of 111 field goals (39.6 percent) and was a mere 5-of-36 from long distance (13.9 percent). So despite his championship pedigree, the 28-year old Thompson was low on the Bulls' worry list.
Nobody makes emergency plans for a dormant volcano.
But the operative word there is volcano, "a vent in the earth's crust" that spits out fire and fury without the courtesy of an advance notice. And erupt violently was what Thompson did, carrying the Warriors to a 7-1 record following a ruthless taming of the Bulls, 149-124.
ADVERTISEMENT - CONTINUE READING BELOW ↓
Klay's 52 wasn't just some random collection of points. That would be like calling the Pope a mere cleric.
It wasn't just an ordinary slump-buster, either.
This one was historic.
In the first three minutes and 29 seconds of play alone, Thompson already drilled three 3s and a 17-foot jumper to push the Warriors ahead 15-5. He swished three more triples before the end of the first quarter and had 10 treys by halftime.
Klay added four more threes in the third period. And when he finally holstered his smoking rifle, exiting for good with still 4:05 left in the quarter, the Washington State University alum had set a new NBA record with 14 threes, eclipsing Curry's 13.
The 11th pick in the 2011 NBA Draft, the 6-foot-7 Thompson, whose younger brother Trayce plays infield for the Chicago White Sox of Major League Baseball, rewrote history in just 26 minutes and 33 seconds of playing time.
ADVERTISEMENT - CONTINUE READING BELOW ↓
He sank a total of 18 field goals on 29 attempts. Those who worship in the altar of metrics, probably agree that the 215-pound sniper also set a record with the least amount of dribbles in a 52-point masterstroke.
Thompson was like a recreational fisherman out there at Chicago's famous arena. All he did was catch and release.
As Thompson jogged toward the bench, with the Warriors up 113-74, the sold-out crowd of 21,075 stood in ovation. It was a salute to one of the best shooters the NBA has ever seen. It was also a sincere show of reverence to the Warriors, reigning and back-to-back defending champions.
"This is why I do this for, for the moments that you share with your teammates. That's why we play basketball because it's a collective effort," Thompson told reporters.
The Warriors did make a conscious, concerted effort to get Klay going. They fed him like a hungry castaway, setting up picks and multiple screens that birthed so many open looks.
ADVERTISEMENT - CONTINUE READING BELOW ↓
According to Connor Letourneau of The San Francisco Chronicle, when Curry saw the halftime stats sheet that reflected Klay's 10 triples, just three short of his own record, he told his Splash Brother to "go for it."
Durant, who himself possesses royal credentials, dished eight of the Warriors' 34 assists and marveled at not just Klay but at Curry as well. He called them "two of the best shooters to ever walk the earth."
This is why the Warriors are almost impossible to beat. They have no ego. They don't care who shines. They don't care who hurls the most field goals or whoever takes the last shot. The only communal goal is outscoring the opponent in the most unselfish way possible.
It's an insult to call them a juggernaut. They are The Greatest Basketball Show On Earth.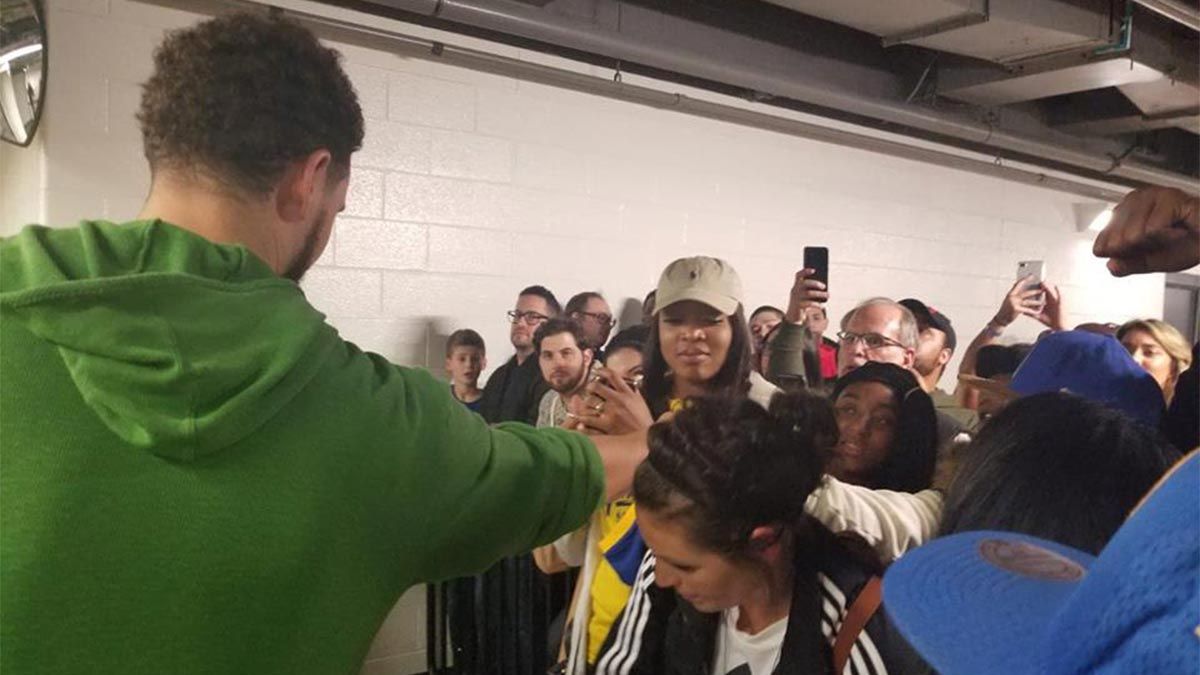 ADVERTISEMENT - CONTINUE READING BELOW ↓
After making himself available to the media, Klay, decked in jeans, white walking shoes and a lime green sweater that was as loud as his performance, took time to sign autographs and pose for photos with people, big and small, milling about in a VIP area near the lockers.
He was carrying the jersey he wore and the ball he used to swish the historic 14 threes.
Those items would look good in his personal trophy case.
But it would look better in a museum.