FROM his signature 'talcum powder throw' to posting brand-new hip-hop albums in his social media accounts in advance, LeBron James never runs out of pre-game rituals.
Save for his superhuman-like athleticism, size and court vision, self-belief has always been the four-time NBA MVP's strongest suit and it has shown in his performances in the playoffs.
As the Cavaliers breezed through the Indiana Pacers and the Toronto Raptors in the first two rounds, the 'King' has put up averages of 34.4 points per game to go along nine rebounds and 7.1 assists.
This phenomenal streak includes an incredible two-game killing spree in Toronto where he averaged 35 points to pull down the curtains on the Raptors' season in the second round.
As if he needs another lucky charm, LeBron got exactly that in the last two games of the second round - with a little bit of help from Filipino mysticism and belief.
The NBA superstar debuted the Philippine-inspired LeBron 14 'Agimat' in Game Three and has looked more immortal than ever since then.
James' last visit in Manila inspired a whole lot of basketball fans and in return, now he's taking a bit of the Philippine culture with him in his shoe designs.
Continue reading below ↓
Recommended Videos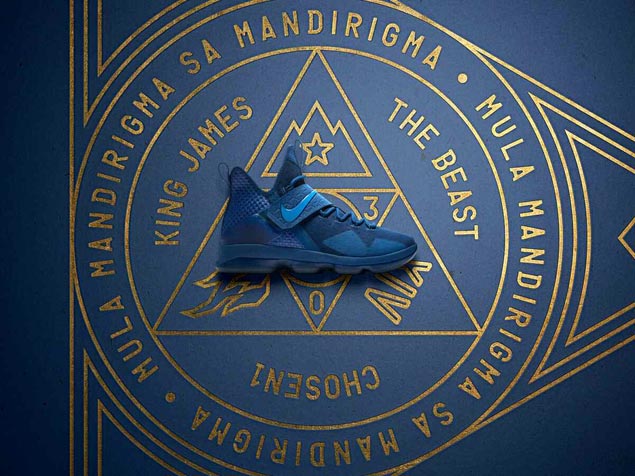 The graphic of the shoes were inspired by traditional woven fabrics, with gold 'agimat' like elements embedded in it.
The letters MNL and numbers 330 meet at the tongue logo, recognizing the Philippine capital and LeBron's hometown of Akron.
The words 'Para Sa Kadikalaan' are printed right at the heel notch as the heel logo.
If his performances in the previous games are any indication, it looks like the good luck charm which has protected our warriors in the past is doing pretty well for James.
That being said, if it's good enough to work for the King, it's good enough to work for everyone.
Maybe it's time for his foes to get some 'Agimat,' too.
[The LeBron 14 'Agimat' will be available starting on May 20 only at Nike Park Fort BGC, Nike Park Glorietta 4, Titan Two Parkade BGC and Titan22.com. The shoe retails for P8,895 SRP. For more info, click this LINK]