OAKLAND — Following the Cleveland Cavaliers' loss in the 2017 NBA Finals opener, LeBron James was quick to point out one reason behind their demoralizing defeat to the Golden State Warriors on Thursday (Friday, Manila time).
"KD," said the Cleveland Cavaliers All-Star and four-time league MVP.
It took five years for Golden State forward Kevin Durant to make his way back to the NBA Finals. His last appearance was in 2012 when he was just 23 and played for an Oklahoma City Thunder team that lost in five games to the James-led Miami Heat.
James won his first of three championships against his rival Durant, but that rivalry has now come full circle with Golden State and Cleveland meeting for the third time in as many years to determine the 2017 NBA champs.
The Warriors drew first blood with a convincing win over the East Conference champions, tying theNBA Finals record of four turnovers against the Cavs' 20 miscues.
Golden State, the NBA's most potent offense, shot just 42.5 percent from the field (45-of-106) but was enough as Durant fashioned out a brilliant all-around performance with 38 points, eight rebounds, and eight assists.
Steph Curry, who has two NBA MVP awards to his name, added insult to injury, punishing the Cavs with 28 points and 10 assists. The Cavs were led by James (28 points, 15 rebounds) and Kevin Love (15 points, 21 rebounds).
But it was Durant who left an indelible imprint on the game, establishing his presence inside early but also managing to make a few from beyond the arc. His remarkable Finals return was a good sign for a Golden State team that spent a good portion of the season figuring out how four All-Stars could co-exist in one team.
"His length and versatility really helped out….he can play any of the other four positions," said Warriors acting head coach Mike Brown, even joking that Durant could not play center because the Warriors already had so many.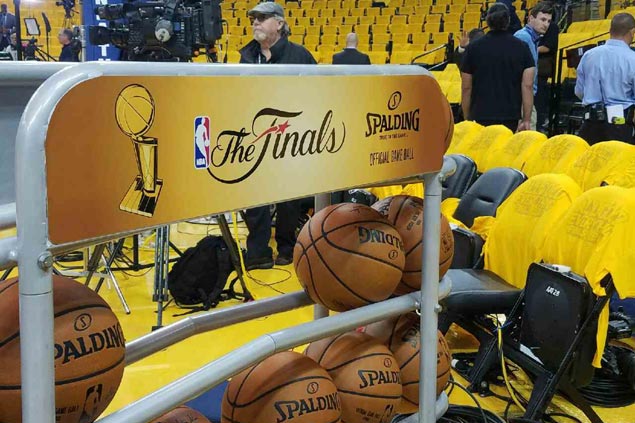 Photo by Henrick Macalintal
For all the challenges presented to them this season, the Warriors are now poised to avenge their loss to the Cavaliers in last year's Finals and Durant is three wins away from his first title and some validation of his move from OKC.
"This is what what every player wants to be, is the highest level of basketball. That's what you dream about as a kid, to play at the highest level… I wouldn't have done my teammates any good if I wasn't just enjoying the moment…. I just try to stay locked in…. trying to do my best to be there for my teammates and to play up to my standards as an individual as well," he said.
There was plenty going on for Durant in Game 1 as well. His newest shoe, the Nike KDX 'Still KD' made its debut and was available for purchase on the Nike SNKRS app only while Durant was out on the floor. The shoe was sold out near the midway point of the second quarter.
He also denied an interaction with singer Rihanna, who is a well-known LeBron fan, that played out on social media. Duran managed to block it all out and was locked in. It was a great start for Durant and the Warriors but he knows that there is still much work to be done.
Golden State leads the best-of-seven series 1-0. They return to action against Cleveland on Sunday night in Oakland.