JR Smith did not say explicitly he was hacked, but denied writing the message posted on his own Twitter account implying that the Cavaliers, down 0-3, will still end up winning the NBA title.
"Cavs in 7," was posted on @TheRealJRSmith Twitter account after the Warriors rallied in the fourth to beat the Cavaliers on Wednesday in Cleveland (Thursday, Manila time) to close in on a Finals sweep.
However, less than 10 minutes after posting time, when it has reached tens of thousands of likes and retweets, the message was deleted.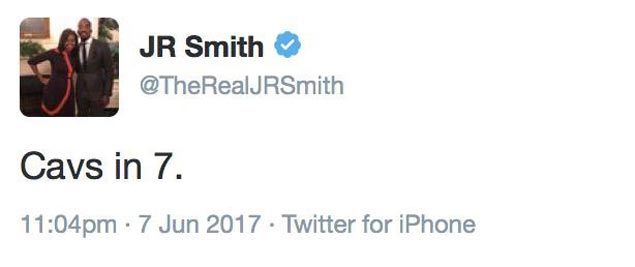 "I got out of the shower and my phone was buzzing. I did not tweet that," Smith told cleveland.com.
"I'm smarter than that," he added.
[See Rampage continues as Warriors down Cavs to close in on historic playoff sweep]
No team has ever come back from 0-3 down in a playoff series, but Smith said he believed the message, although he reiterated he wouldn't make such prediction.
"But I didn't tweet that," Smith repeated. "I would be much smarter than that to tweet that at literally 12:04, right after the game."
[See Kevin Durant on dagger three in Game 3: 'I've been working on that shot my whole life']
The Cavaliers overhauled a 1-3 series deficit last year but they are in a deeper hole now against a Kevin Durant-powered Warriors.
"We've got to win one first," he said.