CHICAGO - Off to a disappointing 4-9 start to this 2018-19 NBA season, the Chicago Bulls look like a bunch of guys who have the team podiatrist on speed dial. They shoot themselves in the foot too often.
Saturday night (Sunday morning, Manila time) against Cleveland, in front of a horrified sold-out crowd of 20,917 at the United Center, the Bulls surrendered an early 16-point lead and appeared well on their way to another crushing defeat caused by self-inflicted wounds.
Luckily for Chicago, the 1-11 Cavaliers played like the worst team in the NBA.
After being gifted with two errant, ill-advised shots and one huge turnover by Zach Lavine in the final 1:45 of play, the Cavaliers sliced a 99-94 deficit into one, and had to chance to win outright with 13 ticks to go.
But rookie Collin Sexton, who finished with 20 points on 8-of-16 shooting, missed a contested but highly makeable layup while his attempted put-back inside three feet was rejected by Jabari Parker as time expired.
Victory was a low-hanging fruit the Cavs failed to swipe. And after two bites at the apple, all they tasted was another tough loss to swallow.
Even in the shelter of the visitor's locker, the disappointment was palpable.
Continue reading below ↓
Recommended Videos
Jordan Clarkson had a cushy 15 points, five rebounds, and four assists in 25 minutes off the bench. But he was visibly unhappy. I mean, what joy does a Stearns and Foster pillow bring when you're laying down in a bed of frustration?
While fiddling over two cellphones, J.C. parked on the north end of the quiet room. He occupied a stall next to malcontent J.R. Smith, their well-chiseled bodies drenched with enough ink to run a printing business.
In a rush to get out of dodge, J.R. sprinted out the door. Clarkson was determined to follow. But I managed to intercept him.
"Five minutes," I implored.
"Two," he replied, abruptly.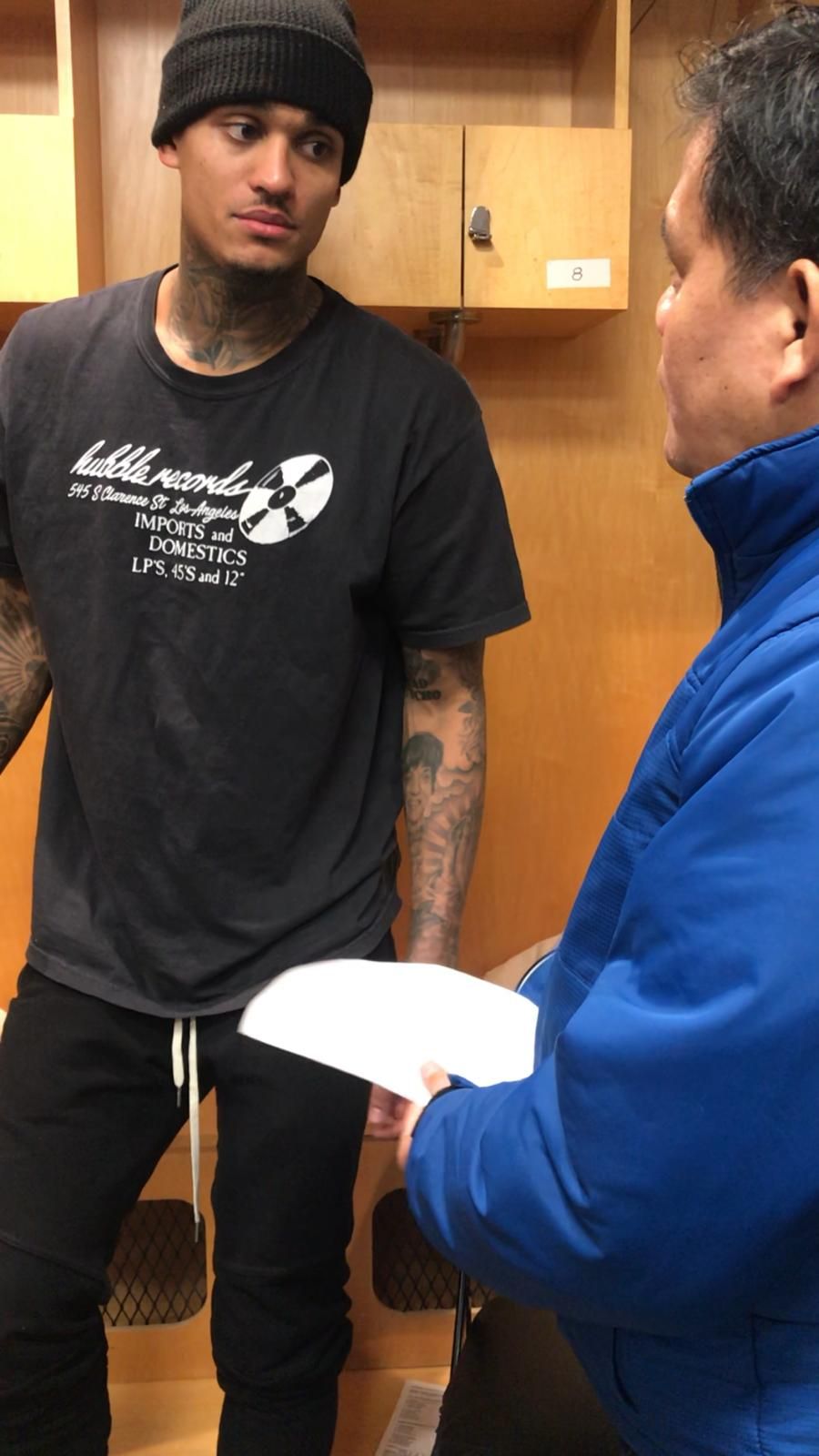 It was a happy compromise, an interview that was short like a min skirt, but long enough - two minutes and 13 seconds - to cover the subject.
SPIN.ph: How was it to finally play for the Philippines in the Asian Games?
Clarkson: First time, first opportunity. It was awesome.
SPIN.ph: Coach Yeng Guiao said so highly about you and said you were like a Filipino, easy to get along with. You've had great coaches in your career. You've got Luke Walton, you've got (Tyronn) Lue and you've got Byron Scott. How does Guiao stack up in terms of preparation, defense, all that stuff?
Clarkson: He was really good. He did a good job getting us prepared. We had a great time, I was happy to be a part of it.
SPIN.ph: The Koreans and the Chinese double-teamed and triple-teamed you. Did you feel like you had a target on your back?
Clarkson: I already knew coming into the game, you know. My teammates made plays. I got them involved, stuff like that, so we had a good run off of it.
SPIN.ph: LeBron had high praises for you. Do you suffer from separation anxiety?
Clarkson: No, no. We're just trying to figure out what we're doing here. It is what it is.
SPIN.ph: Free agency coming in a couple years, do you see yourself in Cleveland, or are you gonna explore like a true businessman?
Clarkson: Who knows. I live one day at a time. I focus on the present and that's what I worry about.
SPIN.ph: Do you know when you're next FIBA game will be?
Clarkson: No, it's too early.
For the first time in several interviews I've had with the streak-shooting 6-foot-5 guard since we first met at the NBA Draft Combine at the then Attack Athletics facilities along Harrison street here in Chicago in 2014, this one didn't end with neither a warm handshake nor a bro hug.
And I like it.
I liked it that Jordan was curt and almost dismissive. I like it that he felt sore about the missed opportunity. And I liked it that he let the pain of the defeat linger, like that odor in the toilet.
Why?
Because it meant he cared.
With his $12.5 million salary this season, the 26-year old Clarkson earned $152,439 for this Bulls game or $6,097 per minute of the 25 minutes he logged.
But the cash did little to placate the sadness he felt for his team's 11th loss in 12 tries.
If his actions do not epitomize the image of a pro, I don't know what does.