JORDAN Clarkson was quick to show his Filipino compassion after extending prayers and support to people in the Philippines who were affected by Typhoon Lando (International codename Koppu).
The sophomore guard of the Los Angeles Lakers and Gilas Pilipinas player, took to microblogging site Twitter to express his concern over the destruction the super typhoon is expected to bring to his mother's homeland.
Clarkson wrote on his @JCalrk5on account: '#Philippine's #Prayer @lettrs for victory over #Typhoon Koppu for people of Casiguran http://txt.lettrs.com/m/EjTFMXl2Ln shortly upon learning that te typhoon was sweeping into the northern part of the Philippines.
Writing through the app letters.com, the Fil-Am player from Angeles City said: "I've never paid much attention to natural disaster prior to this year…but now that I'm reconnected with my Filipino roots, there is much concern."
Clarkson said as he learns more about typhoon, it became alarming to him how huge and slow moving Koppu is, which made 'landfall in the town of Casiguran on the island of Luzon on Sunday morning.'
"The speed of the typhoon is such that it will cause rain to fall in the same place for days, causing major flooding," the Lakers guard added.
"Prayers to all in Casiguran and beyond."
Earlier in the day, Clarkson scored a team-high 17 points in a shortened game to lead the Lakers to an 85-70 win over reigning NBA champions Golden State Warriors.
[See Fil-Am Clarkson shows way as Lakers beat Warriors]
Here is Clarkson's note: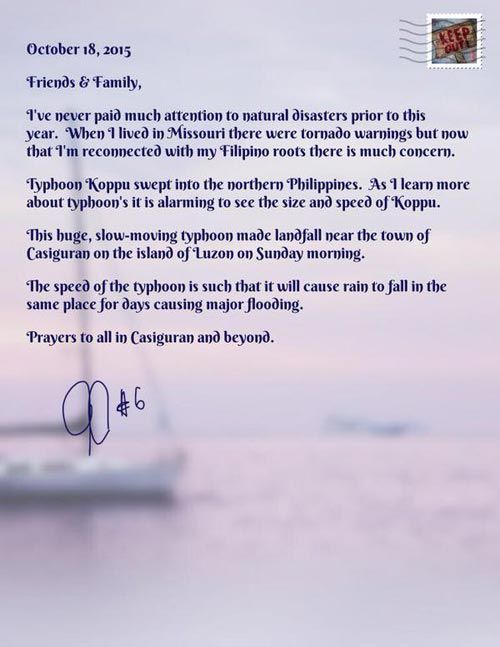 ADVERTISEMENT - CONTINUE READING BELOW ↓