CHICAGO - "Into each life rain must fall."
Henry Wadsworth Longfellow penned that famous line in a poem in which he spoke about the cold, dark days that we are all destined to go through in this maddening world.
The Golden State Warriors and their millions of fans couldn't agree more. Because right now, a rain storm is pelting the Bay Area, drenching their championship aspirations with fear and anxiety.
The precipitation was triggered on Thursday (Manila time) by Kevin Durant, whose knees buckled after teammate ZaZa Pachulia, a strapping 275-pound center, fell on Durant's left leg in the first quarter of Golden State's 112-108 loss to the Washington Wizards.
An MRI revealed a Grade 2 MCL sprain on the left knee and a tibial bone bruise on the left leg, injuries that will sideline the eight-time All-Star, who leads the Warriors in scoring with 27.2 points per game, for at least four weeks.
ADVERTISEMENT - CONTINUE READING BELOW ↓
It's raining alright, but thank God, it's not of biblical proportions.
According to Dr. Nick Grosso, a sports medicine surgeon who was interviewed by the San Jose Mercury News, a Grade 2 MCL sprain "heals by itself 90 percent of the time" and that wearing a brace could make the knee function back to normal in "two or three weeks."
The MCL or medial collateral ligament, Dr. Grosso explained, is one of the ligaments that fortify our knees, Its main function is to prevent the knees "from going back and forth like windshield wipers."
Durant's bone bruise, on the other hand, will take time to heal, around four to six weeks, Dr. Grosso said. A bone bruise is a form of trauma that can fester into a real fracture, but Durant won't have to feel the cold edge of a blade to get it fixed. He will only need to wear a hinge brace "which will allow him to bend the knee but will prevent that side-to-side movement, even in his sleep.
Beneath the pile of medical jargon lies one simple truth: KD's season ain't over. Depending on his recuperative powers and how he responds to rehab, the wiry 28-year old gunslinger also known as The Slim Reaper could be back late in the regular season or at the very latest, the playoffs.
Meanwhile, the Warriors will miss him terribly.
They will miss his shooting - 48.3 percent from the field, 38 percent from long distance and 88.2 percent from the free throw stripe. The ease with which Durant can score, both inside and outside, is one of the reasons why the Warriors lead the NBA in points per game at 118.
They will also miss his defense. With a 6-foot-9 frame and 7-foot-4 wingspan, Durant has morphed into a solid rim protector this season, swatting 1.6 blocks a game while altering several more, a stat that doesn't show on the box score.
ADVERTISEMENT - CONTINUE READING BELOW ↓
But just like any wondrous vacation, where the best part is going home, the Warriors can find solace in the thought that Durant's long absence is only temporary and that the team has enough firepower (hello Steph Curry!) to hold the fort.
When Durant gingerly walked towards the locker room after the mishap, Warriors fans feared the worst and hopped on social media where they sighed and ventilated their melancholy like a dirge of lost souls.
But as the official diagnosis and positive prognosis has shown, things aren't so bad, after all.
In the words of the immortal Longfellow, "Be still, sad heart, and cease repining; behind the clouds is the sun still shining."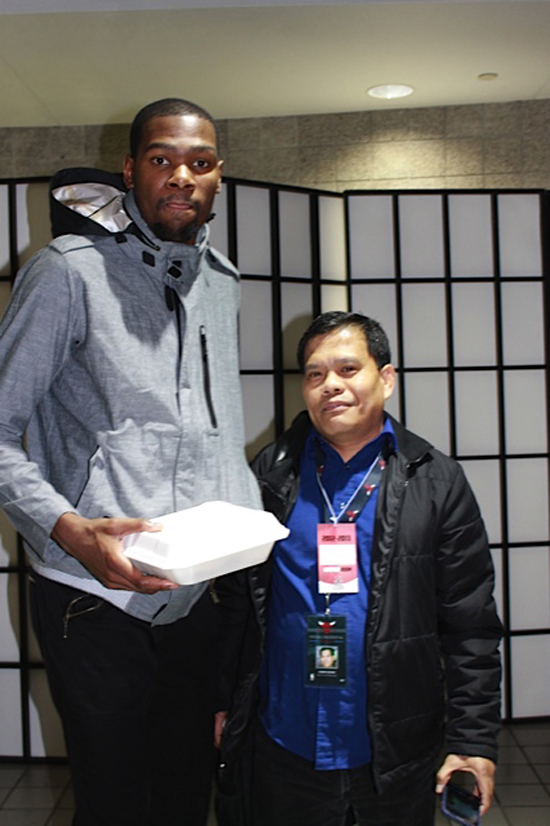 ADVERTISEMENT - CONTINUE READING BELOW ↓
SILENT ADMIRER. Like all sportswriters, I am restrained from openly rooting for a particular team. It is a long-honored tradition in this business that we must be neutral like Switzerland.
But I have a confession to make: I'm a big Kevin Durant fan.
I wish I had a jump shot like his. Stuck at 5-foot-nothing, I wish I had his length, too. Not all of it, but some some.
Most importantly, I wish that all pro athletes, who have been so blessed to play the game they love while raking in millions of dollars, has Durant's kindness and generosity to help the less fortunate.
I've spoken to Durant a few times through the years, friendly banter between big star and small writer. On each occasion he has been nothing but nice. At the Bradley Center in Milwaukee not long ago, he even offered a piece of his post-game meal, a tempting offer that I somehow found the wherewithal to politely decline.
ADVERTISEMENT - CONTINUE READING BELOW ↓
While his skinny frame suggests otherwise, Durant is actually tough as an oak tree. In his 10 years in the NBA, he has stayed fairly healthy except the 2014-15 season when a myriad of lower body injuries allowed him to play only 27 games.
So fret not about this latest injury, KD will be back soon. Better than ever.