CLEVELAND - Despite the struggles that has unexpectedly marred his maiden playoff appearance - averaging five points, 1.5 rebounds and 0.9 assists in 14 games in which he logged just 15.9 minutes per -Jordan Clarkson is a larger than life figure at the Quicken Loans Arena in this sprawling $165-million stadium that sits on the edge of Lake Erie.
I made that discovery when I covered Game Four of the Eastern Conference Finals two days ago, driving nearly six hours to bridge the 344 miles that separated Cleveland from Chicago. Sportswriters such as myself are paid to exaggerate but I'm not embellishing how big Jordan is among the wine and gold faithful. There's photo proof somewhere in this sparsely read column.
But it's not just Jordan who has been magnified. Everything else is. Because it is the NBA playoffs, inarguably the world's biggest sports spectacle this time of year.
Game Four demanded pomp and pageantry and the scholars at the Cavaliers' marketing department eagerly supplied it, unleashing deafening fireworks during the pre-game players' introductions. The cheer dancers vibrated their hips as though they had just been electrocuted, while the roaring capacity crowd of 20,562 stomped their feet so hard the ground shook and pushed the Richter scale to a 7.4. The only quiet corner in the arena was the little patch of real estate assigned to the Celtics bench.
Continue reading below ↓
Recommended Videos
In between timeouts, t-shirts, free pizza and other items were given away. A dude in what was described as The German Wheel provided the halftime entertainment. As a bonus, rapper 2 Chains performed briefly, rapping lyrics that peeled the funk out of me. Surprisingly, 2 Chains wore four necklaces, one of which was heavily encrusted with diamonds and thick enough to tow a car. Oddly, he had ski googles draped around his head and he wore it sideways. He slipped into a bright-colored outfit that showcased the collaboration of fashion brands Supreme and Fox. And his pants were expensive, one that screamed "Versace" on the lower right leg.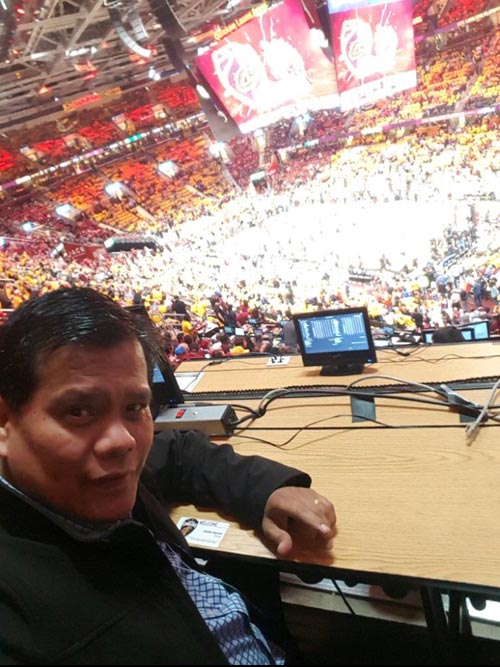 Living the playoff experience ain't cheap. In some spots, you might need to sell your vehicle to pay for parking. A cool $60 allows for parking in front of the arena. You can pay less, $40 below for a spot within walking distance. For $10 you might as well join a marathon. But hey, somebody's gotta help pay for Cleveland's team payroll of $137.3 million this season, right?
Doug Behrens, an Akron, Ohio native and lifelong Cavaliers fan, paid $475 apiece for four season tickets at section 110. Courtside seats went as high as $7,000 a pop while section 300 seats, where you are so far from the action you can wish next to a falling star, still carried price tags north of $140 in the secondary market.
But money is no object when you're having fun. For locals such as Tito, who owns an AirBnB business and runs a party service down Fulton street, there is no dollar value in supporting the home team and expressing civic pride. For outsiders, watching LeBron James perform endless amazing feats is priceless, like watching Van Gogh paint or seeing Picasso sculpt a masterpiece.
The Q is a place where you take the slogan "drink moderately" at heart. If you don't you could die of a heart attack from the prices, which includes $10 for a low grade beer and upwards of $14 a shot for hard liquor.
Hungry? Well, there's plenty of delicious choices which will make your tummy full and give your wallet indigestion. Everything, however, was well worth it for those who came as the Cavaliers won 111-102, tying the series at 2-2 after some nervous moments in the fourth quarter where the fearless Celtics inched to within 96-88 after trailing by as many as 17.
Cheering is not allowed at the press box, an unwritten and time-honored tradition. But there was no prohibition against enjoyment, a freedom I was careful to exercise.
Cuban tacos were the centerpiece of the media dining buffet. I paid $10 for the privilege and ate with loving abandon. There was a salad bar, too, and I raided it, filling a plate with romaine lettuce topped with an abundance of steamed shrimp and freshly sliced avocados. I destroyed two cookies for dessert and washed everything down with diet Pepsi. Clean, no ice.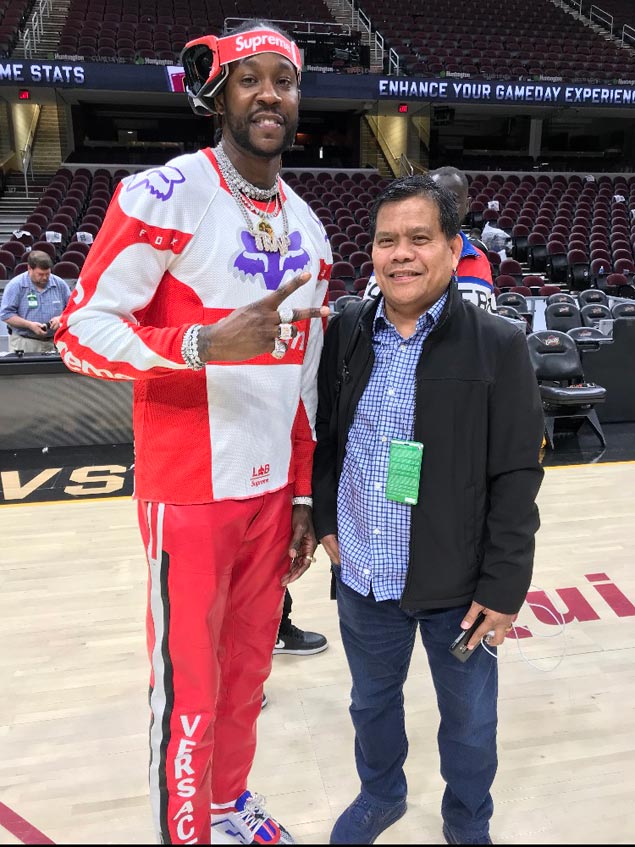 I normally struggle to stay awake after a royal feast, but the excitement of Game Four kept my faculties intact. I dutifully took notes from my media seat above the steps of section 131 and I watched the crowd, many of whom were hard-working everyday people, fawn over their beloved Cavaliers. They roared at every made basket, slapped high fives after every highlight play, and they chanted "MVP! MVP!" every time King James went to the free throw stripe.
I spoke to Vince Carter after the game. A free agent who played for the Sacramento Kings this past season, Carter looked good at 41. Despite 19 seasons worth of wear and tear on his knees. the former slam dunk champion resembled his moniker, "half-man, half-amazing.." I also spoke to Marcus Smart of the Celtics and he told me he'd someday visit the Philippines. By the time I made my way inside the Cavs locker room, Jordan Clarkson had left, which was just fine since I already met him pregame.
Depicting its players love for the game of basketball, the NBA has adopted the hashtag "This Is Why We Play," in these 2018 postseason.
For the fans, the slogan should be "This is Why We Come." For the theater of athletic competition and the extravagant sideshow that comes along with it.
It was almost 5 a.m. when I got back to Chicago. The lazy sun was slowly bursting out the sleeping sky and the early morning was beginning to hum with the sounds of the beckoning work day. I foxed myself a tall glass of Rum and Coke before crawling under the white linen sheets. I was dead tired. I was stiff from the long drive. But I couldn't wait to do it all over again.
To borrow an old catch phrase, "The NBA, I love this game."