LIKE the devil assiduously pursuing the last available soul on the planet, Oklahoma Thunder guard Russell Westbrook has been busting his tail this season in his bid to record the most number of triple doubles in a season and become only the second player in the history of the National Basketball Association (NBA) to finish the regular season with a triple-double average.
In basketball parlance, a 'triple-double' refers to an achievement in which a player records double-digit numbers in a game in three of the following statistical categories: points, total rebounds, assists, steals and blocks. In the 1961-62 NBA regular season, Oscar 'Big O' Robertson posted a record 41 triple doubles on his way to finishing with triple double averages of 30.8 points, 11.4 assists and 12.5 rebounds per game.
Born in November 1938, Robertson grew up in an impoverished section in Indianapolis, Indiana. There wasn't always food on the table, but Robertson always had a beat-up basketball that he used to bounce around with him. "When his mother told him to go to the grocery store for a loaf of bread, Oscar would dribble the ball to the store and back. That is how he developed his amazing control over the ball," wrote George Vecsey in his book Pro Basketball Champions.
Robertson attended college at the University of Cincinnati where he earned a degree in Business Administration, but it was on the basketball court where he really punched in huge numbers. He was a three-time Player of the Year and a national scoring champion at Cincinnati where he averaged 33.8 points per game. He set 14 major college scoring records and capped off his amateur career by serving as a co-captain, along with Jerry West, of the 1960 US Olympic team that went undefeated on the way to the gold medal.
ADVERTISEMENT - CONTINUE READING BELOW ↓
Robertson joined the NBA in 1960 and won a championship with the Bucks in 1971. By the time he retired in 1974, the 6-5, 220-pound Robertson had revolutionized the point guard position and opened the gates for the arrival of big men in the said position, guys like Magic Johnson and Penny Hardaway.
Robertson, 78, has not played competitive ball for over forty years, but everybody is now talking about his triple-double exploits, what with Westbrook on the verge of matching/duplicating them. As of April 1 (Manila time), following the Thunder's loss to the San Antonio Spurs, Westbrook has posted 39 triple doubles, just three shy of breaking Robertson's 41. Westbrook also went to the Spurs game averaging 31.8 points, 10.6 rebounds and 10.4 assists per game, on course to matching Robertson's triple-double average for a single season.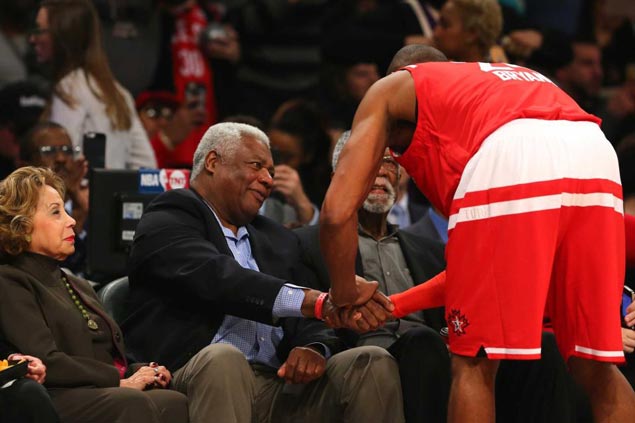 Predictably, comparisons have been made between Robertson's triple-double feat and Westbrook's assault on the record.
Believe it or not, Robertson accomplished his single season, triple-double average in only his sophomore year in the NBA. There were only nine teams in the NBA back then and a 23-year-old Robertson had to deal with, night in and night out, Hall of Fame competition coming from established stars like Philadelphia's Wilt Chamberlain, Boston's Bill Russell, Los Angeles' Elgin Baylor and Chicago's Walt Bellamy, to name a few, in an 80-game regular season. Just how tough was the competition back then? Despite averaging a never-before-heard triple-double for the season, Robertson only finished third in the voting for the MVP award after Chamberlain and eventual winner Russell.
Today, the NBA has 30 teams (only half of which can be considered truly competitive) and follows an 82-game schedule. The talent is spread out and arguably does not even reach some teams, giving Westbrook some leeway to put up huge numbers against mediocre squads. Averaging 31.8 points per game this season, Westbrook can even finish with a higher scoring norm, but here's the catch: Robertson missed out on some bonus points because there was no three-point shot during the 1961-62 season (the three-point shot was introduced only in 1979-80). Nonetheless, Robertson scored 40 or more points four times and topped 15 assists and 15 rebounds in seven games.
Make no mistake, Westbrook's triple-double numbers this season are also unbelievable. In recording his 35th triple double in a 122-97 win over the Philadelphia 76ers on March 22, Westbrook did not miss any free throw or field goal attempt. He scored 18 points (going 6-for-6 from the field and nailing all six free throws), 11 rebounds and 15 assists. No player previously has had a triple-double without missing a field goal attempt or a free throw.
ADVERTISEMENT - CONTINUE READING BELOW ↓
A week later, Westbrook scored 57 points, grabbed 13 rebounds and dished out 11 assists in the Thunder's 114-106 overtime win over the Orlando Magic. Westbrook's 57 points went down in the record books as the most points scored in a triple-double output.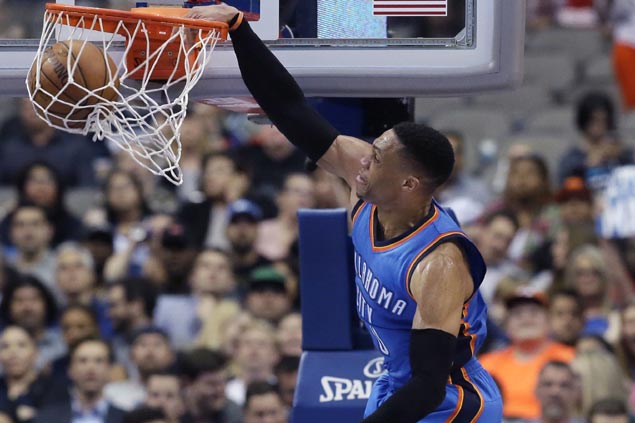 On his ninth year as a pro, Westbrook is clearly having a season to remember and no less than Robertson is pulling for him to break his 41 triple doubles record and finish the entire campaign with a triple-double average. Westbrook is even Robertson's pick for MVP this season.
Oh, lest we forget, Robertson also came within one assist or one rebound per game of finishing with a triple-double in four other regular seasons as well. Then again, at age 28, Westbrook still has time on his side to put up more triple-double feats.