CHICAGO - During the salad days of his career, Tony Parker was as sure as tomorrow when it came to playing quarterback for the vaunted San Antonio Spurs.
Through 17 seasons and 1166 games, he has a per game average of 16.1 points, 2.8 rebounds and 5.2 assists. Though not an exceptional shooter from deep, making only 500 threes in 1531 tries, his overall field-goal shooting is a lethal 49.3 percent.
Drafted 28th by the Spurs in 2001, Parker turned out to be a blue-chip stock that has yielded unimaginable dividends for a relatively low investment. As a Spur, the 6-foot-2, 185-pound Frenchman from Belgium, has blossomed into a six-time All-Star and four-time NBA champion.
But the years, the deep playoffs runs, and the 36,699 minutes played have finally taken its toll. At age 35, Parker is hampered by injuries, slowed by time. After being his team's point guard for so long, the job is no longer his.
Last Sunday when the Spurs lost at home to the Indiana Pacers, 94-86, Parker, the 2007 Finals MVP, came off the bench. For good. He lost his starting point guard duties to second-year man Dejounte Murray.
When something so dear is taken from a man, pride usually resists. You'd think Parker would throw a tantrum, punch an innocent wall, or call his agent to demand a trade. Instead, he handled his relief with the same class and dignity that has embodied the San Antonio Spurs for generations.
Continue reading below ↓
Recommended Videos
"He (coach Gregg Popovich) told me he thought it was time and I was like 'No problem.' Just like Manu (Ginobili), just like Pau (Gasol), you know that day is going to come. If Pop sees something that is good for the team, I will try to do my best. I will support Pop's decision, and I will try to help DJ as best I can and try to be the best I can in that second unit with Manu and Patty (Mills)," Parker told mysanantonio.com.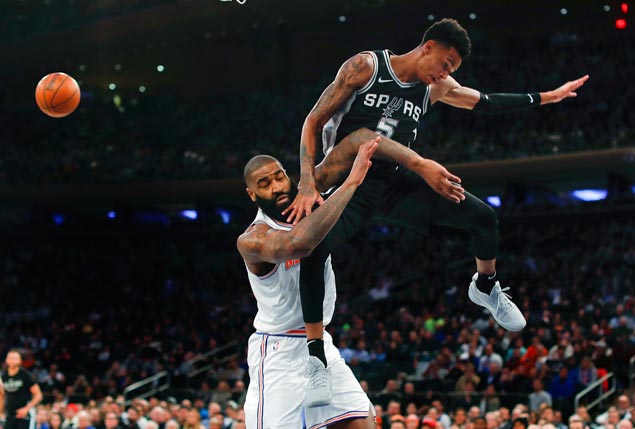 A FINE FIND. Astute organizational planning and the uncanny ability to pry talent from the draft are the keys to San Antonio's sustained excellence through the years. From David Robinson to Tim Duncan to Kawhi Leonard, the transition had been seamless, yielding championships in 1999, 2003, 2005, 2007 and 2014.
And now, as the Parker era gently fades to black, Spurs fans need not worry because Dejounte Murray is a future star, flickering with abundant promise.
This kid, who attended only one year of college at Washington, fits perfectly in Pop's system. He is unselfish and moves the ball faster than laundered money. He can play defense, a way of life in San Antonio. And though he might seem like a shy Texas gunslinger, he can have itchy fingers when called upon.
Like Parker and Ginobili (57th n 1999), Murray was taken deep in the draft, 29th in 2016. But just like his iconic teammates, the 6-foot-5, 170-pound Murray is shaping into a real steal. In other words, he was destined to be a Spur.
In a nationally televised game on cable network TNT on Tuesday (Wednesday, Manila time) at the AT&T Center in San Antonio, Murray formally introduced himself as the new sheriff in town. He scored 19 points, grabbed 10 rebounds and dished three dimes. He added seven steals to help the Spurs beat LeBron James and his sinking Cavaliers, 114-102.
Murray missed a free throw, committed four turnovers and hacked four fouls in 30 minutes. But it was understandable. After all, it was only his second foray as a full-time starter. But once he understands the game more and adapts to the pace, watch out.
NO CRYING IN BASKETBALL. If you are disenchanted because Chris Paul, Paul George, Ben Simmons, Lou Williams, Goran Dragic and Andre Drummond missed the All-Star cut, get over it.
The suggestion that those players were snubbed is stupid, The 30 NBA coaches who voted for the All-Star reserves are arguably the most qualified because they see and evaluate these players almost on a nightly basis.
Sure, we can argue that CP3 is better than Victor Oladipo or that Simmons has a more well-rounded skill-set than Kristaps Porzingis. But it won't matter because it's the coaches' nod that counts.
Beauty, as they say, lies in the eyes of the beholder.