CHICAGO - It happened so fast and the Toronto Raptors couldn't figure out the make and model of the vehicle that struck them violently at the Wells Fargo Center in downtown Philadelphia.
They did have a good look at the license plate number of the rampaging two-legged contraption.
EMBIID 21.
When healthy, when soreness and tendinitis do not ravage his brittle knees, Joel Embiid is a destructive, nearly unstoppable force on the basketball court.
And he proved that in a masterful performance that lifted the Philadelphia 76ers to a 116-95 Game 3 victory over the Raptors and a 2-1 series lead in their best-of-seven Eastern Conference semifinals.
The 7-foot, 250-pound giant smothered the Raptors with a breathtaking 28-minute performance in which he scored 33 points on 9-of-18 shooting, grabbed 10 rebounds and dished a pair of assists.
He was Exhibit A of how today's NBA has changed.
Embiid sank 12 of 13 free throws and drilled 3-of-4 treys, showing the range that seemed unthinkable in a prior era where men of his immense size almost exclusively made hay under the basket.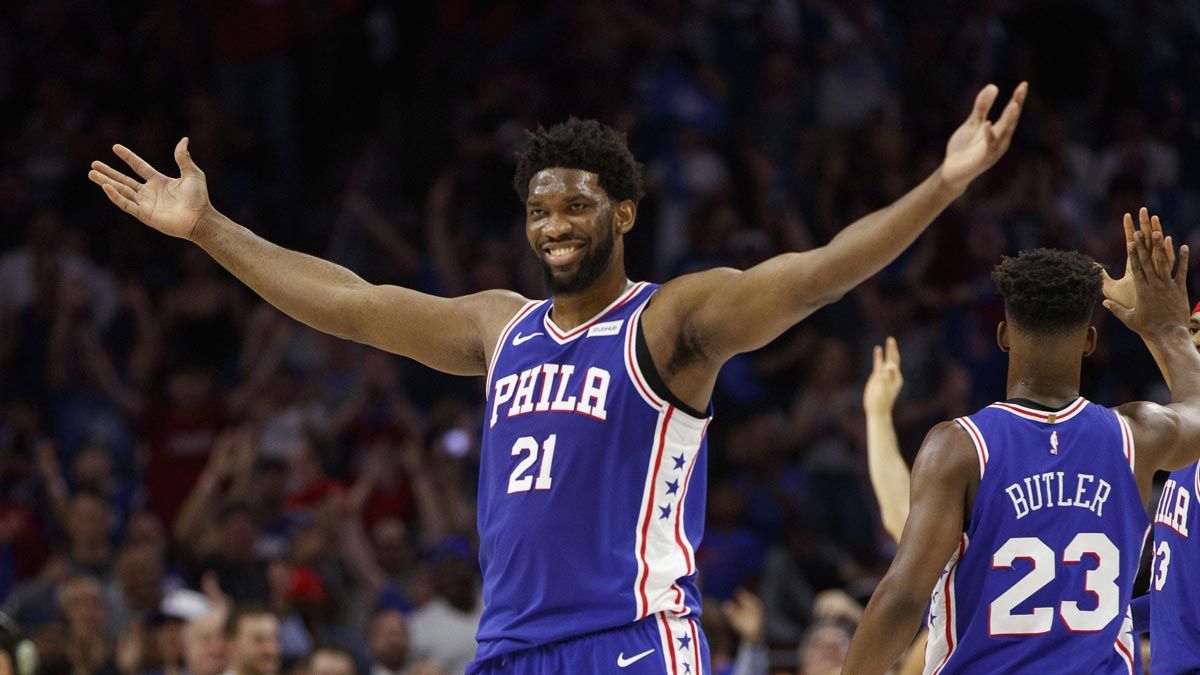 Continue reading below ↓
Recommended Videos
And while this giant may have a gentle, playful side, he can be a beast, too. Embiid stuffed a nasty fourth-quarter jam that pushed Philly's lead to 110-84 with only 5:31 remaining. He also had five shotblocks that effectively stifled Toronto's rim assault.
To say, however, that Embiid alone caused all of Toronto's mayhem would be an inaccurate depiction of Game 3, where the rest of the Sixers starters all scored in double-figures.
Jimmy Butler had 22 points and nine assists. On the strength of three 3s, J.J. Redick finished with 15. Tobias Harris added 13 points and eight rebounds, while Ben Simmons had another all-around brilliance with 10 markers, seven boards and seven dimes.
Kawhi Leonard sizzled with 33 for the Raptors, but he had little help outside of Pascal Siakam's 20 points and Danny Green's 13. Kyle Lowry had another playoffs disappearing acts with just seven points on 2-of-10 shooting from the field, while Marc Gasol has yet to show his mark in the series thus far.
Leonard, easily the quietest and least verbose NBA superstar you'll ever meet, verbalized his frustrations following the Game 3 defeat, the team's second straight after easily taking Game 1, 108-95. last April 27.
"I think it starts with defense, They had two 30-point quarters in the first half. We're not going to win like that. They had 115 points tonight. They shot 50 percent from the field, 40 percent from three. We just got to play better defense," Leonard told The Toronto Sun.
Once they figure out a way to contain Embiid and friends, the Raptors also need to shore up on their board work after being outrebounded by 10 (45-35) in Game 3. They must also find away to produce more than just the 15 assists they had against Philly's 29.
Just like the other East semis between the Milwaukee Bucks and the Boston Celtics, the Raptors-Sixers showdown has quickly turned, The difference here, though, is that the tide has tilted heavily, perhaps irreversibly, toward Philly's favor.
I know, "it ain't over 'till the fat lady sings," so said New York Yankees legend Yogi Berra.
Sadly for the Raptors, the fat lady is now making her way to the stage, where Embiid is waiting, laughing, and eager to give her the microphone.