CHICAGO - They were a well-rested team hosting an exhausted Cleveland Cavaliers who barely got out of a seven-game first-round series against the Indiana Pacers.
They were at home, led 33-19 after one quarter, 60-57 at the half, and were up 87-82 entering the fourth quarter - a position in which they were 30-1 this season.
It was a perfect set-up for the Toronto Raptors.
But when dealing with the Cavs, the bullies that have eliminated them in five of the last seven postseasons including the last three, perfection often means tragedy for these Raptors. This time, the agony came in the form of a distressing fourth-quarter meltdown.
In the final 12 minutes of a tense Game 1, the Raptors made only five of 24 field goals. And they missed their last 11 shots, including three from point-blank range with under two seconds left to play. The bungled opportunities allowed the Cavs to slither out of the Air Canada Centre with a 113-112 overtime victory and a 1-0 series lead.
"We can all be better. I don't know if it was the nerves or yips but we just seemed to shoot ourselves in the foot," a stunned Raptors head coach Duane Casey confessed to The Toronto Sun.
Continue reading below ↓
Recommended Videos
I don't know, either, what happened to Toronto. But if I were to venture I guess, I'd say its a case of PTCD - Post Traumatic Cavs Disorder. It's not an officially diagnosed medical condition but it's a playoffs malady the Raptors appear to suffer from as a result of repeated defeats at the hands of these tormenting Cavs.
One of the symptoms is nerves, which was apparent in Toronto's errant shooting when the chips were on the line. The attempted put-backs that DeMar DeRozan, C.J. Miles and Jonas Valanciunas missed to win it in regulation were gimmes even my late grandmother would make.
Another symptom is panic, which reared its ugly head when Kyle Lowry committed a calamitous five-second inbounds violation at the 2:27 mark of the fourth quarter when the Raptors were nursing a razor-thin 102-101 advantage.
Lack of ball protection is another sign of "PTCD" and it caused the Raptors dearly as the Cavaliers turned 13 Toronto turnovers into 21 points. In contrast, the poised and experienced Cavaliers only had five turnovers which resulted in four Toronto points.
After all the giant strides they've made these past few months - 59 regular-season wins, a souped-up offense, a devilish defense and a more lethal 3-point arsenal - the Raptors lost Game 1 in a playoffs series against the Cavaliers for the third straight year largely because, no disrespect meant, they don't seem to have the mental acuity to leap over LeBron James and whoever he is dragging with him to battle.
Despite having what he calls "one of the worst games of the season." LeBron finished with a triple-double of 26 points, 11 rebounds and 13 assists. He converted only 12 of 30 field goals, but The King made a dauntless fadeaway jumper from 11 feet that tied the score at 105-105 to force overtime.
Maligned for their untimely disappearing acts during the Indiana series, the Cavaliers bench came shining through and outscored their Toronto counterparts, 37-35.
Tristan Thompson, who recently sired a daughter with one of those insufferable Kardashians, tormented Toronto with 14 points and 12 boards. Jeff Green couldn't miss even if he tried, finishing with 14 points on 4-of-4 shooting while Jordan Clarkson and Rodney Hood added a combined seven points, not much but more than enough in a contest decided by a single point..
The Cavs won Game One despite missing 60 field goals. They won Game One despite Kevin Love going 3-of-13 from the field. They won Game One despite being outrebounded, 50-45.
Even a medicated optimist would have sober doubts about Toronto's chances of bouncing back in Game Two.
But a pessimistic Toronto fan has a lot to be be hopeful for.
DeRozan delivered 22 points on 10-of-20 shooting. Valanciunas finished with 21 points and 21 rebounds. Lowry was effective, too, with 18 points and 10 dimes. He only got a little less dangerous when LeBron, who is eight inches taller and 45 pounds bigger, guarded him in the homestretch, a coaching gem that choked Toronto's usually fluid offensive flow.
Still, when the Raptors rest their skulls on the pillow in the next few nights before Game Two, they'd have to wonder if they can really beat LeBron.
The answer is "no."
Cleveland in six games.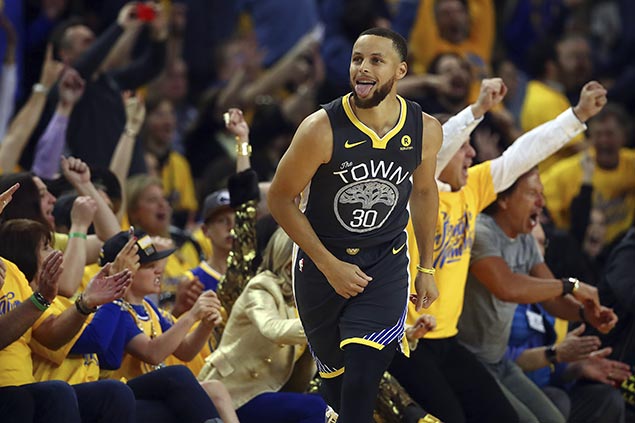 HOT CURRY. During practice a couple days ago, Kevin Durant told ESPN, Steph Curry was making "weird noises."
But on Tuesday night at the Oracle Arena, the only sound the New Orleans Pelicans heard was hauntingly familiar - swish!
After being sidelined for five weeks with an MCL sprain, you'd think rust would be peeling off his Under Armour shoes. You think wrong. Curry scored 28 points in 27 minutes, drilling five 3s in his celebrated comeback. The only ones who didn't celebrate were the Pelicans, who lost 121-116 in Game Two and now trail the Western Conference semifinals 2-0.
For a while it looked like the Rockets will emerge in the West Conference to represent the NBA Finals, but with Curry healthy and back to his old 3-point shooting meanness, this much I say, "Houston, we have a problem."
But to get to the West Finals, the Warriors will have to take care of the Pelicans first. And I think they will do so in less than five games with a healthy chance of a sweep.