ALMOST every Filipino basketball fan is going bananas over the news regarding the first NBA preseason game in Manila this October 10 between the Houston Rockets and the Indiana Pacers at the Mall of Asia Arena.
The NBA first held games outside of the United States and Canada in 1988, and first brought its games to Asia in 1990 via the Phoenix-Utah encounter in Tokyo, Japan, but this is the first time that its preseason games will reach our shores.
Aside from the Philippines, the NBA is actually holding preseason games also for the first time this October in Brazil, Bilbao in Spain and Manchester in England.
The NBA has already held 138 preseason and regular season games in 19 countries across Europe, Asia and the Americas.
NBA players also have come and gone to Manila these last couple of years, either playing against local players or just coming in to endorse athletic apparel and shoes.
Just last year, as part of the first month of operations of the MOA Arena, former Chicago Bull stars Scottie Pippen and Dennis Rodman and former Sacramento King and Miami Heat playmaker Jayson Williams led a USA All-Stars squad that defeated a group of PBA Legends, 112-93, with the losers led by Kenneth Duremdes, Bong Hawkins, Marlou Aquino, Vince Hizon, Noli Locsin and Bal David, just to name a few.
Continue reading below ↓
Recommended Videos
A year earlier, when the Big Dome was re-christened as the Smart Araneta Coliseum, there was the Smart Ultimate Weekend which saw "locked-out" NBA stars Kobe Bryant, Kevin Durant, Chris Paul, Derrick Rose, James Harden, Javale McGee, Derek Fisher, Tyreke Evans and Derrick Williams playing not just one but two games. 'The Black Mamba' and Company first dismantled a PBA selection of 16 players led by Arwind Santos, James Yap, Mark Caguioa and Danny Seigle, 131-105, then the following day beat the Smart Gilas national team led by JVee Casio, Marcus Douthit and Chris Lutz, 98-89.
And who can forget PBA legend Allan Caidic's 54-point explosion built around 14 triples on August 27, 2010 at the Araneta Coliseum alongside the likes of NBA greats Glenn Rice and Gary Payton and current PBA stars Santos, LA Tenorio and Rico Maierhofer when their Red Team defeated the White Team that was led by Chris Webber, Mitch Richmond, Benjie Paras, Alvin Patrimonio, Dondon Hontiveros and Ronald Tubid 177-167.
Below are the boxscores from that game: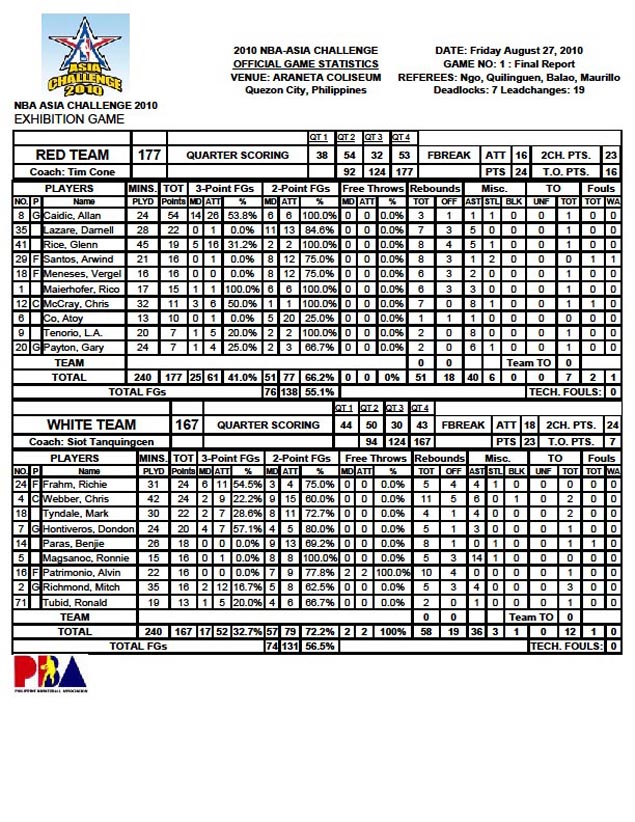 In 2009, Caidic was also part of a team of past and present PBA All-Stars that lost, 109-86, to an 'NBA Generations' squad that featured the likes of NBA greats Dominique Wilkins, Robert Horry, Vlade Divac, and Tim Hardaway and which had Kareem Abdul-Jabbar as assistant coach.
Perhaps the only time a PBA selection won against their NBA counterparts happened in 2006 in a game which was part of the 'Bad Boy Tour' and also featured Dennis Rodman along with fellow NBA greats Darryl Dawkins, Calvin Murphy and Alex English. The visiting team was coached by another former NBA legend in Sidney Moncrief.
But that bunch of ex-NBA pros proved no match to the PBA-backed national team that was preparing for the Jones Cup tourney that year, losing 110-102. The Nationals were led by Hontiveros' 31 points built around six triples and 17 markers from Renren Ritualo.
Below are the boxscores: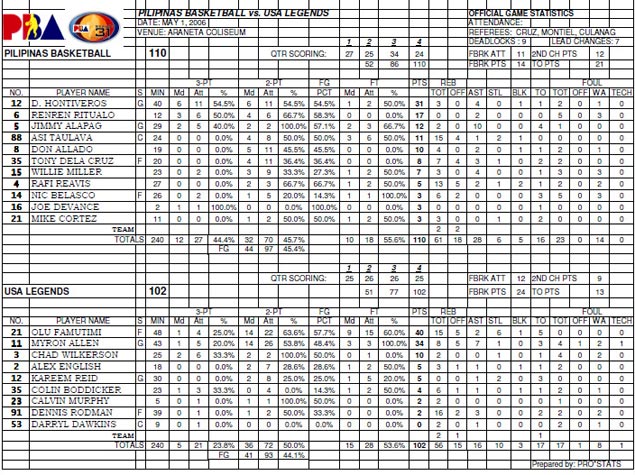 But this Rockets-Pacers match will the very first time that an NBA preseason game is going to be held here and with two NBA franchises playing.
Before that, the first and only time an NBA ballclub played here in the Philippines was almost 34 years ago, or on September 4, 1979 to be exact, when reigning NBA champions the Washington Bullets played against a PBA selection of superstars and imports.
The Bullets, who were led by eventual Toyota import Kevin Porter's 31 points, came with only eight players, among them Elvin Hayes, Wes Unseld, Dave Corzine, Greg Ballard and Roger Phigley. The team of head coach Dick Motta won, 133-123.
The PBA All-Stars selection was composed of the five best imports at that time – Larry McNeil and Dean Tolson of Gilbey's Gin, Cyrus Mann of Crispa, Glenn McDonald of U-Tex and Larry Pounds of Royal Tru-Orange alongside the league's top locals at that time, but limited to just one player per PBA team – Ramon Fernandez of Toyota, Atoy Co of Crispa, Lim Eng Beng of U-Tex, Manny Paner of Great Taste, Rudy Kutch of Filmanbank, Rene Canent of Tanduay, Yoyong Martirez of Royal Tru-Orange, Jesse Sullano of Honda-Mariwasa and Eusebio del Rosario of Gilbey's Gin.
One of the highlights of that game was a near-fight between Co and the 6-foot-11 Corzine.
Incidentally, the NBA preseason game this October will come on the heels of the country's hosting of the Fiba-Asia Men's Basketball Championships this August, the first time the country is hosting the event in 40 years.
What an exciting year indeed for Filipino basketball fans!