CHICAGO - After being traded from Los Angeles to Cleveland last February 8, Jordan Clarkson eased himself quickly into the Cavaliers lineup, averaging a prosperous 12.6 points 2.1 rebounds and 1.7 assists in 28 regular season games.
This, of course, was no surprise. In 51 games off the bench for the Lakers prior to his transfer, Clarkson normed 14.5 points a contest, second-best in the NBA during that stretch and behind only the Clippers' Lou Williams who will soon pocket his second Sixth Man of the Year award in four years.
Young and nimble at age 25, long and athletic at 6-foot-5, Jordan is a dependable two-way guard who can plug holes on defense and light fires on offense.
But 12 games into these NBA playoffs, Clarkson's stock has dropped like Bitcoin. Abundance has surrendered to drought and doubt lurks beneath the promise.
After shooting 45.6 percent from the field and 40.7 percent from 3-point range in those 28 regular season games, Jordan has made only 32.1 percent of his shots (25 of 78) and 22.2 percent of his 3s (6-of-27) in the postseason. Consequently, his per game averages plummeted to 5.1 points, 1.7 rebounds and one assist.
So what in Ohio's name is wrong with Jordan?
Continue reading below ↓
Recommended Videos
Did he change his shot mechanics?
Is it bad food?
Does he miss LA's sunny days and cool night life?
And lastly, with no intent to use his almighty name in vain, is it LeBron?
None of the above.
In a telephone interview on Thursday (Friday, Manila time), Jordan's dad Mike told me his son is just fine, albeit going through the bumps in his first playoffs run.
"The Cavs' offense is slowing, which often finds Jordan sitting in the corner and become the set shooter that he is not. With limited touches, it's hard to get a rhythm going," Mike explained.
This observation runs parallel with what Cavs head coach Tyronn Lue told WYKC3 last April 22 when Jordan had an explosive performance (10 points with a pair of crucial threes) that helped Cleveland sink Indiana in Game 4 of their round one series: "Be aggressive. Just playing in drags, playing early in transition, look to score the basketball."
EVEN KEEL. Although his playing minutes have been sliced from 22.4 in the regular season to 16.6 in this postseason, Jordan isn't pouting, secure in the knowledge that his coach is "doing what's best for the team." He is, after all, a pro and will act accordingly.
As for the criticisms that Jordan and the "other Cavs" have been getting from the fans and the media lately, Mike said the noise isn't bothering Jordan a bit.
"The media has a job to do and everything is magnified in the playoffs. The fans have a reason to complain because they can't wait for tomorrow or next year. They want to win now. Jordan has been trained not to get too high or go down too low. As Kobe Bryant could attest, this is the nature of how athletes are viewed in the prism of sports, sometimes you are the best player, some days you are the worst," Mike said.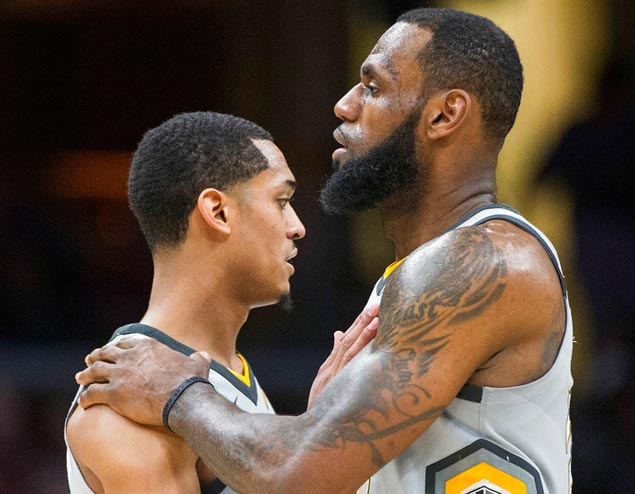 While Jordan had a DNP-CD (Did Not Play, Coach's Decision) in Game Two, he is likely going to log meaningful minutes in Game Three because the Cavaliers starting guard of George Hill and JR Smith have been outscored by Boston's Jaylen Brown-Terry Rozier tandem to the tune of 72-12.
Hill, who got his college diploma last Saturday, dropped out in Game Two with just three points in 33 minutes. This after scoring a tepid five points with zero assists and zero rebounds in Game One.
Smith, meanwhile, has four points in two games. He has made only two of 16 field goals and has missed all seven of his 3-point attempts. The only aggression the former Knick has shown so far was the malicious push he gave a driving Al Horford in the waning moments of Game Two.
Rodney Hood was supposed to provide microwave offense off the bench as a big shooting guard at 6-foot-8. But in these playoffs. he's been cold and bad, like forever. Through 12 games, Hood has made only two of 17 triples, a lifeless 11.7 percent clip.
Jose Calderon, a 15-year veteran, was supposed to help, too. But at 36 years and 232 days old, the easily likable Spaniard is fossilizing on the Cavs bench with each passing round.
Having said all these and knowing that Cleveland's guard rotation isn't nearly as deep as a magician's bag of tricks, unleashing Jordan against these rabid Celtics only makes perfect.sense.
"We need Jordan's scoring," LeBron James told The Cleveland Plain Dealer last month. Charles Barkley mirrored the same sentiment on TNT's post-game show while Steven A. Smith of ESPN's First Take said Jordan isn't a "scrub" but a valuable asset.
No matter who said it and regardless of the tone it was spoken, the message is clear: Cleveland needs JC now. More than ever.
"Game Three is most pivotal," Mike said as he struggled to even entertain the thought of imagining Cleveland falling down an 0-3 hole where no NBA team in playoff history has ever come out of after 129 tries.
Ring... Ring.... Ring.
If you're a Cavs fan, the hope is that coach Lue will call No. 8 to help Cleveland dial a Game Three win and slice Boston's series lead to 2-1.
Minus Clarkson, Cleveland's guard play is less lethal. There's a Hill but no mountain. A Smith without a Wesson. And there's nothing under the Hood.
In this age where anything and everything is sold, I have an idea for a t-shirt.
Free Jordan Clarkson.