DESPITE opening the NBA season with a loss to rivals Los Angeles Clippers, Fil-Am guard Jordan Clarkson sees better things to come for the LA Lakers, who, he still believes, are the best team in the Southern California area.
Clarkson made the assertion when he appeared as special guest during the 26th Festival of Philippine Arts and Culture (FPAC) at the Echo Park Lake in Los Angeles or just days before the Lakers suffered a 108-92 loss to the Clippers on opening night at the Staples Center on Friday (Manila time).
Proud of his Filipino heritage, the fourth-year guard was accompanied by his Filipina mother and grandma during the affair also attended by fellow Fil-Ams Apl.de.ap of Black Eyed Peas, Jessica Reynoso, DJ Virman, Kronika, Anatalia Villaranda of The Voice Season 12, Bella Fiasco, and Joel Quizon.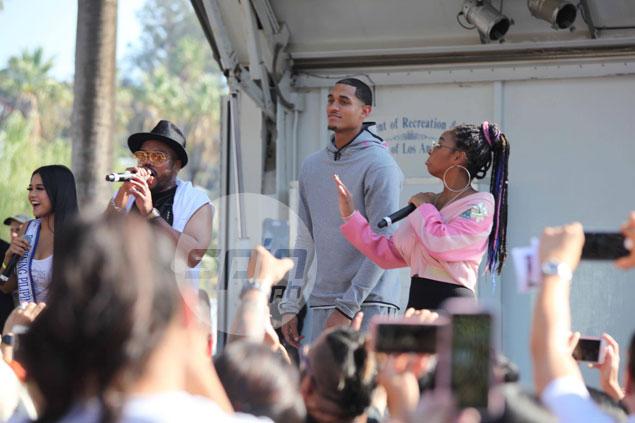 Continue reading below ↓
Recommended Videos
Clarkson opened his short speech on stage with a 'Mabuhay' greeting to the large Filipino crowd in attendance for the event conceptualized in 1990 to address the multicultural constituency of the city.
"It feels good to be Filipino. It's my first FPAC (appearance), and I've got my whole family here," said Clarkson, who finished with 18 points against the Clippers.
"My grandma came down, and so did my mom. So this is a cool experience for me."
With a rejigged Lakers roster bolstered by the arrival of rookie Lonzo Ball, Clarkson, 25, didn't mince any word as to which team still reigns in Los Angeles.
"Just want to say thank you for all the love and support that you guys give," he said. "I will keep representing LA as well as the Filipino community, as well as the Lakers. We still run this city."
Clarkson, who still remains a prospect to play for Gilas Pilipinas, stayed on and enjoyed the food and music provided by the community leaders and artists present. He later granted requests from fans for autographs and photo ops.
The first FPAC was held on May 14, 1992 where 3,000 participants braved the aftermath of the LA riots that occurred the week before.
Since then, the event has grown stronger and bigger, moving to Cabrillo Beach in 1994, and then to Pt. Fermin Park in 2001.