NEW YORK — Back when the New York Knicks and Miami Heat were meeting every year in the postseason, nobody had the kind of series Jimmy Butler just did.
Get as hot as he was against Milwaukee and a player was going to get clobbered.
They were foul-filled matchups at the end of the 1990s, better fit for brawlers than ballers, and beautiful to watch only for someone who loves ferocious competition like Knicks coach Tom Thibodeau.
"And it was on every play," Thibodeau said. "And the style of play is a little bit different today than it was then."
The intensity might be about the same.
The teams renew that rivalry beginning Sunday (Monday, Manila time) when the Knicks welcome the Heat back to Madison Square Garden for Game One of the Eastern Conference semifinals.
"We know how fierce it's going to be at 1 o'clock in the Garden," Heat coach Erik Spoelstra said.
ADVERTISEMENT - CONTINUE READING BELOW ↓
The Knicks arrived here by winning a playoff series for the first time since 2013. They got to start it at home when the Heat stunned the top-seeded Bucks thanks to Butler's spectacular series, where he averaged 37.6 points.
It's a No. 5 against No. 8 matchup, making this series a surprise. It used to seem like fate.
They met every year from 1997 to 2000, with the Heat coming from 3-1 down to take the first one after suspensions from a fight swung the series, and the Knicks taking the final three. Every one went the distance.
The typically gruff Thibodeau, then an assistant under Jeff Van Gundy, chuckled repeatedly recalling the history this week, particularly Allan Houston's shot to win the 1999 first-round series — another of the six No. 8 upsets of No. 1 in NBA history.
"I probably wouldn't be here today if that thing didn't roll in," Thibodeau said. "It hit every part of everything."
But it's a history that means little to the current Knicks, whose core of 20-somethings is too young to remember it.
"So for us, those are the war stories of the past and they're cool to hear and they're cool to see highlights of it, but as a team we've got our own path and our own vibe and way to navigate that," swingman Josh Hart said.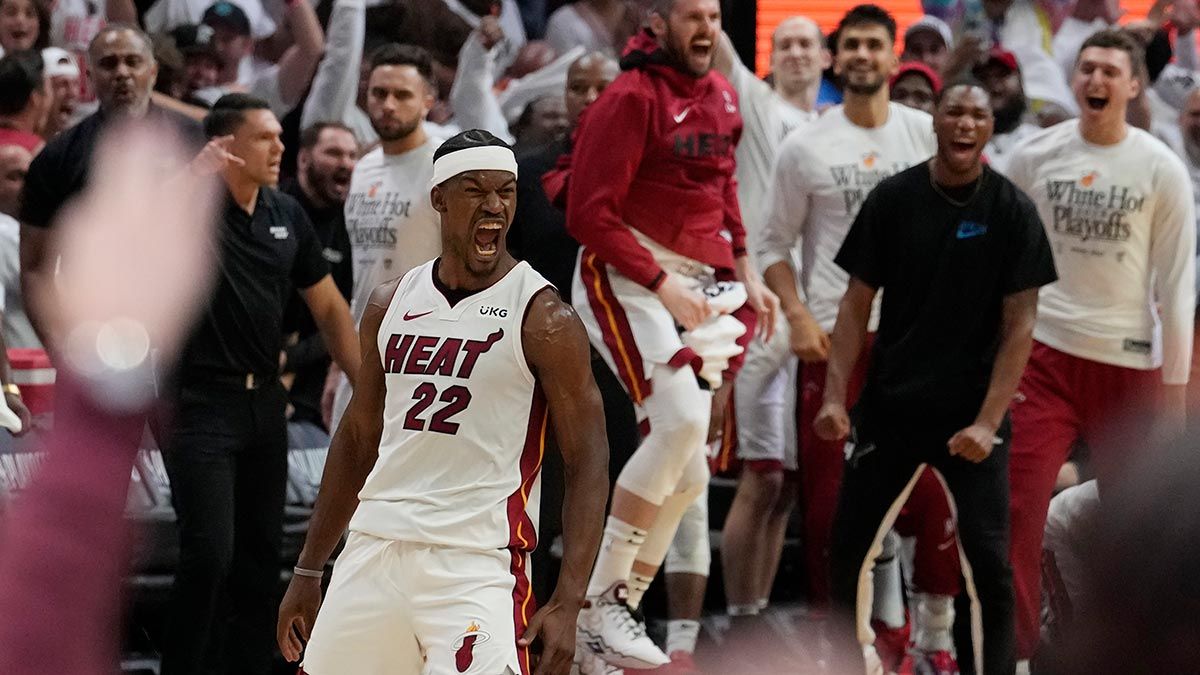 ADVERTISEMENT - CONTINUE READING BELOW ↓
Hart will be one of the Knicks tasked with trying to slow Butler, who scored 56 points, tied for fourth-most in NBA playoff history, in Game 4 against Milwaukee. He followed with 42 in Game 5 to win the series.
He began his career in Chicago playing for Thibodeau, who said he didn't foresee Butler turning into such a dominant scorer. They reunited later in Minnesota, so Thibodeau might know what it will take to throw the swingman off his game — if that's even doable at this point.
"We're not going to make this a Thibs vs. myself thing," Butler said. "It's going to take our entire roster to be able to do something special. It's the Miami Heat versus the New York Knicks."
Even those who don't understand what that used to mean are ready to be a part of it now.
"I'm going to be honest: I didn't know the rivalry was like that," Heat center Bam Adebayo said. "For me, this is a chance to build a rivalry in that aspect, but also it's a chance for us to try to advance. It's another series for us to be battle-tested."
ADVERTISEMENT - CONTINUE READING BELOW ↓
KNICKED UP
All-Star forward Julius Randle is questionable to play after reinjuring his left ankle in the Game 5 victory at Cleveland. Starting guard Quentin Grimes, who missed the last two games with a bruised right shoulder, is practicing again and also listed as questionable.
FAMILIAR GROUND
Miami is in Round 2 of the playoffs for the 11th time in the last 20 seasons. The Heat have wound up advancing in eight of their 10 most recent conference semifinal appearances.
New York made the conference semifinals in nine consecutive seasons from 1992 through 2000. This is only the second trip since then for the Knicks, who last won this round in 2000 — against Miami, in a seven-game thriller.
SEASON SERIES
The Knicks took three of four, with their first two victories both by two points. All four games were decided by single digits.
SEEDINGS SPEAK
This is just the third NBA playoff series where both teams are seeded No. 5 or lower. A 1994 matchup between Utah and Denver was also a No. 5 vs. No. 8, and Houston and Seattle had a 6-7 matchup in 1987.
ADVERTISEMENT - CONTINUE READING BELOW ↓
THE COACHES
Spoelstra is 100-66 in playoff games. Thibodeau enters 29-37 as a head coach in the playoffs. They've squared off twice previously in the postseason; Miami beat Chicago 4-1 both times, in 2011 and 2013.
With Tim Reynolds
Get more of the latest sports news & updates on SPIN.ph