DONOVAN Mitchell said he has made a pitch to incoming free agent Paul George to join him at the Utah Jazz in the coming NBA season.
The NBA Rookie of the Year candidate told mediamen on Sunday during his adidas tour in Manila he has already spoken to George on the possibility of joining the Jazz next season.
"I made mine with Paul George right now," said Mitchell during a press conference at the adidas store at the Bonifacio Global City in Taguig City.
The 21-year-old Mitchell is in Manila for another stop of his international tour. He was fresh from a brief stop in China before landing in Manila early Sunday morning.
George will enter free agency at the end of the month after playing for Oklahoma City in the recent season following a trade from Indiana. There is a lot of talk that George, a Los Angeles native, could possibly sign with the Lakers.
But Mitchell said he hopes George will make Utah an option, saying the Jazz offer a solid team that already has the pieces to make a deep playoff run next season.
"I told him basically, we want to win. We are not selfish. I'm not the type of guy whose gonna say it's my team. I'm a second-year player, he is an All-Star. He comes in and it will make life a lot easier offensively. He is a great defender. We have guys who want to play with him," said Mitchell.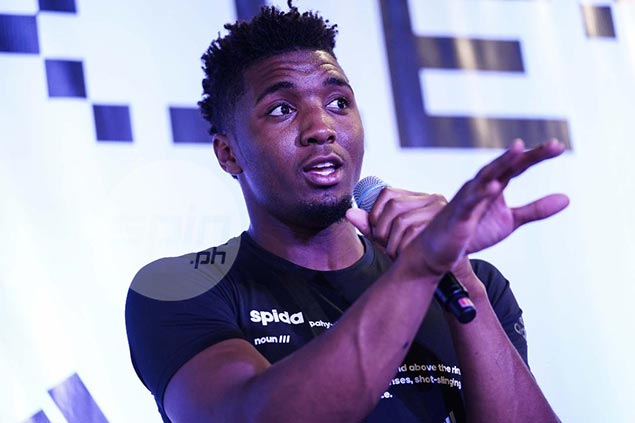 "We had a tough first-round series because of him. We have the talent. We have a great crowd. We have solid, beautiful place. Our coach is probably the Coach of the Year. We have a Defensive Player of the Year. We have a bunch of guys who work hard and put the work in," said Mitchell.
Recently, the NBA champions came out of the Western Conference where the Golden State Warriors swept the Cleveland Cavaliers through the efforts of Kevin Durant, who joined the Warriors last season after his stint with Oklahoma City.
When asked about the trend in the NBA of teams forming 'super teams,' Mitchell said: "There is no sense in saying I don't like it or I like it because you gotta adjust.
"There is no time to say, 'Oh, I want to do it on my own.' If you look at Golden State, it has been the champion for three of the past four years. You have to find ways to adopt to beat them. That's just how it is. That's how you have to do it. I don't think it's not necessarily a bad thing. It's I think what needs to be done," said Mitchell.
Mitchell also said he would want to be teammates with perhaps the top free agent this summer in LeBron James.
"Who wouldn't. But at the same time, if I had a choice, I rather beat him. I rather play against him and accept that challenge," said Mitchell.