CHICAGO - He was among the best to ever play point guard, a craft that he practiced at Gonzaga and perfected in the NBA, before eventually immortalizing it with an induction to the Naismith Memorial Basketball Hall of Fame in 2009.
He was the pick in Karl Malone's roll, the court general that terrorized and gutted opposing defenses with 15,806 assists across 19 distinguished seasons with the Utah Jazz.
But there was also something so visually striking about John Stockton. His iconic No.12 jersey was so tight he looked mummified wearing it. And his shorts were so short, the kind that stern Catholic parents forbid their daughters to wear.
And I liked it. Because it was old school, familiar, and reassuring.
These days. some "editions" of NBA team uniforms can be utterly confusing, not to mention offensive to the eyesight as we gaze at the panorama of loud colors.
In 2017, the Minnesota Timberwolves unveiled their lime green uniforms. It made their bench look like a rain forest while the players were teased as dribbling Ninja turtles. Imagine the optics on the court once you mix the explosion of green with three dudes running around in zebra stripes.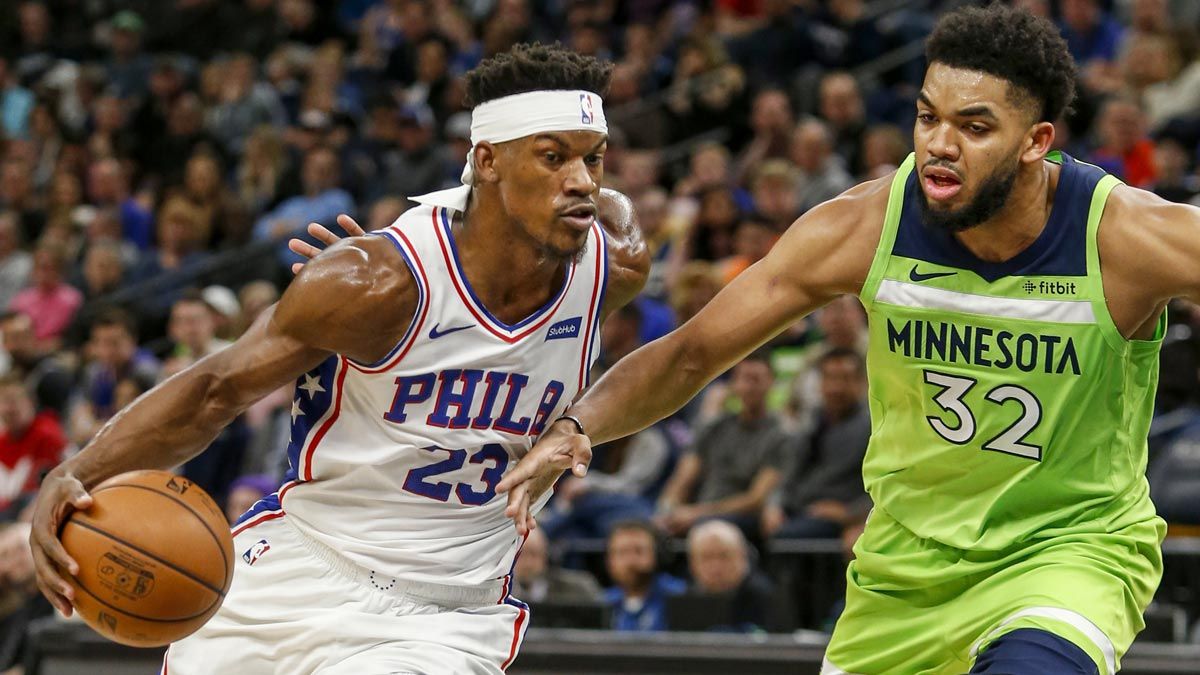 Continue reading below ↓
Recommended Videos
Honoring the military is a noble cause but when the Toronto Raptors debuted their camouflage uniforms in 2011 they looked like a platoon of misfits wanted by the fashion police.
What happened to simple?
Well, simplicity left the moment big global business arrived. More uniform editions means more merchandise to peddle. It's called free enterprise, which is an oxymoron because the most expensive type of NBA jersey - the authentic, the one the players actually wear - costs upwards of $300.
ONE-INCH RULE. Jerseys are not the only items that have gone through a serious make-over. The NBA shorts have transitioned as well.
The early 90s ushered in the era of baggy shorts. But it got a little out of control, so much so that in December of 2005, per Chris Sheridan of ESPN, the NBA fined 13 players $10,000 each - and their teams $50,000 - for violating the rule mandating that shorts "cannot extend below 0.1 inch above the knee."
When I played a lot of bad basketball in my youth - a failed recreational choice that was highlighted by dizzying array of turnovers and missed shots - I really liked the oversized shorts that flapped in the wind, giving a nice breeze down below, kind of like the way sails do for pirate ships.
Unfortunately a cluster of NBAers took too much liberty on the length. Jermaine O'Neal, for instance, once wore shorts so long a midget could use it for a robe or a beach towel.
The NBA players union filed a grievance over what it perceived as over-policing and there had been uniform peace since.
SLEEVES AND LEGGINGS. Back in the day, most NBA players were unencumbered by accessories. It was just man and uniform, and the beads of sweat that dripped all over a glistening physique, lending soul to the macho image.
In 2001, Allen Iverson popularized the arm sleeve he wore to help deal with elbow bursitis. Others followed suit and the wearing of leggings became rampant as well.
The items were supposed to improve blood flow, keep players warm, among other benefits.
However, some players wore it for decorative means, prompting the NBA to crack down on the practice.
In amending the uniform code in 2006, players were required "to send the league a written request from a doctor detailing 'a medical need' for the leggings."
Since then there has been a dramatic decline in the use of what Marcus Camby calls "pantyhose."
HEAD GEAR. The latest fashion trend to hit the NBA is the head band, specifically the type that evokes memories of Mr. Miyagi and the Karate Kid. Jrue Holiday of the Pelicans wears one and so does Maverick Wes Matthews.
When former Bull Jimmy Butler returned to the United Center as a Sixer last March 6, I saw up close the stylish head band. With it's dangling, tie-up loose ends you'd think it's a hazard as it can be accidentally yanked by another player in a scrum for a rebound.
But according to Sports Illustrated, the head ornament is permitted as long as it is "no wider than 2.5 inches and must be entirely white, entirely black, or within the team color assortment."
Oh, how times have changed.
But instead of scratching my head, I only nod in sweet surrender. Sports, after all, is a microcosm of life.
Still, there are changes in this world we live in that I don't necessarily embrace.
I once saw an obscenely expensive bed which had buttons you can punch to satisfy your demands for nocturnal comfort. That's not for me. All I need is a stiff mattress to rest my skull, sleep, and snore like a drunk sailor.
Same thing with cell phones. I like the thought that it's smarter than me but I don't need all the other apps. I just want it to whistle for my son when I want to talk to him and I want the device to be reliable enough to ring every time the boss - my wife - calls me.
As for NBA uniforms and gear, everything is cool to me.
Just spare me the lime green jerseys.