CHICAGO - After suffering through three straight losses to start their season, the Chicago Bulls stopped the bleeding on Wednesday night (Thursday, Manila time) at the United Center and found a Payne killer in the unlikeliest of places.
Cameron Payne.
Zach LaVine was electrifying, a high-flying 6-foot-6 bundle of destruction. Showing little signs of the ACL tear that once threatened his career, the 23-year old star proved more explosive than a woman's temper and shredded Charlotte's defense with 32 points, including a pair of free throws that iced the Hornets, 112-110, with half a second to go.
Jabari Parker, the native son who was poached from the Milwaukee Bucks last July with a guaranteed $20 million salary this season, impressed a partisan crown of 19,170 with his workmanlike effort of 11 points, nine rebounds and four assists in 30 minutes off the bench.
But Payne, who was acquired from OKC in a multi-team trade last February 23, 2017, stole their thunder. On a night when the Bulls played without injured starting guard Kris Dunn (partial MCL sprain), Payne plugged a hole that could have leaked more waste than the Exxon Valdez oil spill.
The 14th pick in the 2015 NBA Draft, the 6-foot-3, 190-pound Payne has had an uneasy tenure in Chicago. He was disliked to a point of being vilified by a rabid fan base.
Continue reading below ↓
Recommended Videos
"Not an NBA player," former Bulls players told Joe Cowley of The Chicago Sun-Times.
In some instances the 24-year old Murray State alum did look like it. Against the Pelicans in a preseason contest, he induced boos with a double-dribble and a 3-point attempt that he mangled as badly as an amateur weather forecast,
But against the Hornets and Kemba Walker, one of the NBA's top scorers (31.6 points per) and a dangerous 3-point shooter (38.6 percent), Payne proved that he belonged in the same basketball floor.
After an uneventful opening half in which he went scoreless in 12 minutes and 23 seconds of action, Payne came to life in the third quarter by hitting 5-of-6 from downtown, giving Chicago an 88-82 cushion after three quarters. He drilled two more in the payoff period.
When it was all over, Cameron swished 7-of-11 threes, a staggering 63.6 percent clip. He was more efficient than a Tesla - 21 points, five rebounds, four assists, and one steal in 30 minutes of play. His floor leadership helped hold off Charlotte, which got 23 points from Walker and double-figures scoring from five other Hornets.
More importantly, the Bulls are in the win column, notching a much-needed victory that will rally the troops and silence, at least for now, the noise, about coach Fred Hoiberg's tenure.
For one glorious evening at the United Center, Payne drops kept falling from the sky. And for once, the house that Michael Jordan built was a house of Payne.
PARKER UPDATE. After years of watching him garbed in San Antonio's famed silver and black, it was odd seeing Tony Parker in a Charlotte Hornets jersey.
Now 36, the four-time champion still showed flashes of brilliance as he finished with 10 points and two assists. He didn't play in the final 7:41 of the fourth quarter when the game was on the line, validating Charlotte's youth revolution.
With the score tied at 110, and with a chance to win it with 6.2 seconds left, the Hornets turned the ball over instead and fouled LaVine in the ensuing play. It was a bad loss the left a awful taste in the mouths of the Hornets, whose locker room was so quiet in the post-game media availability session.
I joined a handful of reporters who talked to Parker, whose answers were short, and whose body language reflected that of a man who just wants to get out of the scene of the crime as hastily as he could.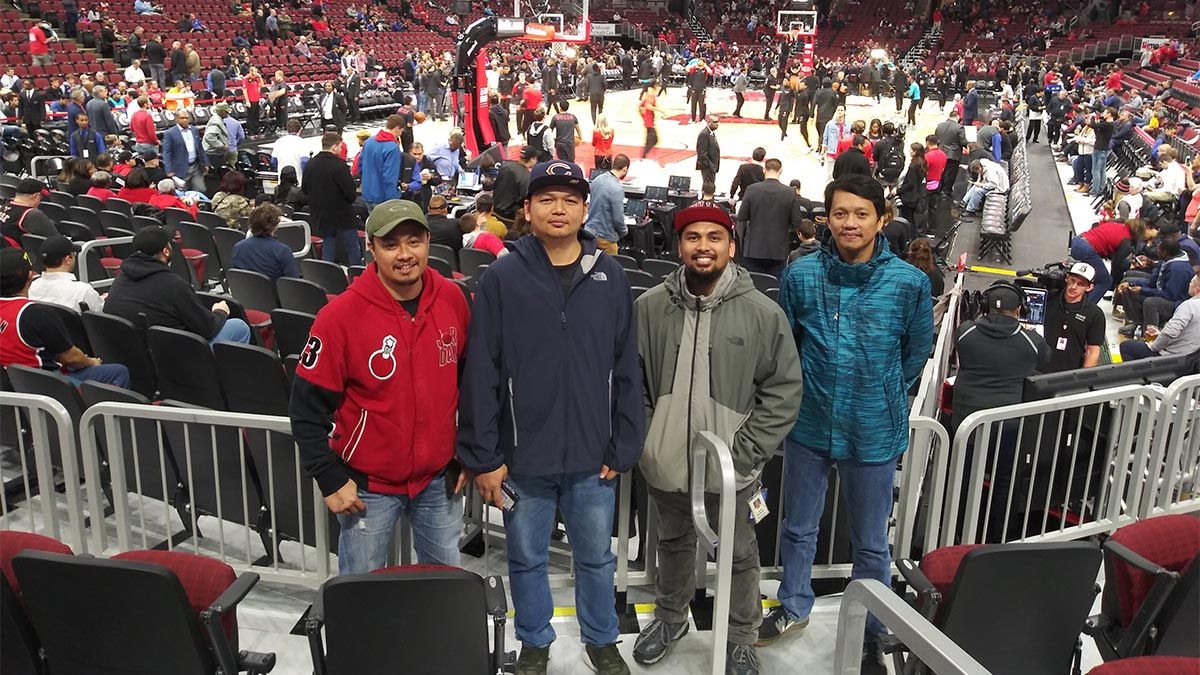 PINOYS IN THE HOUSE. Among the Bulls faithfuls in attendance were four Filipino engineers who are in Chicago for some training work for Teradyne, an electronics giant that employs 4,600 and made $2.1 billion last year.
Before going back to the Philippines next month, the happy foursome - Mervin del Mar from Mandaue City, Jerry Malagsic of Bacolod, Omar Bustamante of Carmen and Guiller Samon of Cavite - made sure to see LaVine live in action and make a pilgrimage to the famous No. 23 statue in the arena atrium.
The group approached me at the media parking lot and said they were fans, which was downright flattering. Mervin mentioned my days at a Cebu newspaper while Omar referenced my recent Rick Mahorn interview. We met up again inside the United Center where I eagerly showed them around.
Shortly after the game they drove back to their hotel in suburban Buffalo Grove, lighter in the pocket, but richer in memories.