LAS VEGAS -- After the Boston Celtics beat the Golden State Warriors, 93-69, to stay unbeatean in NBA Las Vegas Summer League, head coach Brad Stevens and the team's promising rookie Jayson Tatum bared that they are more than willing to visit the Philippines if given the opportunity.
"I have never been asked, but I'd love to go at some point," Stevens told SPIN.ph on Thursday (Friday, Manila time) at the Cox Pavilion, where the off-season tournament is in full blast.
Stevens, who handed over the Summer League coaching reins to assistant coach Walter McCarthy, is entering his fifth season as head coach of the Celtics. After coaching Butler from 2007 to 2013, Stevens, 40, signed a six-year, $22 million deal with Boston last July 2013.
After falling short in the Eastern Conference Finals, losing to the Cleveland Cavaliers in five games, the retooled Celtics head into the 2017-18 season with No.3 pick Tatum and newly-acquired All-Star Gordon Hayward, who played for Stevens at Butler.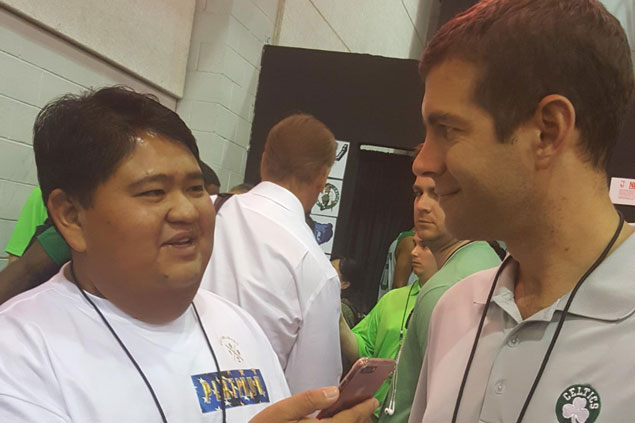 Meanwhile, the 6-foot-8, 205-pound Tatum, who was picked by Boston third overall in last June's draft, also looks forward to a possible Philippine visit, saying, "I'd be happy to go to the Philippines if the opportunity presented itself."
The 19-year-old Tatum played one season with the Duke Blue Devils before joining the pro ranks. He also suited up for Team USA in the 2014 Fiba Under-17 World Championship where they faced the Batang Gilas squad.
[See Batang Gilas alums look back fondly on match against NBA lottery picks Tatum, Jackson]

Tatum didn't see action due to right patellar tendonitis.