CHICAGO - When Julius Caesar and his formidable army crossed the Rubicon river and entered Roman territory on January 10, 49 B.C., they reached a point of no return.
Alea iacta est, the great general was warned in Latin, which meant "the die is cast."
When LeBron James and the his minions invaded the Oracle Arena in Oakland, California two days ago, they too were doomed like Caesar before them. Against the ruthless Golden State Warriors, the Cleveland Cavaliers are fighting a hopeless cause that only St. Jude can champion.
But while the Cavaliers were brutalized by 22 points in Game 1, it's too soon to count them out. In last year's Finals, they lost Games 1 and 2 by a combined 48 points and trailed the series 3-1 before winning it all in seven games.
Remember, history does repeat itself.
However, it must also be noted that last year the Warriors didn't have Kevin Durant, who tortured Cleveland for 38 points in the 113-91 rout last Friday.
The Cavaliers must win Game 2. Otherwise, they face the prospect of having to beat a superior foe four times in five games. Ergo, to avoid an 0-2 deficit, the Cavaliers need to fix a whole lot of things that were broken in Game 1.
Continue reading below ↓
Recommended Videos
First and foremost, protect the ball. Their 20 turnovers in Game 1 gave the Warriors 20 more field goals, which is like giving Manny Pacquiao two more hands in a fistfight.
Secondly, the Cavaliers can't shoot 34.9 percent from the field again (30-of-86) and expect to win. J.R. Smith swished a 3 to start Game 1 and then promptly disappeared. Tristan Thompson laid an egg while Kyle Korver, who shot 48.5 percent from long distance during the regular season, went scoreless and missed three wide-open threes. Those things simply cannot happen again.
Thirdly, the defense has to be better. Slow and plodding transition D allowed Durant six dunks in the opening half. Poor communication and rotation allowed Durant to get switched against terribly mismatched defenders whom he either used his length to shoot over or summoned his quickness to blow by.
Truth of the matter is, whatever adjustments the Cavaliers may implement will do little to avert their impending fate. It's like adding two more fire extinguishers to save a burning house, or as one famous writer once said, "rearranging the deck chairs on the Titanic."
As for the Warriors, winning Game 2 is a highly doable task. They just need to tidy up some things, like rebounding, which they lost in Game 1, 59-50. According to an ESPN stat, the Warriors missed 28 shots near and around the paint in Game 1. If they can knock down more of those gimmes, they should be good to go.
Analysts covering these Finals have been quick to point out that both Cleveland and Golden State have improved their rosters dramatically since last June. Several names and nauseating stats have been thrown around to make the argument on both sides.
But from what I saw in Game 1, the biggest change between the two teams since last year is that the Warriors added Kevin Durant while the Cavs got Kyle Korver.
Enough said.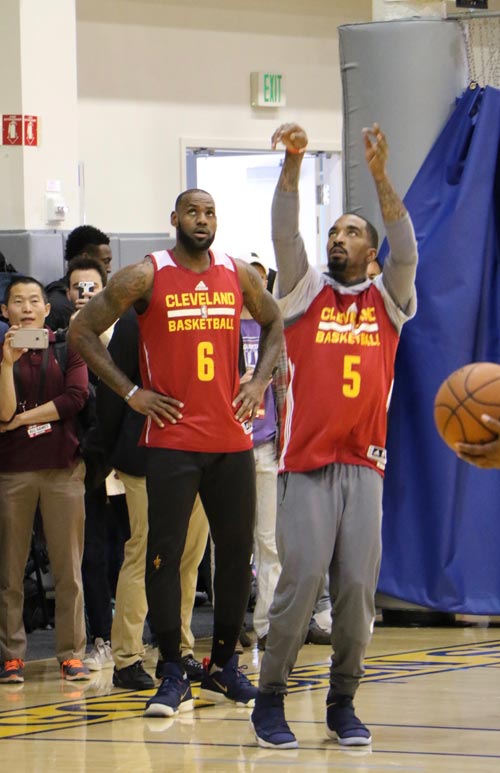 KEVIN"S SLICE OF HEAVEN. When he left Oklahoma City to join the Warriors this past summer, Kevin Durant was vilified for, among many things, disloyalty and his alleged selfish chase for a ring.
I never understood why.
Durant was a free agent, which meant he had the freedom go anywhere he desired after giving his heart and soul to the Thunder for eight productive seasons. If you think a player should play for one team throughout his career, you are either a hopeless romantic or painfully naive.
Michael Jordan and Scottie Pippen didn't finish their careers with the Chicago Bulls. Patrick Ewing spent 15 seasons with the Knicks before moving on to the Sonics and Magic. The list is endless.
By exercising his free agency rights, Durant chose a path that would best advance his career and provide him the joy and satisfaction he deserves.
People do that in other workplaces too, and that is why they attend workshops and seminars, to better themselves in doing what it is they do and get in a position for a promotion and a pay raise.
The postal worker might not chase a championship ring but you can bet he covets a choice assignment where he delivers mail in a nice neighborhood inhabited by wonderful people. Life, as Jose Mari Chan wails in a song, is a "constant change."
Kevin Durant's pursuit of happiness has put him a place where he is three games away from claiming his sport's ultimate prize. It's been a challenging process, a thing of beauty that should be celebrated, not condemned.