CHICAGO - DeMarcus Cousins is having a whale of a season. Through 48 games, the emotionally fragile giant is averaging 25.2 points, 12.9 rebounds and 5.4 assists per. Over the last 50 seasons, according to ESPN Stats and Info, only four players averaged those numbers and they all won MVP honors.
Cousins had never made the playoffs in his nine-year NBA career but he's on his way. His team - the New Orleans Pelicans - have won four straight and seven of their last eight. They are currently sixth in the Western Conference with a 27-21 record.
Just days ago, Cousins received his fourth All-Star nod. Including this season's $18 million pay, the Kentucky alum has so far made $79.2 million in NBA salaries. And when he becomes an unrestricted free agent this July, the Pelicans are rumored to offer him a five-year $175 million contract, said the New York Times.
Mardi Gras doesn't hit New Orleans until February 9 but for the 27-year old Cousins, a father of three, the party had already begun.
And then the music stopped. Helium left the balloons. Fear muted the joyful noise.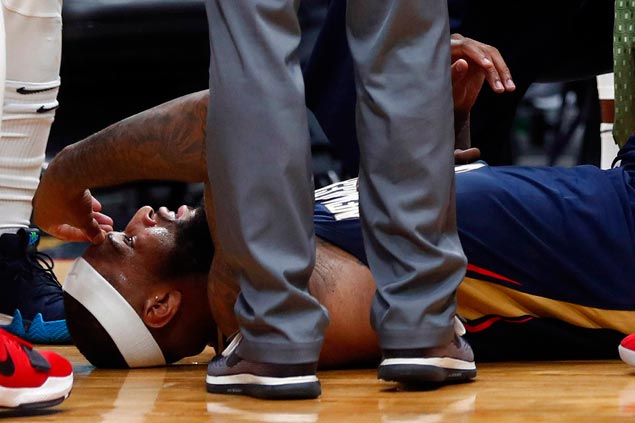 Continue reading below ↓
Recommended Videos
With 12 seconds left in the Pelicans' 115-113 win over the visiting Houston Rockets at the Smoothie King Center, Cousins, who finished with a triple-double of 15 points, 13 rebounds and 11 assists, tore his left Achilles tendon. He will require surgery and will miss the remainder of the season.
"We were just getting it. We were figuring everything out. That's the tough part. We've just got to keep going and keep finding a way to win," teammate Anthony Davis told NOLA.com.
With the Pelicans missing an All-Star and losing one tower, Davis, who is already averaging a phenomenal 26.5 points and 10.4 rebounds a game, will have to lift a heavier load for New Orleans to remain on course for a postseason berth.
Easier said than done. Especially in the West, where the thoroughbreds roam and Steph Curry reigns.
CAREER STOPPER. Chauncey Billups, Elton Brand, Christian Laettner, and most recently, Kobe Bryant are among the long list of players whose careers were either slowed down or terminated by a torn Achilles.
The only exception was Dominique Wilkins. After tearing his Achilles in the 1991-92 season, The Human Highlight Film did not have his flying privileges revoked. In fact, as CBS Sports reported, the Atlanta Hawks legend averaged more points in his first season back and he improved his shooting percentage.
With the luxury of excellent medical care plus an abiding commitment to rehabilitation, Cousins has a decent shot at an outcome where his production would only dip slightly while still playing a lengthy career as Wilkins did - seven years post-injury.
But unlike Wilkins, who was 6-foot-7 and 200 pounds, Cousins is 6-foot-11 and 270 pounds. You don't have to be a doctor to know that less weight pressure means more health for the 28 bones, 30 joints and the over 100 muscles, tendons and ligaments that make up each man's foot.
The odds of Cousins returning to All-Star form following this devastating injury are long. But it will be easy to root for him. Despite his acerbic temper and icy stare, this kid Boogie is actually a gentle and giving soul.
Without any media fanfare, Cousins donated a $253,000 check to remodel a public park in his hometown of Mobile, Alabama. Rod Walker of The New Orleans Advocate also wrote that when Cousins signed his first contract extension with his former team, the Kings, he donated $1 million to families in Sacramento in 2013.
Cousins' numerous other acts of charity are barely reported. But his technical fouls, suspensions, and dust-ups with fellow players are well-documented because volatile stories turn pages, or in this age of the internet, generate the clicks.
Oh, what a not-so-wonderful world we live in.
OH CAROL. Drawn to her good looks and the majesty of her two-fisted backhand, I have always been a huge Caroline Wozniacki fan. After three finals appearances in 43 Grand Slam events, the 27-year old Dane from Poland finally captured her first major title.
In a nerve-wracking match that lasted 2 hours and 50 minutes, Wozniacki had the fitness but seemed to lack the nerves. But she got herself together when it mattered the most - breaking No.1-ranked Simona Halep in the 10th game of the third and decisive set - to win the 2018 Austrlian Open crown.
Besides shedding that 800-pound gorilla off her back, Wozniacki received a cash prize of AUS$4 million and regained the No.1 ranking in women's tennis, dislodging the classy Halep, a 26-year old Romanian with a crisp serve and a whistling forehand.
Wozniacki was once engaged to pro golfer Rory McIlroy, who left her in the altar of broken promises in 2014. She has since weathered that storm and found love in the arms of former NBA star David Lee.
Love is nothing in tennis. But for Carol, love for the game and love for life brought joy and redemption.