LEVELAND -- This year's Eastern Conference finals was projected to be as one-sided and predictable as a Makati election, where a Binay almost always wins.
LeBron James is like global warming to Boston. It knows about the phenomenon, is aware that he is around, but can't do anything to stop him no matter how much Celtic green there is to save the planet.
Sure enough, LeBron brutalized his defenders for 68 points, 13 rebounds and 14 assists as the No. 2 ranked Cavaliers crushed the top-seeded Celtics by winning Games 1 and 2 of the best-of-seven series at the TD Garden by a combined 57 points.
I drove 352 miles from Chicago to watch Game 3 at the Quicken Loans Arena in downtown Cleveland three days ago, a six-hour journey dotted with barren plains and an interstate (80 east) highway full of traffic.
I was reluctant to make the trip largely because Boston's tepid play had stolen the shimmy shake from my shoulders. But the twists and turns of the playoffs, it's pomp and pageantry, lured me into Ohio.
I'm glad I went.
On the east side of the arena, where the media entrance is located, music blared from a live band. The Cavalier dancers swayed their hips with wild abandon while the halftime performer known as The Amazing Sladek wowed the crowd with a dangerous stunt that involved a stack of wooden chairs that were so high it almost kissed the rafters.
Continue reading below ↓
Recommended Videos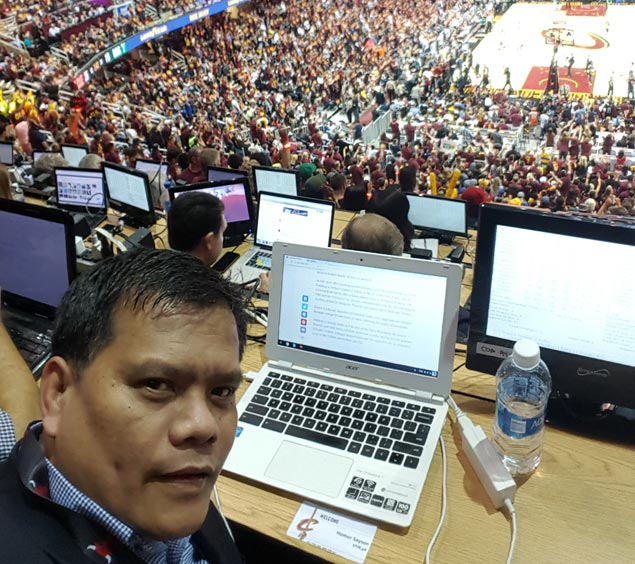 Over at the second level, where some of the corporate suites sit, media dining was in full feast mode. It was an all-you-can-eat buffet for $10 featuring a wide-ranging choice of salads, breads and meats.
A stunning rendition of the Star Spangled Banner and deafening fireworks highlighted the pregame drama. The arena was packed with 20,562 fans and the stage was set for a huge celebration fueled by the anticipation of a 3-0 series lead.
But after a dogfight, the Celtics rose from the ashes of a 21-point deficit to stun the Cavaliers,111-108, thanks to an Avery Bradley three at the buzzer. And just like that, the fiesta turned into a funeral.
Boston found an unlikely hero in Marcus Smart, who assumed the point guard slot in lieu of the injured Isaiah Thomas. Smart, a huge talent whose reputation is checkered by a volatile temper and a penchant for rough play, dove for loose balls, dished assists and defended his turf like a junkyard dog. He also nailed seven threes that helped seal Cleveland's fate.
Smart finished with 27 points and seven assists. Most importantly, he inspired his teammates to play with heightened energy and enthusiasm and he lit their confidence at a critical time when their beliefs appeared to be hopelessly eroding.
LeBron, on the other hand, took a rare night off, attaching only a mediocre 11 points and six turnovers to his illustrious name. At the post-game press conference, an irate King James explained his no-show by saying he "just didn't have it."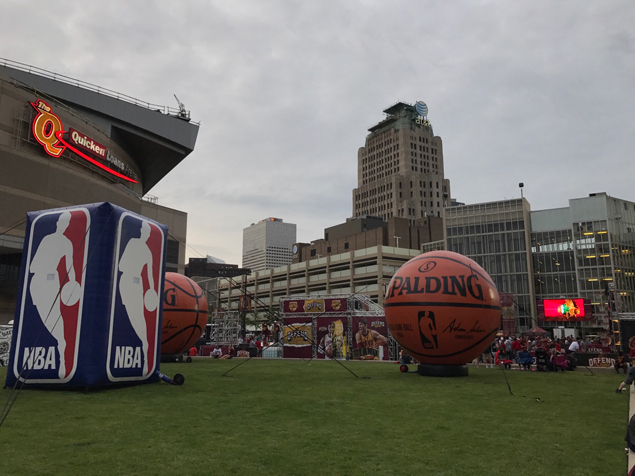 TOO MUCH FIREPOWER. In Game 4, order was quickly restored when the Cavaliers took a 3-1 series lead following a 112-99 victory. This time, it was the defending champs who climbed out of a 16-point hole.
LeBron had a foul-infested performance that forced him to sit the final 6:46 of the opening half. But much to Boston's chagrin, he eventually settled down and slapped the Celtics around with 34 points, five rebounds and six assists.
Kyrie Irving exploded for a career playoffs-high 42 points while Kevin Love registered 17 points and 17 rebounds.
Sometimes, life simply isn't so fair.
While very few gave Boston a chance to upset James and his cohorts, there is so much to be said about the fight the Celtics showed after getting embarrassed twice at home. They showed no fear and proved that they are legitimately an obstruction to LeBron's path to a seventh consecutive NBA Finals appearance.
And that is why these guys in green have won 17 championships, 21 conference titles and 22 division titles since its founding in 1946.
Boston strong. Celtic pride.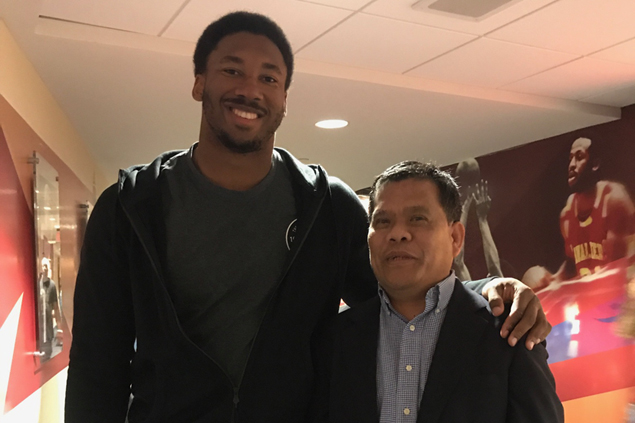 CELEBRITY SIGHTINGS. While prowling for storylines during halftime of Game 3, I saw John Oates at the VIP area. The Rock and Roll Hall of Fame inductee, John handles the electric guitar the way Vincent van Gogh handled a paint brush.
Alongside his musical partner Daryl Hall, Oates helped produced six No.1 hits, including "Maneater," Private Eyes," and "Out of Touch," to name a few. But it's their fabulous remake of the Righteous Brothers classic that continues to floor me each time it wafts in the air, "You've lost that lovin' feeling."
Comedians Dave Chapelle and the irreverently funny Amy Schumer were in the house. Security was tight in the area where they were seated so it was no joke trying to approach them for an interview.
Got to meet Myles Garrett, the No.1 overall pick in the 2017 NFL draft. A strapping 6-foot-4 and 272 pounds, Garrett will play defensive end for the Cleveland Browns in the upcoming NFL season beginning on September 7.
Also seen at The Q was Ben McLemore of the Sacramento Kings.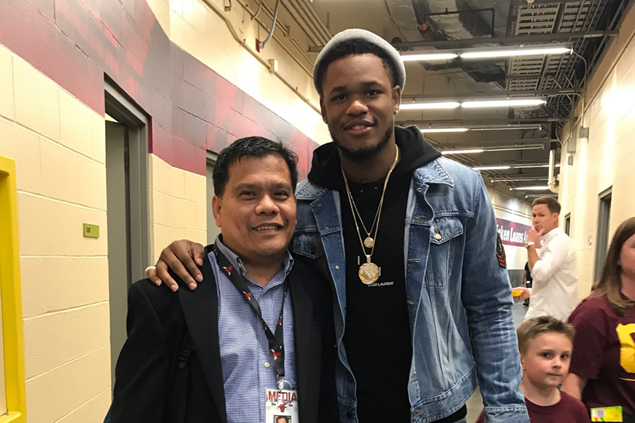 [Inset photos by Andrew Schroeder courtesy of PhilBoxing.com]