CHICAGO - When LeBron James injured his left groin during last week's Christmas Day game against the defending champion Golden State Warriors at the Oracle Arena, many saw it as an unfortunate stroke of bad luck.
I don't think so.
Circumstances sometimes require us to make our own luck in life, but on certain occasions we are also forced to make choices where we unwittingly create our misfortunes.
The L.A. Lakers stood on that crossroads when they acquired free agent LeBron James last July. Then 33, they knew he was old, galloping on the last legs of a brilliant Hall-of-Fame career that has three NBA titles, four MVP honors and 14 All-Star nods.
But the Lakers also understood that with their lack of internal resources, utilizing LeBron heavily was the only way to avoid sinking down the bottom of the Pacific Division while also having a faint hope of making the postseason.
A disconcerted fan base, thirsty for playoffs success and starving from the taste of a championship that was last conquered in 2010, demanded nothing less.
James answered the call. And played and played and played.
And maybe, just too much.
With already 44,298 minutes clocked on his knees before this season started, LeBron logged 1,178 more this season, or an average of 34.6 per in 34 appearances. In comparison, Steph Curry, Kevin Durant and Kawhi Leonard only have a combined 65,627 minutes on them in 27 NBA seasons combined.
When things are desperate, wisdom tends to run away from us. But the Lakers decision to utilize LeBron heavily wasn't just blind faith, but rather, a staunch belief that the 6-foot-8, 250-pound freak of nature has unmatched lasting power.
ADVERTISEMENT - CONTINUE READING BELOW ↓
Per Brian Windhorst of ESPN, LeBron spends up to $1.5 million annually to keep his body in elite shape. He also devotes himself to a rigid work ethic that has thwarted Father Time from stealing the physical gifts that has made him perhaps the best player of his generation.
LeBron has rewarded his team's trust with 27.3 points, 8.3 rebounds and 7.1 assists a contest. At the end of the day, though, diet, exercise, cryogenics. deep tissue massage, and everything else are mere masks that can only slow down the effects of aging.
Ultimately, nothing stops the ticking of the clock, the peeling of the years.
Sure, it could be argued that this injury was just pure happenstance. But there is also no denying that the extended playing time exposed LeBron to the likelihood of this unfortunate injury. As any professional fighter will tell you, the less rounds the less chances of getting hurt.
This extended medically mandated rest could be a sign that the king's armor has finally cracked .
But the Lakers can't worry about right now. The priority is to stay in the playoff race, which will be quite a challenge considering the Lakers are clinging to sixth place in the Western Conference with a precarious 21-16 record.
For the Lakers' fortunes to change, the anointed savior that is LeBron James needs to be saved from both the cruel whims of fate and the ravages of time.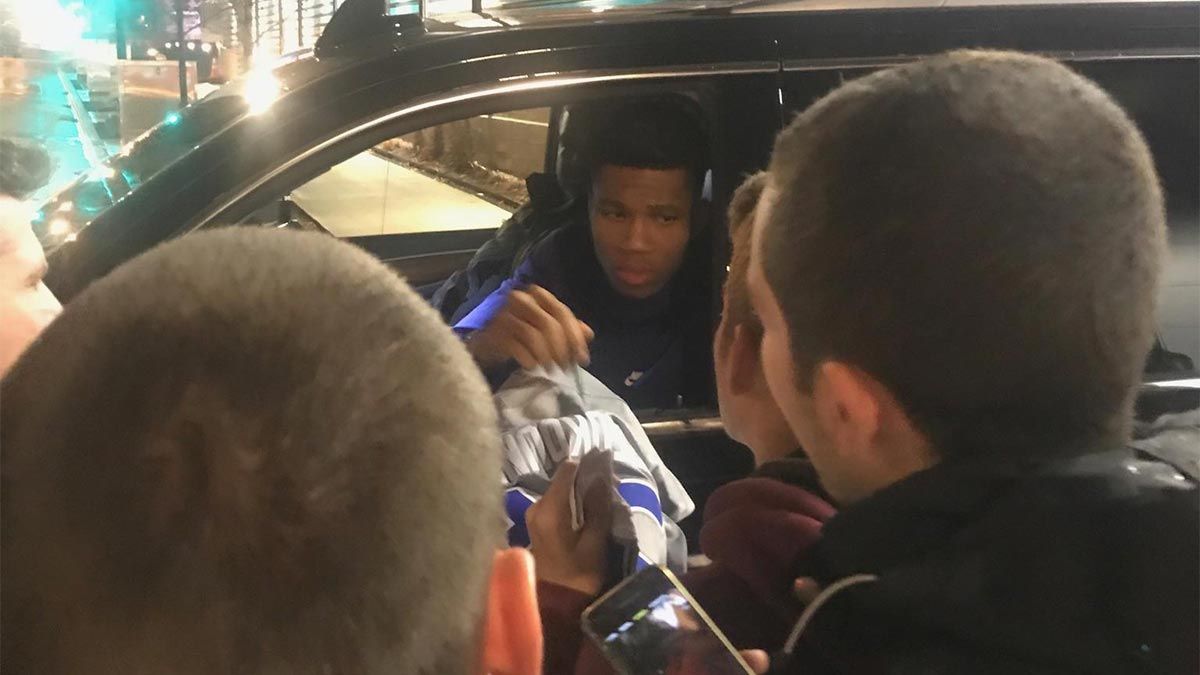 GREEK TREAT. While waiting for my ride, which was parked three blocks and $15 away from the newly-erected Fiserv Forum in Milwaukee, I sheltered myself from the rain at loading dock No. 7.
Some 20 or so of my newest acquaintances provided warm company.
As it turned out, loading dock No.7 is where Bucks players exit after each home game. Three nights ago, after they beat the Knicks, 112-96, I watched most of them zip by the waiting crowd who braved the cold mist just to catch a glimpse of their idols and perhaps score an autograph.
Giannis Antetokounmpo was the last to leave. After another workmanlike effort - 31 points, 14 rebounds and eight assists - you'd think the Greek Freak was exhausted.
No, sir. The MVP contender left enough energy and enthusiasm to roll down the windows of his SUV and reward the fans' patience and devotion by signing everything that was presented to him.
Among the lucky ones included a trio of kids - Vangelis Armakolas, Achilleas Armakolas and Panagiotis Karagiannopoulos - who flew all the way from Greece just to watch Antetolounmpo play. The Greek Freak signed a 2017 All-Star jersey they brought with them to the trip.
Now, that's a Greek treat.