CHICAGO - The first thing that grabs at you is his length. Six feet of shock and 11 inches of awe.
If the vertical abundance won't charm you, the megawatt smile probably will. It's a smile that reaches his eyes and touches the corners of his mouth. A smile that's authentic, not forced and mechanical like a politician's.
But if you really want to be impressed, watch him play hoops.
Because basketball is the glory of Giannis Antetokounmpo.
After averaging a tepid 6.8 points, 4.4 rebounds and 1.9 assists per game during his rookie season, Antetokounmpo, the No.15 overall pick in the 2013 NBA rookie draft, has grown faster than Uber, cruising from sometime bench warmer to full-time starter.
Through 50 games this season, he leads the Milwaukee Bucks in points (23.2), rebounds (8.7), assists (5.4), blocks (2.0) and steals (1.7) per game. It's a herculean feat accomplished only by four other NBA greats - Dave Cowens (Boston Celtics), Kevin Garnett (Minnesota Timberwolves), Scottie Pippen (Chicago Bulls) and LeBron James (Cleveland Cavaliers)
The gaudy stats, however, cannot accurately depict the beauty of Antetokounmpo's multi-faceted game. After all, there is no sliding scale that puts a specific number on athletic grace and charisma.
Continue reading below ↓
Recommended Videos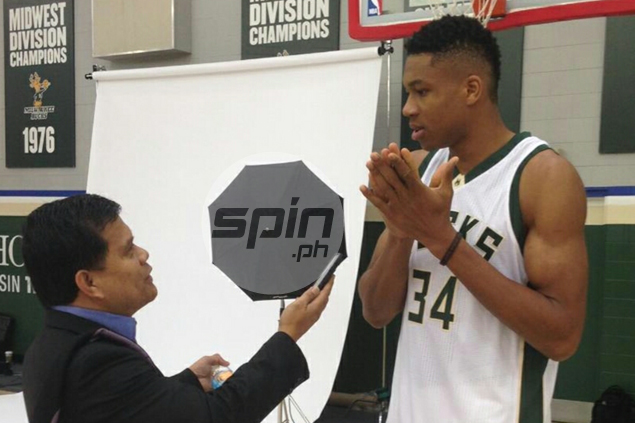 When Giannis glides on the open court, he does so with a fluidity rare for a human being his size. His giant Euro steps leave a trail of broken ankles, and when he takes off for a devastating dunk, he doesn't just leap, he tests the boundaries of flight, elbows high above the rim.
Even before signing a four-year, US $100 million contract extension last September 2016, a healthy raise from his original three-year $5.6 million rookie contract, Giannis had consistently been a tireless worker - blocking, defending, facilitating, and scoring points with unhinged exuberance.
The French refer to such passion as joie de vivre. The Americans call it an All-Star turn.
Off the court, Antetokounmpo is equally worthy of adulation. A Greek of Nigerian descent, he is as wholesome as American pie. He willingly engages his fans, merrily signing autographs and posing for selfies.
Such openness helps explain Antetokounmpo's booming popularity, making his No.34 Bucks jersey the 14th highest-selling in the NBA, per a January 2017 report by Fox Sports.
From the shadows of Milwaukee's small media market, the very same place where the esteemed Kareem Abdul-Jabbar once prowled and won a title, another star has emerged.
When the NBA holds the 66th edition of the annual All-Star Game this February 19 at the Smoothie King Center in New Orleans, the rest of the global village will get the opportunity to see the 'Greek Freak' showcase his enormous talents as a starter for the Eastern Conference.
He is only 22 years young. He is hitting field goals at a sickening 52.9 percent conversion rate. And he is gaining fans every day, thanks largely to a winsome work ethic and a knack for aerial gymnastics.
So get used to this Greek treat. He will be an All-Star for many seasons to come.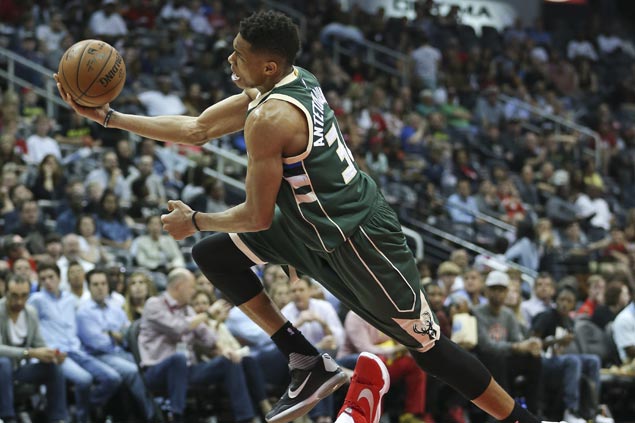 EXTRA POINTS. When LeBron James openly pushed for the Cleveland Cavaliers to sign another playmaker, NBA analyst Charles Barkley excoriated Cavalier king, calling him "whiny" and questioned his desire to compete.
Though usually docile to criticism, James fired back, which was a good thing because a grown man, big or small, should defend himself when he feels that his reputation is besmirched or when there is an imminent threat to his peaceful existence.
The problem was, instead of refuting the allegations against him, LeBron assailed Barkley's checkered past and launched an angry verbal attack that was fodder for gossip but completely irrelevant to the argument at hand.
In the parlance of argumentation and debate, a field that I delved in college as a varsity debater, what LeBron did was commit the logical fallacy of "argumentum ad hominem." Instead of attacking the substance of Barkley' accusations, the King attacked Barkley's character.
It's not necessarily a flagrant foul, but clearly an out of bounds play.
The drama it brings, the excitement it creates, the colorful personalities involved, and the fact that winners and losers are clearly defined constitute the many unique elements that makes us love sports.
Still, the whole sporting experience can become even more enjoyable when the combatants stick to the rules of fair play and common decency.