MOVE over, Derrick Rose. Enter James Harden.
With the Manila grand launch of Houston Rockets star James Harden's first signature at the Titan Conrad branch in Pasay City on Tuesday night, it appears there is a changing of the guard for adidas.
SPIN.ph asked Jehl Capanas, product specialist for adidas Philippines, if the new Harden Vol. 1 would serve as the brand's flagship model for their basketball line, a role traditionally held by the D Rose series.
"I think in terms of (Harden's) popularity in the Philippines I think it should… He's loud in a good way because he's a fashion icon. He has a nice personality and he's not really a bad boy. I think a lot of guys want to get away from the norm but still look good and perform the way Harden is performing. I believe a lot of Filipinos play that way. We love the Euro Step. I think it should do well."
Aside from the Rockets guard's personality, Capanas factored in the high-scoring Harden's on court skills, "being the most popular basketball endorser right now."
"I think by default he is the most popular (adidas basketball endorser). He scores the most points and Filipinos love scorers. And he also upped his assists. And he's in a big market like Houston. Harden is the No.1 guy in his team. He's definitely going to be the flag bearer for adidas hoops for maybe the next five to 10 years as long as he keeps his play. The good thing is that he's winning."
"If he keeps it up I wouldn't be surprised if he becomes 'The Guy' carrying the Three Stripes on his back," Capanas added.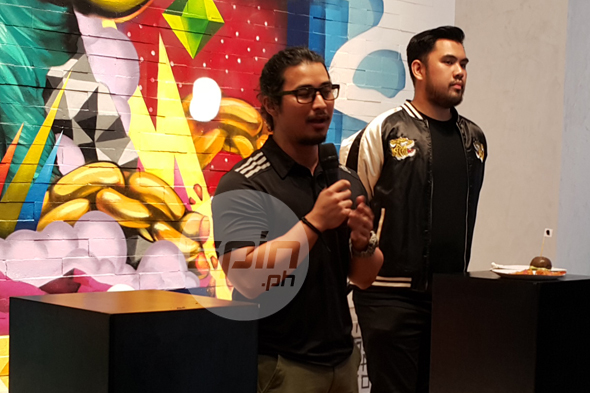 Miguel Rocha, Titan's senior marketing manager, said the timing for Harden getting his own shoe could not have been better.
"I think for adidas to release (Harden's) signature shoe, it's perfect timing. He's playing at an MVP-caliber level this season with a new system and as a point guard now."
Rocha said the reception form sneakerheads has been good because of the BOOST.
"Anything with BOOST now - whether it's running, basketball or lifestyle - it's always a hit. So we're hoping that the reception from the sneakerheads like for the Ultra BOOSTs and the NMDs would result in basketball as well."
For the initial release, Titan has the global exclusive "I Want To Be A Star" colorway in dominant black with gold accents that will be made available through the sneaker chain in limited numbers.
Adidas will later release other colorways, notably the "Pioneer" in the Houston Rockets' red, white and black. Both models will have an SRP of P8,995.
Capanas said Harden's kicks "is definitely a guard shoe. And maybe those who play small forward they might fit the bill. In the Philippines we play small ball so for the 1-2-3 positions this would be the perfect shoe."