CHICAGO - A person isn't supposed to be kicked when he or she is down. It's one of those unwritten and time-honored rules in life. But fate, blind as lady justice, doesn't give a damn.
So on Tuesday night (Wednesday, Manila time) at a place called Little Caesar's arena in midtown Detroit, something big and really bad happened to the Cleveland Cavaliers. They got smacked in the mouth by the Pistons, 125-114, and they lost Kevin Love for at least four weeks due to a broken bone in his left hand.
Injuries suck but it happens. It hurts, too, especially for a team like Cleveland which is already dealing with a myriad of issues that include alleged infighting. Losing Love's 17.9 points per game while the defense coughs up 109.8 points an outing are the kind of numbers that make accountants go crazy.
With 105 made 3s in 260 tries, Love was the Cavs' most dangerous threat from long distance. He was also their best rebounder, snagging 449 boards in 48 games. Replacing the 6-foot-10, 251-pound Love, a UCLA alum and former Minnesota Timberwolf, is a tall order.
Channing Frye, who shoots 36 percent behind the arc, is a good candidate. But at age 34, he is a worse defender than the 29-year old Love.
Continue reading below ↓
Recommended Videos
Jae Crowder, a 6-foot-6, 235-pound bruiser, can be a super sub for Love as a stretch four, but he shoots just 32.4 percent behind the arc.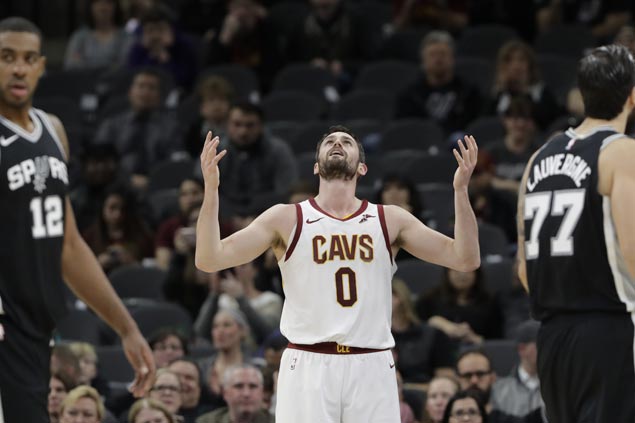 Kyle Korver is averaging 9.1 points a contest and swishing 3s at a 42.6 percent clip. But the 14-year veteran is 36 and defensively-challenged. He also doesn't rebound well, a mere 1.9 a game.
Jeff Green is solid, if only he can recycle consistency.
Tristan Thompson can be summoned to log minutes at power forward but he is so limited on offense (5.7 a game) that all he does is clog the lanes even more with LeBron James penetrating and Isaiah Thomas attacking the basket.
J.R. Smith? Oh please.
Not only is he undersized to play the 3 spot, his shot has abandoned him this season - 37.5 percent from the field, 35 percent from 3-point range and 71.9 percent from the free throw line. Smith collects a $13.7 million salary this season, which means he is stunningly under performing the four-year $57 million contract extension he signed last October 2016.
All that being said, LeBron James, who Charles Barkley appropriately refers to as a "drama queen," really has something legit to cry and whine about this time. For a change.
MAKE OR BLAKE. He wanted to be a Clipper for life. Unfortunately, the Clippers wanted him out of their lives.
That pretty much sums up what happened to Blake Griffin three days ago.
After vigorously pursuing him in the offseason, paying tributes and manifesting their unharnessed devotion to the hulking, slam-dunk loving 6-foot-10, 251-pound power forward, the Clippers had a change of heart and shipped their most valuable asset to the star-starved Detroit Pistons.
But why did the Clippers discard the face of their franchise?
Well, he was expensive. Griffin, the No.1 pick in the 2009 draft, was on the first year of a five-year $173 million deal that will pay him a guaranteed $35 million annually including a balloon payment of $39 million in the 2020-21 season when he turns 32. The Clippers, who are also entertaining thoughts of unloading DeAndre Jordan and Lou Williams, are dumping salary to position themselves as players in the 2019 off-season derby.
Griffin, a raging redhead with a strong work ethic and a soft spot for charity, was beloved in the Los Angeles community. Unfortunately, he was injury-prone and had taken more hits than a crash test dummy. He broke his left kneecap and missed the entire 2009-10 season following surgery. Since then, he has suffered through a torn left quad, a strained MCL , back spasms, a broken hand, a staph infection, right knee surgery, and most recently, a concussion. Though relatively healthy this year, Blake missed 47 games in the 2015-16 season and 21 games in the 2016-17 campaign.
"Basketball is a business. the NBA is a business, and they made a decision," Griffin told ESPN on his exile to Detroit.
FASTBREAK. After being picked 10th overall by the Portland Trail Blazers in the 2013 NBA draft, C.J. McCollum didn't appear like he was going to be a star. He averaged a mere 5.3 points a game in his rookie season and had only a slight improvement the following season, bumping his points production to 6.8 per. But he took off in his third year, shooting 44.8 percent form the field and 41.7 percent from 3-point range while scoring 20.8 a game. In July of 2016, the Blazers rewarded C.J. with a four-year $106 million contract extension.
Early Wednesday, as the Blazers pummeled the Bulls, 124-108, McCollum validated his enormous paycheck with a performance of a lifetime. The 6-foot-3 guard torched the Bulls for 50 in just under 30 minutes of action. The 6-foot-3 guard made 18 of 25 field goals, 6-of-9 threes and 8-of-8 free throws.
After 11 intense seasons in the NBA, it looks like the only fight left in 32-year old Joakim Noah is with his coach, Jeff Hornacek. His beef with Hornacek over playing time is likely to end the former Bulls' uneventful tenure in New York. But dealing Noah, a former NBA defensive player of the year, is next to impossible. The 6-foot-11 workhorse is owed $54 million in three years.
I love Jo. a fan favorite in Chicago for nine seasons, but with his best years in the rear view mirror, I don't see a team trading for him for that much dough unless the swap goes with a coveted draft pick. Stay tuned.