CHICAGO - San Antonio Spurs basketball is like religion; so many answer the call.
Without Tony Parker (raptured left quad) and Kawhi Leonard (sprained ankle) in Game 6 of the Western Conference semifinals on Thursday (Friday, Manila time) at the Toyota Center in Houston, the Spurs came up with a 114-75 gem that eliminated the Rockets.
It was a simple case of San Antonio, tried and tested in the crucible of multiple playoffs wars, showing more poise and preparedness in a game of such enormity.
With all their starters scoring in double figures, the Spurs shot better from the field, 53.1 percent against Houston's 28.6 percent. The Spurs had more assists, 32-14, and gathered more rebounds, 60-37. The only meaningful edge the Rockets had was in turnovers, 13-7.
Each of the Spurs starters turned in an honest day's work.
Jonathon Simmons filled Leonard's size 14 shoes with 18 points on 8-for-12 shooting. Patty Mills did a good job impersonating Parker, finishing with 14 points and seven assists. Danny Green had 10 points while Pau Gasol collected 10 points, 11 rebounds and three blocks.
But LaMarcus Aldridge stood out like ketchup stain on a white shirt.
The 6-foot-11, 260-pound forward registered 34 points and 12 rebounds, killing the Rockets softly with a variety of low-post moves and an array of mid-range jumpers. Together with the seven-foot Gasol, Aldridge crushed Houston's "small ball" with the weight of a dominant inside game.
Continue reading below ↓
Recommended Videos
"I was trying to be more dominant down there. So I was willing to take some contested shots tonight and I got into my rhythm early and after that I was good to go," the 31-year old Aldridge told the Associated Press.
Adding to Houston's woes was the Spurs bench, which is as deep as the Indian ocean. With plenty of fresh legs, they relentlessly chased Houston's shooters and led by as many as 40 points in the fourth quarter. When the bloodbath finally ended, Houston sank only nine two-point field goals and missed 27 of 40 three-point attempts.
While Houston struggled greatly, the Spurs hummed like a well-oiled machine, churning through Game 6 with the might of a multi-titled franchise that had been to the NBA playoffs for 20 straight years.
Although their three-point shooting went errant, 5-for-22, the Spurs, who will meet the Golden State Warriors in the West finals beginning with Game 1 on Sunday afternoon, made 46 two-point field goals and showed more effort and energy than the Rockets, who appeared mentally and physically drained from a heartbreaking overtime loss in Game 5.,
When Leonard was ruled out 90 minutes before Game 6 tipped off, the forecast was cloudy with a chance of a Game 7. But most of us conveniently forgot that the Spurs are not Leonard's team. It is head coach Gregg Poppovich's team.
Under coach Pop's proven system, the next man up answers the bell. In San Antonio, the thing that matters the most is the name in front of the jersey, not the name in the back.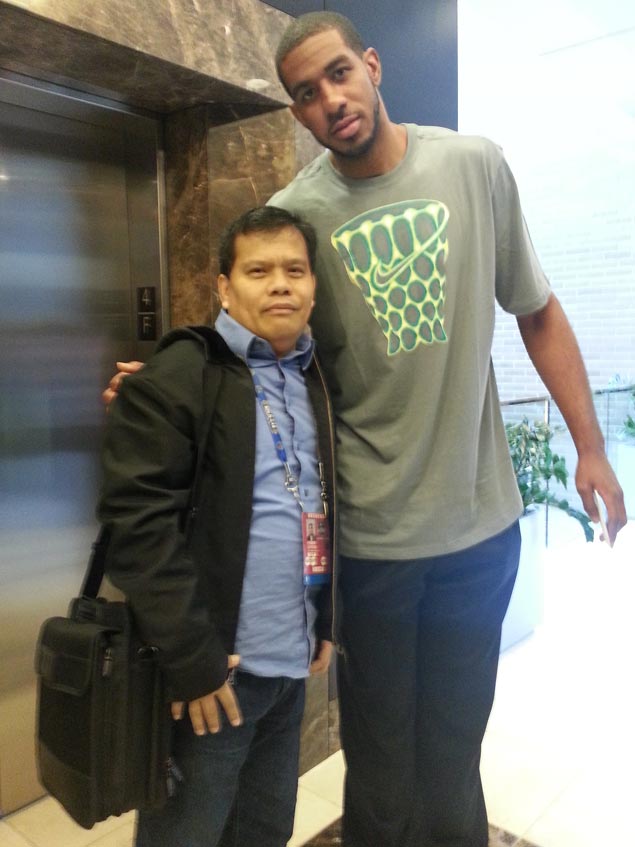 Spurs center LaMarcus Aldridge with SPIN.ph columnist Homer Sayson (Photo by Nick Roska/ SPIN.ph)
MVP BET GOES M.I.A. If he were a magician, James Harden would have gotten a standing ovation for his disappearing act in Game 6. But Harden is a star athlete making $25.6 million this season whose job description includes showing up big in big moments.
With his team facing elimination, Harden carded only 10 points and 7 assists. He went 2-for-11 from the field and 2-for-9 from long distance. A professional scorer, he didn't attempt his first shot until the 6:18 mark of the second quarter and shot only six throws in 37 minutes of action.
After averaging 29.1 points per game in the regular season, Harden, the most explosive Rocket, was a dud in Game 6. He was missing shots, missing open teammates, missing defensive assignments, missing in action.