THE Maharlika Pilipinas Basketball League (MPBL) has come under fire on social media after Commissioner Kenneth Duremdes implemented a 'discriminatory' rule limiting its 25 teams to only one Fil-foreign player no taller than 6-foot-4.
Duremdes announced the new rule in an interview with Foxsports.ph, saying he wants to maintain parity and make homegrown players the priority in the regional league owned by boxing superstar Manny Pacquiao.
"Kasi kung papayagan natin yung malalaking Fil-foreign players, magkakaroon agad ng disadvantage sa mga local players natin. We want to look at the best interest of the league, yung magkaroon ng balance competition," Duremdes said.
The new rule emerged after expansion team Mandaluyong announced through head coach Mac Cuan that it has brought in mainstays of Alab Pilipinas, including Ray Parks, Jr. and Lawrence Domingo.
Duremdes later ruled Mandaluyong should pick between Parks and Domingo owing to the one-per-team policy on Fil-foreigners.
The rule, however, didn't sit well with former PBA players like Rob Reyes, who came out of Twitter 'hibernation' to denounce the policy which he branded 'racist' and 'illegal.'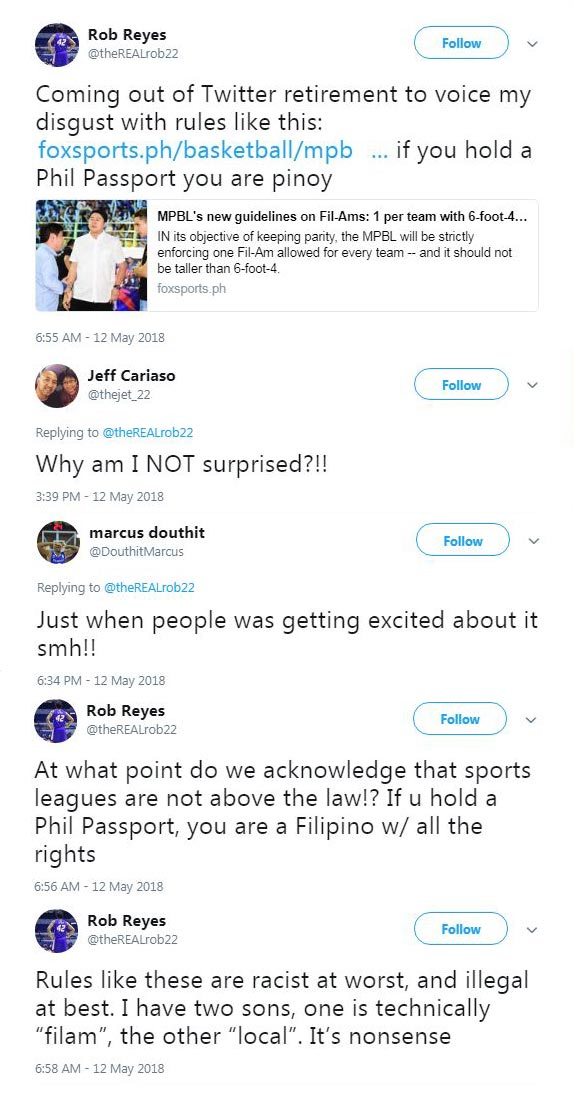 Continue reading below ↓
Recommended Videos
Even former Gilas Pilipinas naturalized player Marcus Douthit and current Alaska assistant coach Jeff Cariaso weighed in.
Duremdes, however, defended his decision.
"Kailangan isa lang kasi nga ang objective natin talaga is magkaroon ng opportunity 'yung mga players natin, particularly our local players and homegrown," the commissioner said.
The PBA has a similar rule limiting teams to five Fil-foreigners in its lineup.
The former PBA MVP even cited one case where he said he barred one player of Valenzuela, Maika Usita, from playing in the league for the same reason.
"We don't want to see bigger Fil-foregin players dominating our local playe\rs and homegrown," he said.
But the controversial rule has obviously kicked up a storm.
Here are two more tweets slamming the 'stupid' rule.