JOHN Mendez walked briskly into the Mall of Asia Arena early Saturday afternoon, his gear in his bag as he braces for another busy day in the NBTC All-Star Game.
The day was pretty much routine for the young man working as the Chooks-to-Go mascot as he hyped the crowd with his antics and danced around the Mall of Asia Arena court for most of the side events.
That was until the dunk contest came.
Much has been said about that showdown between top NBA prospect Jalen Green and Filipino aerial specialist David Carlos, with most agreeing that it was the greatest dunk contest in Philippine soil.
Little did 'Janjan' know that he was going to be a part of it.
With Green needing a 47 to advance to the final round, the Fil-Am high-flyer sought assistance from the Chooks to Go mascot, much to the delight of the crowd.
It was quite unfair to put Green's fate in Mendez' hands, considering that he wears an added 20 pounds of costume from head to toe. But there was no way he was going to turn down an opportunity to work with a future NBA player.
"Yun nga sobrang kinakabahan ako nung una. Binubulungan ako nun ni Jalen kaso hindi ko masyadong maintindihan, buti alam ko rin gagawin ko," said Mendez.
Continue reading below ↓
Recommended Videos
"Mahirap kasi mascot ako pero ginawa ko lang yung alam ko kasi nagba-basketball din ako," he added.
Mendez botched his first attempt at a pass. Perhaps bothered by the sheer weight of his costume, the mascot sent his pass weakly into the backboard, eliciting laughter from the crowd.
But the 32-year old Pasig native sent the next pass perfectly off the backboard, allowing Green to catch it in midair, cradle it between his legs and throw it down with authority as the venue erupted in cheers.
"Oo nga (grabe yung pressure) pero, buti talaga pumasok yung tira. Magaling din talaga si Jalen kaya naipasok din niya yung dunk," said Mendez who also showed a bit of flash himself as he stretched his arms wide while running from endline to endline, like what Dwayne Wade used to do for LeBron.
"Ayos yun, di ba? Parang LeBron yun, Wade to LeBron yung pasa na yun kaya ayos," he said with a laugh.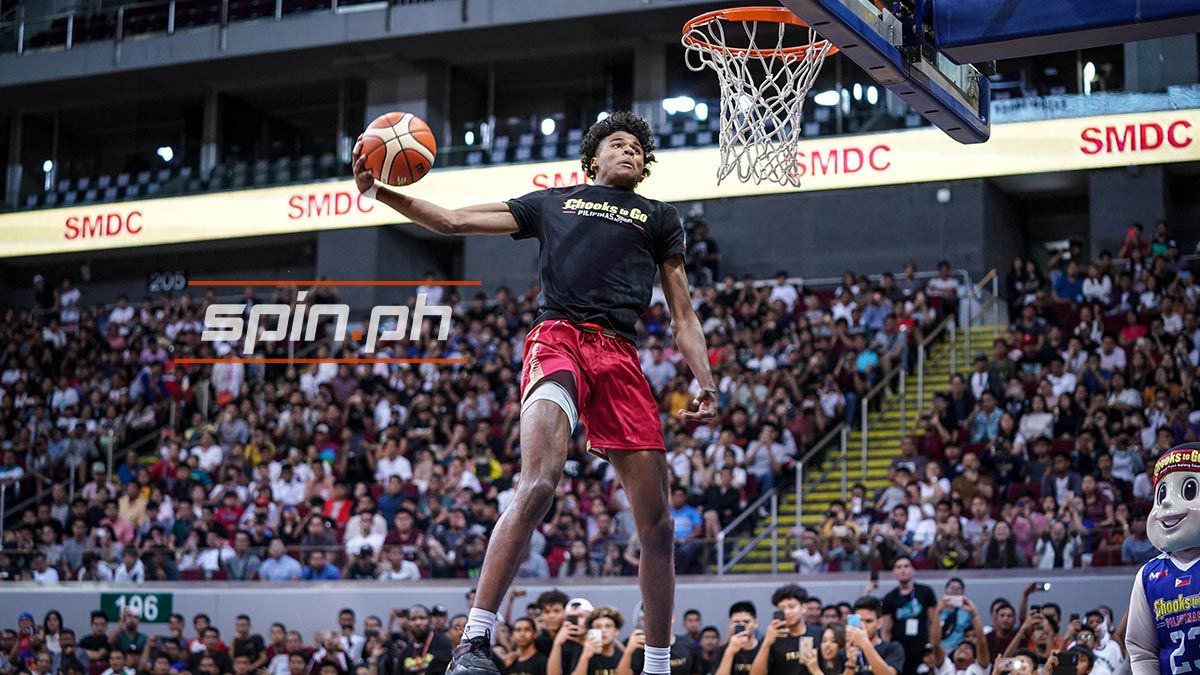 His little contribution enabled the showdown between Green and Carlos to continue on, with the two high-flyers electrifying the crowd with jaw-dropping aerial acrobatics. The two were later adjudged co-winners.
Mendez sat back and enjoyed the show. While many were able to witness it live with him, it's only him who can truly say that he was a part of that spectacle.
"Kukuwento ko talaga ito sa lahat, sa pamilya, mga tropa, sa kanilang lahat. Sobrang first time ko ma-involve sa mga ganito, tapos kay Jalen pa, kaya sobrang happy ko talaga," he said.