EFREN 'Bata' Reyes and Francisco 'Django' Bustamante have played all over the world, but this one face-off last year was unlike any other for the two billiards legends.
Just last May, Reyes and Bustamante played against each other in an exhibition match inside the Maximum Security Penitentiary of the New Bilibid Prison in Muntinlupa City, entertaining inmates with their shot-making skills before playing a doubles match with a lucky few.
The Reyes-Bustamante match was just one of the several projects of Jolly Gomez, whose long-running sports jail ministry has tapped several sports personalities to entertain, inspire, and conduct various sports clinics for inmates not just in Muntinlupa but in other prison facilities around the country.
Aside from Reyes and Bustamante, Gomez has also brought in the likes of basketball legends Caloy Loyzaga and son Chito, chess grandmaster Eugene Torre, 1992 Olympics boxing bronze medalist Roel Velasco for a program that helps inmates fight off boredom and aid in their transformation.
"There is a term in jail called buryong and if you are cooked up in one room, you go crazy. Ang sports panlaban dun. We do these kinds of activities. Sports plays a very, very big role," said Gomez.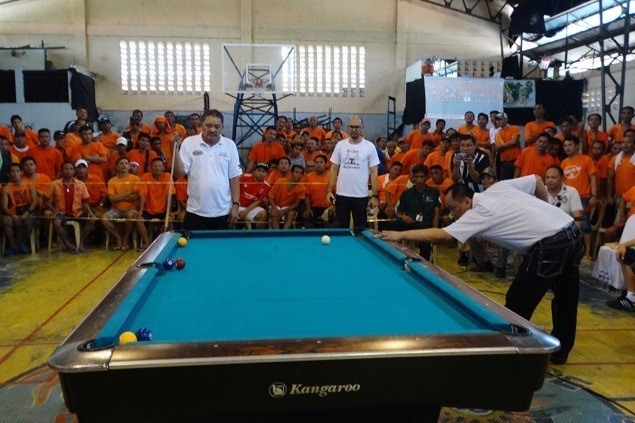 Continue reading below ↓
Recommended Videos
Gomez, a commissioner at the Philippine Sports Commission (PSC) from 2010 to 2016, launched the noble program when he was in the private sector as a practicing lawyer some 30 years ago, beginning at the Makati City Jail.
"We started out with livelihood programs, religious programs, and of course sports. We had sports that they only wanted, like basketball, volleyball, badminton, and, once in a while, aerobics," said Gomez.
When he was appointed PSC commissioner, Gomez was able to widen the scope of the program. From organizing sports clinics in a few city jails, his program reached highly-secured areas of the NBP in 2013 where additional sports were added with the help of instructors and sports personalities.
Among the sports that were introduced where boxing, futsal, dodge ball, table tennis, soft tennis, billiards, chess, and aerobic gymnastics.
"When I got into the PSC, I was introduced to some other sports. I took advantage of my position in the PSC to start a prison outreach program," said Gomez.
Contrary to popular perception, it is never dangerous inside the Bilibid, according to Gomez who said the scene inside the maximum security compound is just like any other barangay. There are wet markets, churches, barber shops, and yes, basketball courts, tennis courts, and billiard tables.
"Inside Bilibid, you'll be surprised," said Gomez. "Fifteen thousand people are in that maximum security and they say, maraming drugs, maraming rapists, murderers doon.
"When you are there, you don't feel endangered at all," he added.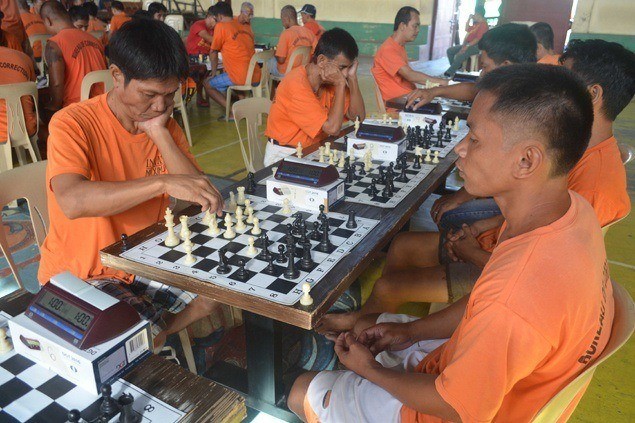 Gomez said most of the inmates in city jails have yet to be proven guilty of any crime. Relying on his own research, Gomes said 80 percent of inmates in city jails are either set free or acquitted because of lack of evidence, weak cases, or outright innocence.
"A lot of people think that once you are in jail, you are going to rot in jail. But many are in jail because they are poor, they can't afford bail, they can't afford a lawyer, or they can't afford na i-areglo 'yung kaso nila," he said.
Even at the maximum security compound of the Bilibid, Gomez believes a large number of the population are 'good people.'
"I can honestly say that 90 percent of the inmates in Bilibid are good people that had one mistake, nagkamali lang, baka it was a bad day at mainit ang ulo. Baka wala silang pera, tinapon doon. You have many people who are there who are actually good people.
"'Yung mga drug lords, it's a very, very small percentage of the entire population," Gomez said.
Stories of transformation as a result of the sports program have been remarkable.
Gomez said he once held a futsal tournament inside the Bilibid prison where a team from Mindanao included some members of the dreaded Abu Sayyaf Group. The team that placed second had members who were mostly from Africa, a continent which has a deep love for football.
"They would tell me, 'I haven't played football in months. I miss this so much.' 'Yung iba napaiyak pa. Imagine the transformative impact of sports or what it can do to an inmate," said Gomez.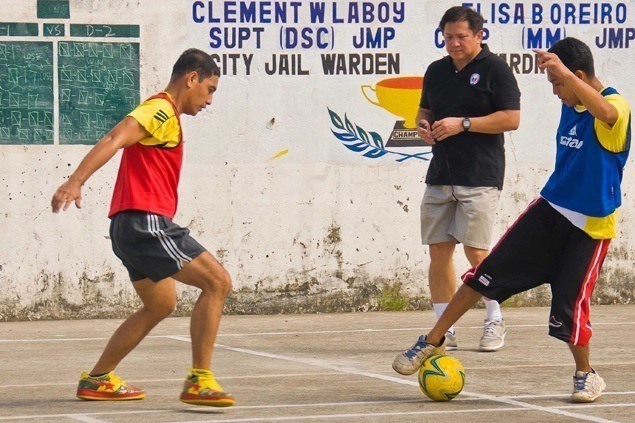 In the Calamba prison, Gomez said inmates found a way to settle their differences through boxing when the sport was introduced there.
"Sa Calamba, in the cell, siyempre you are 40 people in a 36 square-meter room. After a while, naiinis ka kaya maraming nag-aaway. Minsan, sa galit nila, in the middle of the night, sinasaksak nila," said.
When the boxing program was introduced with the help of members of the national coaching staff, 'ang ginawa nila, kapag galit kayo sa isa't isa, mag-boxing na lang kayo. They let them fight with head gears and gloves," he added.
"After a three-minute round, hingal na sila. After two three-minute rounds, wala ng effect 'yung suntok nila. After three three-minute rounds, bati na sila. Boxing became a stress reliever."
When a boxing tournament was held in Calamba, complete with a ring and referee courtesy of the Association of Boxing Alliances in the Philippines (Abap), national boxers and coaches taught the inmates one important life lesson.
"When the national boxing team went there, sabi nila (sa mga inmates), 'Ang boxing, parang buhay 'yan. Kung binibira mo agad, kung palaging binubuhos mo 'yung galit mo, magugulpi ka by Round Three. Kailangan ingatan mo rin, you have to be patient.'"
"They were teaching them life lessons and helping them understand a lot of things," said Gomez.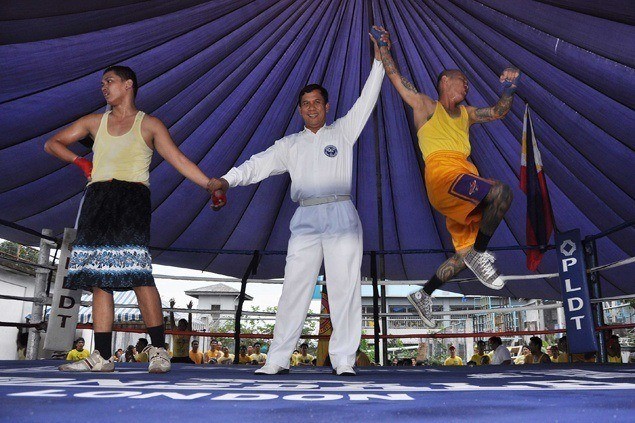 There was also the story of an old lady inside the Taguig City jail facility and the pure joy she experienced after playing table tennis for the first time in decades.
"Lagi lang siya nasa simbahan or nanonood ng mga laro. When we introduced a table tennis clinic, sabi ko sa kanya, 'Lola, ikaw naman.' Magaling pala. She told me, 'Hindi ako nakahawak ng pingpong racket for almost 20 to 30 years.' Now, she is one of the regular players. It helped bring back a lot of memories."
Before his term as PSC commissioner ended, Gomez said he tried to institutionalize the campaign through a board resolution that would set aside P1 million for the jail sports program, in the hope that the current administration of the government sports agency will keep it going.
Even though he is back in the private sector, Gomez continues his program through regular visits to city jails. Gomez recently brought NLEX coach Yeng Guiao to meet the inmates, and is also working with PBA commissioner Chito Narvasa to help bring a PBA team in a city jail to conduct clinics and bring cheer to the inmates.
For Gomez, the program is also his way of creating awareness for a marginalized sector of society that oftentimes is forgotten and degraded by the outside world, especially in light of recent news about drug syndicates operating inside the Muntinlupa facility.
"A lot of people went there with us to go and see for themselves. And every single person we brought in, when they go out, ang sasabihin nila, 'Ganun pala sa loob.' Wala silang feeling na natatakot sila. As a matter of fact, when they left, they wanted to come back. It's really helping change the perception of people outside na, 'Hey, it's not as bad as you think.'
More importantly, the sports program gives the inmates renewed hope.
"When they are in jail, they start losing hope, and the moment they lose hope, they just get angry with the world," said Gomez. "What sports does is it brings them back to a good memory of what life was like when they were not in prison."