CHICAGO - Like the Lakers superstar whom he was named after, Kobe Paras, a 6-foot-6, 200-pound juggernaut, is fiercely driven, consumed by a passion to succeed and step out of his father's shadow.
A freakish athlete, he once lit the internet on fire by dunking on LeBron James during a round-robin layup routine in Manila in 2013. He is also charming and Hollywood handsome.
In the lexicon of our times, Kobe Paras what you call a complete package.
But when he spoke to SPIN.ph a couple days ago, we unearthed something else about this 19-year kid: a wit that is sharp as a razor's edge.
"I can go anywhere and be fine with it. Going to Omaha (Nebraska) was hard only because it's really cold and I'm not really used to snow and stuff," Kobe said about leaving sunny Los Angeles to the frigid Midwest where his Creighton Blue Jays hold court.
"That's what's messing with me right now, the weather. Aside from that, it's all good," said the prodigious son of the PBA's only two-time MVP, Benjie Paras.
After a star turn at Cathedral High in LA, he isn't bothered by the scant minutes he's playing right now at Creighton.
Continue reading below ↓
Recommended Videos
"It's a process," he said. "Not every freshman in the world will start or play as much. I try to stay positive knowing that my team is in Top 10 right now. We're No.9 in the country. Of course the coach will use the players who have been in the program longer because they know the system. I just need to work hard in practice and work hard on my game."
Unlike Los Angeles, a diverse megalopolis teeming with immigrants, Omaha's demographic is almost all white, with very little, if any, Pinoy population. So I wondered where Kobe gets his fix if he craves Filipino food.
"We don't have anything here. I've searched and there is nothing. What I miss most is sinigang and adobo."
Don't worry, though, Benjie's kid ain't starving anytime soon. He has adapted to American food, a typical teenager who'd love to chow down a bowl of spaghetti or a thick burger from the popular In and Out chain.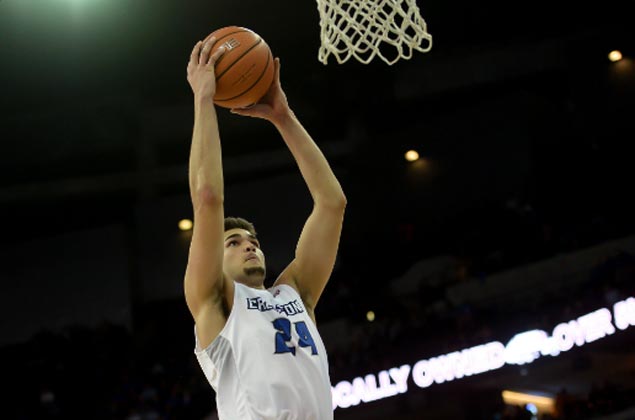 I asked him about the difference between high school and college ball and he eloquently put it this way.
"In high school you don't go through that much adversity. In college you go through so much. You worry about your grades, your playing time. But it's about attitude and how you look at things. If your'e negative, it's gonna be bad, but if you're positive it's all gonna be good."
Playing for Greg McDermott, dad to Chicago Bull Doug McDermott, is a thrill, Kpbe says.
"It's great. His style of coaching is very unique. He treats his players like his kids and he is real with everyone in practice. He knows what he's doing, we'r e No.9 right now, a feat we haven't accomplished since the 80s. He's really good."
Creighton is a Jesuit university with stern academic standards, so I asked Kobe how he was thriving.
"I'm still deciding my major. I might take Hotel Restaurant Management (HRM) or Healthy Lifestyle Management (HLM). The transition wasn't hard. I'm used to being ready for grades because back in Cathedral High we had study hall and we had to maintain our grades."
And though basketball is his world right now, Kobe's universe is a bigger place that allows room for other pursuits.
"I'm trying to find my way through culinary. I may be a businessman someday and have my own restaurant, something like that."
Kobe won't be home for the holiday season, a sacrifice he's willing to take as he seeks to establish his own name, his own identity. But he will communicate with his loved ones back home, thanks to the magic of technology.
"I'm staying in Omaha. We have practice. But it's 2016 and everybody has a mobile phone so I keep in touch through Facetime or I will text them through the day," Kobe said.
A man of faith, Kobe Paras will chase his hoops dreams with apostolic dedication and evangelical fervor.
So grab a seat and enjoy the ride.