HE may be the two-time slam dunk champion of the Fiba 3x3 World Under-18 meet, but young and promising Kobe Paras doesn't think his high-wire acts guarantee stardom.
The 17-year-old cager admitted the need to further improve on his game if he's going to fulfill his ultimate dream of someday playing in the NBA.
"I want to develop everything in my game," said the 6-foot-7 son of basketball great Benjie Paras during a press briefing arranged for him on Thursday afternoon at the Viva office in Ortigas Complex.
Paras just came home from Hungary where he competed for Team Philippines in the Fiba 3x3 world meet for players 18-and-under. He had for his teammates Richard Escoto, Mike Nieto, and Ricci Rivero.
While the team failed to make it to the Last 16, Paras was able to keep his dunk title after scoring a perfect 30 in the final round where he executed a reverse two-handed dunk after jumping over teammate Rivero. The Filipino beat American Jarek Felton for the crown.
[See Kobe Paras gives PH reason to cheer by retaining slam-dunk title]
"It was tougher this time," admitted Paras, who first won the dunk title in the 2013 edition of the meet in Jakarta which saw him dunking over teammate Thirdy Ravena, who was seated on a motorbike.
Continue reading below ↓
Recommended Videos
"The first time was tough because I was the youngest. This time, there was more pressure because I was the defending champion."
Paras still has a year left in high school where he plays for Cathedral, before making a leap to college for his highly-anticipated debut with University of California in Los Angeles (UCLA).
The rising star named after Los Angeles Lakers superstar Kobe Bryant said he wants to polish his game by the time he officially plays for the Bruins.
"In the pros, they're practicing everyday just to improve their game. They don't want to be contented on what they have. My focus is defense, and as they say, 'defense wins championships,' so I'm focused on that."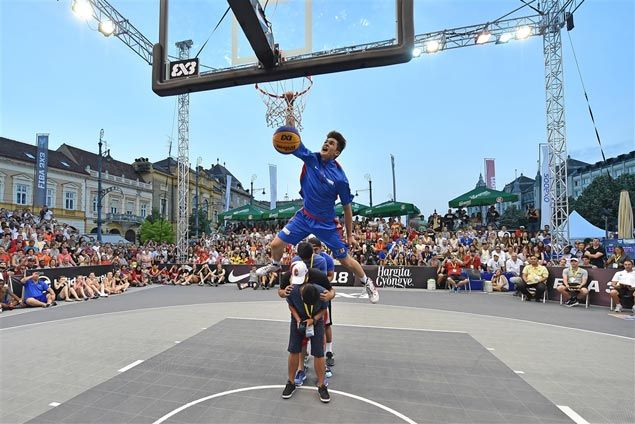 Kobe was joined in the pocket press briefing by father Benjie, a two-time PBA MVP and Hall of Famer, and brother Andre, named after retired tennis great Andre Agassi, a popular matinee idol who's set to play for San Beda in the NCAA.
Benjie said he keeps reminding his budding superstar son not to be in a hurry as far as his playing career is concerned.
"I told him to take it one step at a time. Tapusin muna niya ang high school, develop his skills. Pag nakarating siya ng college, then focus on the next step," he said. "Yung NBA, wala pa sa usapan namin."
The younger Paras is taking his father's words by heart.
"I'm not focused on it (NBA). My focus now is to improve my game, and also my studies. Of course, it's not just about basketball. I have to maintain my grades, and then get ready for college," he said.
"Let's see what happens next after that."