FILIPINO-American Kamaka Hepa made a big impression in his Philippine debut in the SM NBTC National High School Championship presented by Freego on Tuesday at the Mall of Asia Arena.
The 6-foot-9 Hepa finished with 27 points, 13 rebounds, seven blocks and five assists for Filam Sports USA, one of the four international teams made up of Fil-foreign players taking part in this year's edition of the competition.
The 17-year-old's performance, however, went for naught as the US-based squad lost to San Beda, 80-76, in a game they played just hours after arriving in Manila early Tuesday morning.
Hepa traces his roots to Pangasinan and his father is half-Filipino.
His play proved as good as advertised, being one of the highly-touted high school players in the United States and reportedly getting offers from Division 1 schools in the NCAA.
The game was also seen by several UAAP and NCAA coaches led by former Gilas Pilipinas coach Tab Baldwin of Ateneo, Franz Pumaren of Adamson, Olsen Racela of Far Eastern University, Boyet Fernandez of San Beda, and TY Tang of College of Saint Benilde.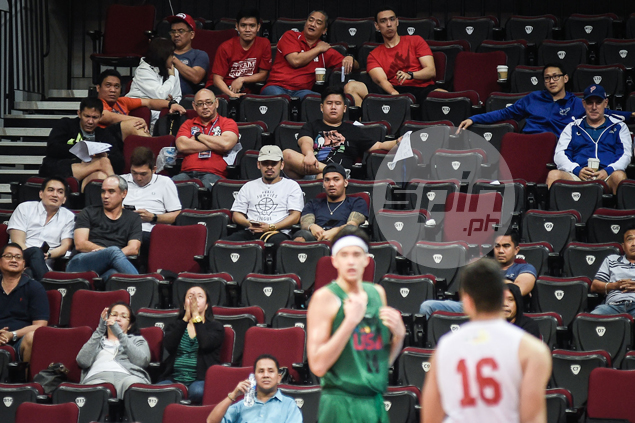 ADVERTISEMENT - CONTINUE READING BELOW ↓
In a story by Scout.com in 2015, the website described the Jefferson High School product as a player who has "good size and length and an unusually high feel for the game given the fact that he hasn't had the reps playing organized basketball as pretty much all of his peers."
The site also described Hepa as a cager "who can hit the open jumper from midrange or three, plays hard and is an impressive passer."
Hepa also got tabbed by 247Sports last April as the US' No. 29 prospect in the class of 2018.
"In my opinion, he is the best freshman in the state, perhaps one of the best freshmen on the West Coast," said Jefferson High School coach Pat Strickland in a 2016 interview.
"I know he had Pac-12 interest already last fall when he first stepped in the building. He's one of the better freshmen I've seen in a long time. He's a humble kid, hard worker, coachable," he added.
That was exactly what Hepa showed in the game against the Red Cubs where he played at the post and from the outside where he hit 11-of-19 from the field, including a 3-of-6 clip from beyond the arc.
Hepa also showed his leaping ability, having two dunks in the game, and a few chasedown blocks that were called for goaltending.