FIL-AMERICAN big man Kamaka Hepa said he will definitely consider playing in the Philippines in the future after an impressive showing in the NBTC National High School Championship.
"Yeah, I will consider it for sure," said Hepa when asked about it during the NBTC tournament.
The 6-9 teen made an impressive Philippine debut this week in the just concluded NBTC tournament where he showcased his all-around game on offense and defense. His effort didn't go unnoticed as the 17-year-old Hepa was named Defensive Player of the Tournament.
His showing in the recent NBTC only intensified the interest of coaches of top colleges who went to the Mall of Asia Arena just to see Hepa play.
But Philippine collegiate coaches are not the only ones battling for his services as several NCAA Division I schools have also expressed interest in the Jefferson High School stud.
[See Hepa an A in the eyes of coaches]
Still, as far as the 17-year-old is concerned, all options are definitely open.
"I would have to take all the options that I have under consideration and see what is the best fit for me," said Hepa, whose father is half-Filipino.
Hepa's possible stint here has sparked a debate on whether a Fil-foreigner of his caliber should be better off pursuing a career in the United States.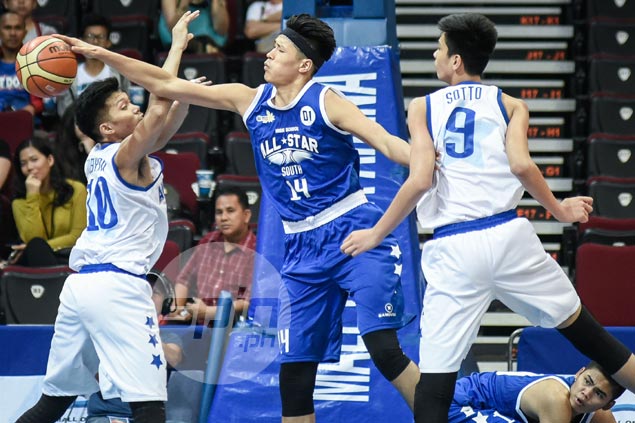 ADVERTISEMENT - CONTINUE READING BELOW ↓
When asked for his take, Jong Uichico, who coached in the NBTC All-Star Game, noted the importance of having playing time to the development of Hepa regardless of where he chooses to play.
"If he is going to play in the States, then it's better in the States. But if he is just going to ride the bench, you might as well come here and play," the multi-titled PBA coach said.
Uichico said Hepa needs exposure to be able to do what he has been training in a competitive environment inside the basketball court.
"Whatever you say, it doesn't matter how much you train, if you don't play and you can't apply what you were taught, (wala rin). You need to play," said Uichico.
For now, Hepa said has gotten a good understanding of the quality of Philippine basketball, which could come in handy if he decides to play college ball in the country.
"It's a lot faster and more aggressive. They lack the height here so they have to make it up by being aggressive and playing with heart," said Hepa.