BAGUIO CITY - It was a cold March morning when they started arriving. Some came in a mix of team and P.E. uniforms wearing shoes that ranged from the latest signature sneakers to whatever was available.
Bu whatever school, social or economic background they belong, every kid was equal to the task when they stepped into the covered basketball court of St Louis University for the Baguio leg of the Jr. NBA Jr. WNBA Philippines.
It was the first time a Jr. NBA Regional Selection Camp was held in the country's Summer Capital in the eight-year-old youth program. The best players selected in the two-day event will join the National Training Camp in April and an overseas trip as part of the NBA Experience later in the year.
The program is free and open to players from 10 to 14 years old.
From the more than 292 total participants who registered on Saturday, 40 boys and 24 girls were selected to return the following day based on their scores.
Jr. NBA coach Rodney Santos said Day One was all about the Skills Challenge where the kids had to beat their own times in the skills stations since the basis of selection would rely on a faster second attempt.
Continue reading below ↓
Recommended Videos
"If we can select more, the better pero we're not looking for who scores the most but we also want to see the basketball IQ, the better understanding of the game, those who can pass, dribble and not just shoot," Santos told Spin.ph.
Among the coaches present to lend their expertise in the Skills Stations were Christian Luanzon, Jon Ramirez, Eric dela Cuesta, Junjun Alas plus Perlas players Ish Tiu, Melissa Jacobs and Len Formata.
Many of the kids were accompanied by their parents and coaches.
Skill stations tested each participants' shooting, layup, passing and dribbling skills. Physical and vital stats plus strength, footwork, wingspan and jumping ability of each player were also measured.
Coach Gonzales said the basis of the program is to see how the kids perform in a team setting and the skills assessment helps them discover what they need to continue to improve on.
Booths gave away Alaska products, free Gatorade and bag tags. There was also a popular Playstation console where kids could play NBA video games.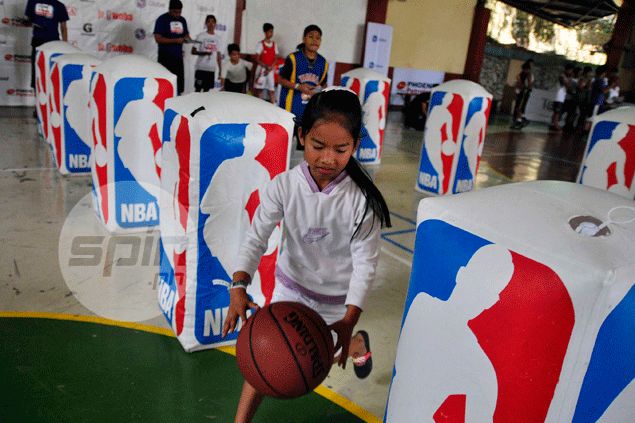 One of those who made the cut was Brandon Natera, 13, who said his coach told him to join the Jr. NBA to improve his skills against bigger players. The skills test showed he can shoot but needs to work on his passing, especially since he plays boith guard positions.
"Promise ko po sa sarili ko gagalingan ko po bukas para makuha ko po yung next round," Natera said.
One of the smallest participants was eight-year-old Alexandra Puntayno who was brought by her lola and mother.
"My favorite part is the dribbling and I think I'm good at it," she said.

To the other players who did not make the cut, Santos left a message.
"I hope they use it as motivation. Hindi dapat sila ma-down. They have to accept the challenge that come next year to show everyone that they have become better."
Booths gave away Alaska products, free Gatorade and bag tags.

Partner companies were Alaska, Gatorade, Globe and Phoenix Petroleum.