JONG Uichico is left impressed with Fil-American Kamaka Hepa after seeing the 6-foot-9 cager play for the first time on Thursday in the NBTC Division 1 All-Star game.
The 17-year-old Hepa played quality minutes in the game against the best Philippine-based high school players, finishing with nine points and nine rebounds for the South All-Stars.
Hepa's team, however, lost to the Uichico-coached North squad, 94-89.
Despite coaching against Hepa, Uichico sees a lot of potential in the Jefferson High School standout, raving about his all-around game that he said is rare for a player his size.
"I saw him for the first time and he is such a great player," said Uichico. "He is a great all-around player."
[See Hepa impresses college coaches, but passport issue hinders Gilas chance]
Hepa has been making a mark in the NBTC National High School Championship playing for Filam Sports USA although his team didn't make it to the semifinal round.
Still, it was enough for tournament organizers to give Hepa a slot in the All-Star team following an impressive debut where he finished with 27 points, 13 rebounds, seven blocks, and five assists against San Beda in their first game last Tuesday.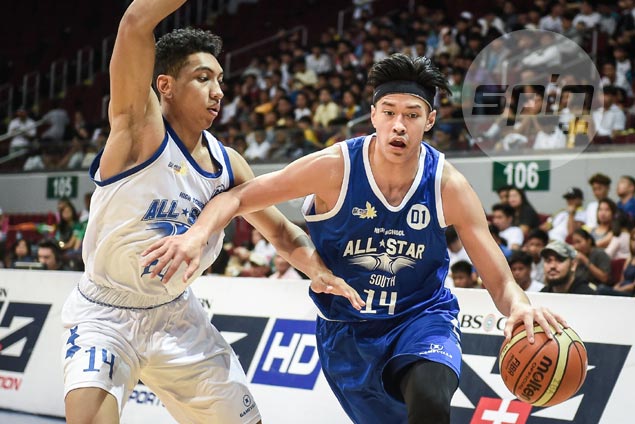 ADVERTISEMENT - CONTINUE READING BELOW ↓
Uichico also said Hepa has the potential to become a player similar to Dallas Mavericks star Dirk Nowitzki if he continues to improve.
"If you can compare to Nowitzki, eventually. But now, he is still raw but he has so much upside and size," said Uichico.
Uichico added Hepa can definitely be a big boost for Gilas Pilipinas in the future, if only he is eligible since it is unlikely that he owns Filipino passport. Acquiring a Philippine passport before turning 16 is a must for players hoping to represent the country in international tournaments.

Still, the PBA champion coach is optimistic about Hepa's future wherever he decides to play.
"If he is eligible, it's not hard to take a look at him. And we've seen him. He is young, a 17-year-old with that kind of talent. And you know that the only way that he is growing is to improve himself. He can shoot the three, he can dribble, he can do anything. He doesn't have the strength but eventually, he will get there," said Uichico.