JONG Uichico was hesitant to grant an interview when SPIN.ph approached him for a quick chat while the Mighty Sports delegation was waiting at the pre-departure area of NAIA 2 for its nine-hour flight to Dubai on Thursday noon.
"Si coach Charles na lang," the veteran coach initially said with a smile, referring to Mighty coach Charles Tiu, who's seated across him – before eventually agreeing to one.
Uichico's reluctance is understandable, being an assistant coach deferring to Tiu, who has been the spokesperson of the team as far as their preparation for the Dubai International Tournament is concerned.
Being an assistant is nothing new to Uichico, but the nine-time PBA champion coach finds himself in relatively new territory being under someone who's younger and less experienced than him.
But he doesn't mind assisting the 30-year-old Tiu.
"When you're a head coach, ako, personally, syempre you like to get young ones, because the young ones have different ideas, ano sila eh, ma-pursigi pa sila, they have so many ideas that might be too drastic for you or too experimental," Uichico explained. "Pero new ideas given to you are better than no ideas given to you, 'di ba?"
"Ito, baliktad lang 'to: assistant ako na learning from a younger coach's perspective in the game," the 56-year-old mentor added. "I always welcome new knowledge, 'di ba? Hindi naman lahat kukunin mo. At least hindi ka lang dun sa sarili mo na ito lang ang alam mo."
Uichico welcomed the new opportunity given his workable schedule these days. Last serving as assistant coach to Chot Reyes in the national team in the controversial Fiba World Cup qualifying game against Australia last July, Uichico is now the head of the Samahang Basketbol ng Pilipinas coaches commission that's mandated to hold clinics in the provinces as part of SBP's grassroots development.
"I've been assisting for so long," Uichico said. "Basta makatulong naman ako maski papano sa Mighty Sports, kay Charles in any way I can, okay lang. It's a way of learning also, kasi syempre mahirap naman mabakante ng matagal-tagal, 'di ba?"
"It's also part of the continuous learning process, keep your mind active in basketball," the two-time PBA Coach of the Year added.
Tiu wasted no time enlisting Uichico's services when the opportunity presented itself, with team owners Alex and Caesar Wongchuking sharing the same sentiment.
"When he said he was interested and available, automatic sa 'kin yun if I can get a chance to have a guy like coach Jong on our team. No-brainer," Tiu said. "Our bosses definitely wanted him in our team also, so that was easy for us."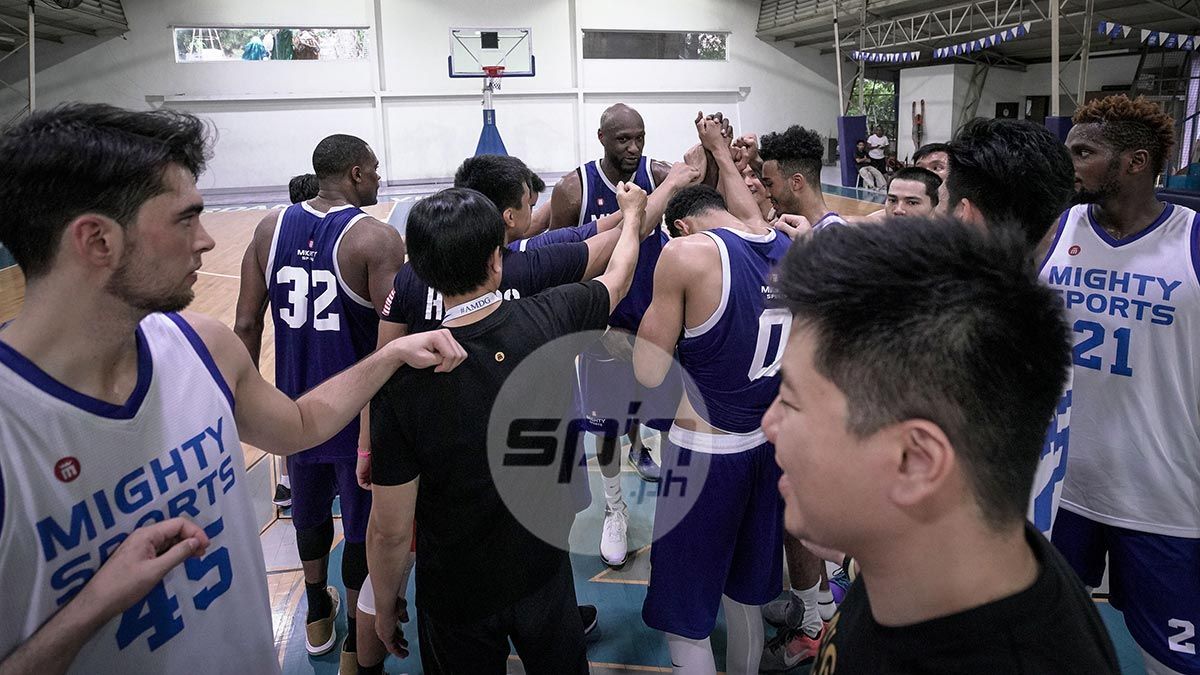 "He's a big help. His basketball experience is grabe. You win that many championships in the PBA, you have to be a really good coach. I'm learning from him a lot every day," he added, saying he has entrusted the defensive side of coaching to Uichico.
Uichico has seen potential in Tiu, who is starting to make a name in the coaching scene after steering Go for Gold to a PBA D-League title and assisting TY Tang at College of St. Benilde to an improved finish in the last NCAA season.
"For the few days na nag-practice kami, he's very articulate in his communication with the players and the coaches, and then in practice. He's not insecure to delegate certain aspects of practice to the assistant coaches," Uichico said. "So he's very confident of his coaching, which is good, and he is open to different ideas, which is better."
"And then he learns through the process in the same way that I learn through his style of coaching. It's good to be under coaches also so you see their style also," he added.
Tiu hardly feels awkward to head a coaching staff that has a distinguished coach in Uichico.
"Hindi naman," Tiu said. "Thankfully because he's such a good person. I don't feel threatened in any way na because you know that he's a loyal guy, he respects the role. I think he's happy to be part of the team. I knew naman from the start na I wouldn't have a problem with him."
"Kasi alam mo naman dito sa Pilipinas, maraming coach, they try to undermine the head coach; they don't know where their loyalty lies," he was quick to add. "But with coach Jong, I think there was no doubt in any way about his character, so I'm very comfortable working with coach Jong."
Whether that give-and take coaching partnership between the two coaches translates to success or more learning will be known as Mighty Sports starts its campaign on Friday night against American University Dubai.
Recommended Videos