OLA Adeogun of Euro-Med is facing a possible suspension after hitting Mighty Sports star Kevin Ferrer at the end of Game One of their PCBL Chairman's Cup semifinal series in Malolos City last Sunday.
PCBL commissioner Joel Banal said he is in the process of collecting facts about the incident to make sure that the appropriate sanctions are given to protagonists in the post-game fracas.
Banal, the only coach to win PBA, PBL, UAAP, and NCAA titles in his career. said he will make a final decision on Tuesday, on the eve of Game Two of the best-of-three series where Mighty will be looking to wrap up a place in the finals.
"I'm careful because it's a possible suspension," Banal said. "Before I do that, I have to be concrete with my information. Importante 'yun sa akin. It might cost a team a game kung suspension so I have to be careful and wiser."
[See Ferrer left with bloodied nose after post-game hit from Adeogun]
Banal said he has already spoken with Ferrer, but is still trying to contact Adeogun as of posting time to get his side of the issue. Ferrer also sent a picture of the bloodied nose he suffered after the hit by Adeogun.
"Ang sabi ni Ferrer, Ola punched him pero sabi ko, 'Sigurado ka ba? Kasi baka hindi mo nakikitang dumarating kung punch or ano?'" said the former PBA player.
A video of the incident furnished to SPIN.ph saw Banal approaching Adeogun in the middle of the commotion, with the exchange of words audible in the video.
ADVERTISEMENT - CONTINUE READING BELOW ↓
Banal explained he decided to step in to help control Adeogun before the commotion could escalate.
The PCBL commissioner said he made an effort to pacify Adeogun since the former San Beda star is in danger of incurring a suspension since he was already issued a warning earlier in the conference.
"Ang sinasabi ko sa kanya, 'Think of your team.' Ayoko na ngang ma-involve kasi may warning na siya. Pinahihinto ko na siya. Sabi ko, 'Think of your team.' Ang sabi niya sa akin, 'It's useless.'"
"Kasi kung 'Think of your team,' hihinto ka na. Baka masuspend siya. Kaya ko siya inaawat," said Banal.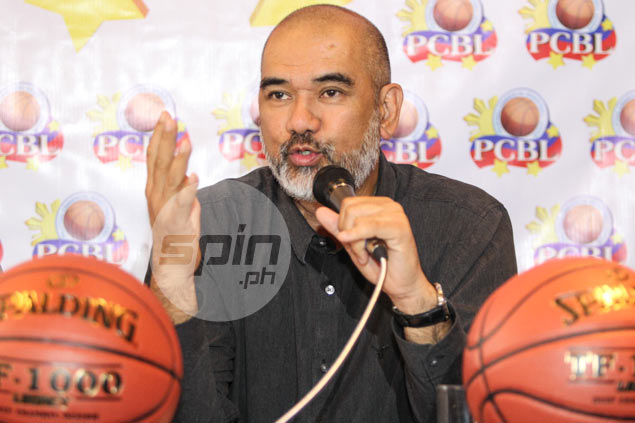 Adeogun told SPIN.ph that he was provoked by Ferrer during the traditional post-game handshakes, claiming the former University of Santo Tomas cager called him 'gago.'
[See Adeogun claims he was provoked by Ferrer: 'He called me a moron']
Although he has yet to talk to Adeogun, Banal said the league is also looking at the Nigerian center's claim.
"We will not tolerate provoking," said Banal.
Banal reiterated that, as much as possible, he doesn't want to suspend players unless merited.
"The last thing I want to do is to suspend and fine players. That's why before we opened, I told them na gusto ko ang liga natin pagalingan, hindi patapangan. Kung magaling 'yung isa, magpagaling 'yung isa.
"So I encouraged everyone to stay on the court, mag-practice, and develop their skills because the bottom line is people want to watch a league with good players," he added.
Here's a video of the incident: