THEY'RE more than mere numbers, and there's more to them than meets the eye.
From important dates in their lives to lucky numbers to a happy coincidence, there's usually a compelling story behind the numbers your favorite players wear on their backs.
And more often that not, these stories will either surprise you or make you feel closer to your sports heroes.
Here's No. 20 of our Jersey Story Series:
BEFORE the new PBA season heats up, the now-retired Jimmy Alapag shared one last story in his 13-year storied career, one that specifically involves his jersey that will soon be hanging from the rafters.
Alapag announced his second retirement recently, and the 'Mighty Mouse' said this one's for good. While most aging pros usually come out of retirement only a shadow of their former selves, Alapag looked nothing but washed up as he led the Bolts' resurgence.
Under his leadership, the Bolts turned from cellar dwellers into semifinalists then into finalists in just three conferences. Alapag chalked it up to the work his teammates put in behind the scenes, but his influence in the locker room and his contributions on the court were undeniable.
He's still consistent at sniping from rainbow territory, too. Aside from posting a .454 three point percentage in the recent Governor's Cup, he also overtook Allan Caidic as the PBA all-time leader in three-pointers made.
Continue reading below ↓
Recommended Videos
Just as consistent as his shooting and his playmaking is Alapag's choice of jersey number. Save for his national team stints, it's the only number he used since he entered the league in 2003 with Talk N Text, and even way before he came to the Philippines.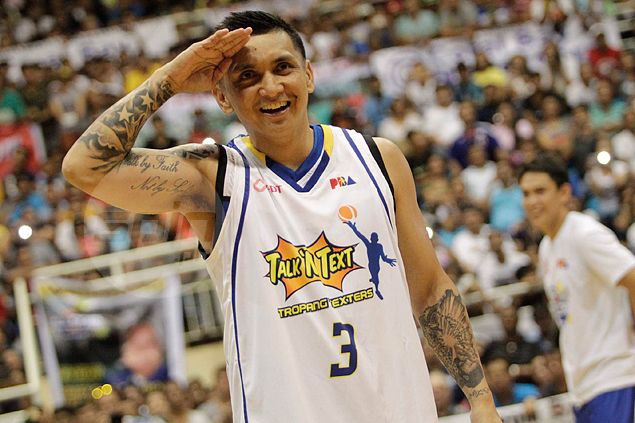 "Even when I was playing in leagues back when I was in elementary school, I would always choose number 3," he shared.
While other players turned to their basketball idols in picking jersey numbers, Alapag's choice was a little closer to home.
"My brothers and my dad had me playing basketball since I was 3-years old. My brother Cris was also a big influence in my life — to get me playing the game and do great things. I'm also the third son in my family so it means a lot to wear the number 3. I feel my family close to me," he said.
He wore the number throughout his high school and college playing days, which also coincided with the rise of his favorite NBA player.
"It went hand in hand that Allen Iverson wore the number 3. I was a big fan of how he played, his speed, his athleticism, he's amazing," said Alapag.
During his stints with the national team, however, Alapag was forced to take on a different number due to a rule that limit players' choices to 4 up to 15. He went with No. 6 at first, but found more success wearing the No. 4 in Gilas Pilipinas' historic run that started in 2013 when the team had a runner-up finish in that year's Fiba Asia Championships before nabbing the country's first win in 40 years at the Fiba World Cup a year later.
Surprisingly, the number change was not his choice.
"Number 4 is usually reserved for the captain so I was given that number," shared Alapag, who still found a connection between his pro number and the one he will be fondly remembered for with Gilas.
"It's the closest thing to the number 3, too," he added with a chuckle.