THE most celebrated player Virgilio 'Baby' Dalupan ever handled considers the time he played for the late great coach as the 'wonderful years' of his life.
Former senator and basketball icon Robert Jaworski Sr. paid tribute to his fallen mentor by recalling the success he and the University of the East Red Warriors achieved when Dalupan was at the helm of the team during the 60s.
Jaworski played all four years of college under the guidance of Dalupan and was part of the team that won three straight UAAP men's titles fron 1965-1967 as part of a historic stretch that saw the Red Warriors win seven championships in a row - a record that still stands to this day.
"All my college life, imagine the kind of bond and relationship that we had," said Jaworski in a message sent to SPIN.ph. "What was significant about it, it was four wonderful years of working hard together with respect, commitment and passion."
ADVERTISEMENT - CONTINUE READING BELOW ↓
Apart from the UAAP, Jaworski and the Red Warriors also won a string of championships in the National Open, making them the most dominant college team at that time.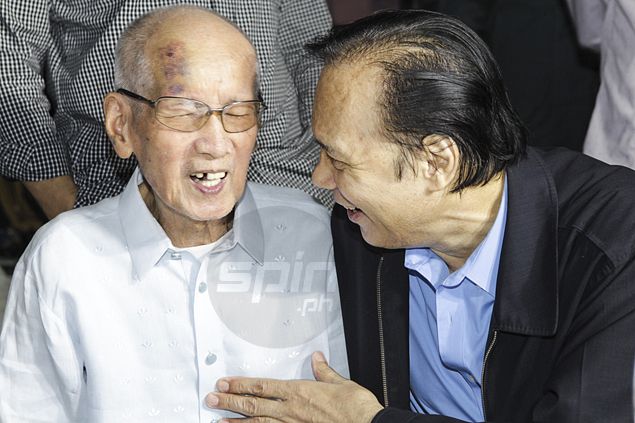 The 70-year-old former Ginebra playing-coach gave all the credit to Dalupan, who died on Wednesday night at the age of 92.
"The secret was coach Baby Dalupan's leadership and coaching style," the popular basketball legend said. "He treated everyone with equality and fairness."
He never got to play under Dalupan again, although they got together in the memorable 1989 PBA All-Star Game which ended with a Jaworski pass to estranged Toyota teammate Mon Fernandez for the winning layup.
Here's a video of that final play - and of Jaworski and Fernandez shaking hands after the game on the prodding of Dalupan:
Instead, he found himself at the other side of the fence when he turned pro and played in the PBA in 1975 as the top point guard of Toyota, the foremost rival of Crispa, which Dalupan handled.
Despite the rivalry, Jaworski said he always kept his respect for the man known as 'The Maestro.'
"Add to this his humility inspite of his many achievements," he said of Dalupan, who won a total of 15 PBA championships, still the second most in league history.
ADVERTISEMENT - CONTINUE READING BELOW ↓
"We not only lost a great coach, but also a remarkable gentleman."
Incidentally, Dalupan stood as one of the godfathers when Jaworski got married to wife Evelyn, along with another cage legend in the late Caloy Loyzaga.